Welcome Back for the Final Table of the Aussie Millions Poker Championship Main Event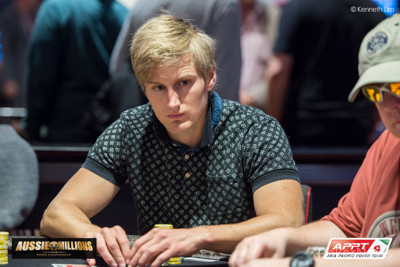 It's Final Table day at the APPT Aussie Millions Poker Championship Main Event!
A week ago the first of 648 entrants took their seats with 30,000 chips and a dream. Seven players remain and the dream of winning the southern hemisphere's premier poker title is now a stark reality. The thrilling final of the$100k Challenge played out yesterday and that gave the finalists a day to prepare and rest up for the big day.
Brian Rast has been in this sort of situation before and his experience will count for a lot. He'll need all that experience too as he comes into the day as the shortest stack. James Rann survived being directly out of position to both Rast and defending champion Ami Barer for long periods on Friday. He finds himself to Rast's direct right again today but he has a chip leading stack to aid him this time around. Here's how the final seven line up:
The 2015 Aussie Millions Final Table
| Seat | Player | Chips |
| --- | --- | --- |
| 1 | Joel Douaglin | 3,935,000 |
| 2 | Lennart Uphoff | 3,595,000 |
| 3 | Richard Lyndaker | 1,200,000 |
| 4 | Manny Stavropoulos | 2,115,000 |
| 5 | James Rann | 4,085,000 |
| 6 | Brian Rast | 1,185,000 |
| 7 | Anthony Legg | 3,290,000 |
Play is due to begin at 12:15PM local time but there may be a short delay to settle everyone into the TV set. Join the PokerNews reporting team back here soon. For now though, read the final table player profiles below and get to know today's competitors.