Event 1: $2 Million Guarantee Big Stack NLHE Re-Entry
Day: 4
Top
Chip Counts
1

Allard Broedelet
10,315,000
2

Nick Guagenti
9,745,000
3
Joel Gola
5,650,000
4
Jesse Letchworth
5,610,000
5
Kevin Choe
5,110,000
6
Adam Gerber
4,700,000
7
Jack Rocaberte
4,510,000
8

Gerard Kane
4,300,000
9
Adeel Khawaja
4,250,000
10
Andrew Clancy
4,000,000
Event 1: $2 Million Guarantee Big Stack NLHE Re-Entry
Day 4 Completed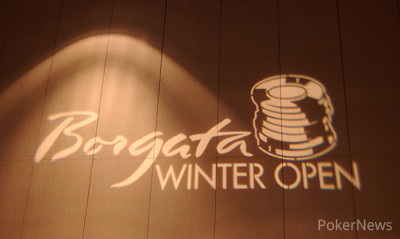 We have been handed a press release from the Borgata staff regarding Event 1 ($560 NLHE Re-Entry, $2 Million Guarantee), which was suspended yesterday pending an investigation into the suspected use of counterfeit T5000 chips. Below is the text from that announcement:
Borgata announced today that the New Jersey Division of Gaming Enforcement has ordered the cancellation of the first event of the Borgata Winter Poker Open due to a pending investigation.
Thus far, investigators have found that one or more tournament entrants improperly introduced a significant number of counterfeit chips into the tournament, gaining an unfair advantage and compromising the integrity of play for the event.
Tom Ballance, President and Chief Operating Officer of Borgata, said "It is extremely unfortunate that the criminal actions of these individuals can have a detrimental impact on more than 4,000 other entrants. We fully understand and regret the disappointment this cancellation causes our valued customers, and we will work diligently with DGE investigators to resolve the situation as quickly as possible. The integrity of our games and the confidence of our players is of the utmost importance to us."
"We thoroughly verified all remaining chips in our inventory, and are confident in moving forward with our tournament schedule as planned and approved by the New Jersey Division of Gaming Enforcement."
Event 1: $2 Million Guarantee Big Stack NLHE Re-Entry
Day 4 Started