Event Info
| | |
| --- | --- |
| Buy-in | $1,100 |
| Players | 330 |
| Players Left | 2 |
| Average Chip Stack | 4,950,000 |
| Total Chips | 9,900,000 |
Level Info
| | |
| --- | --- |
| Level | 34 |
| Blinds | 125,000 / 250,000 |
| Ante | 125,000 |
$1,100 Main Event
Day 3 Completed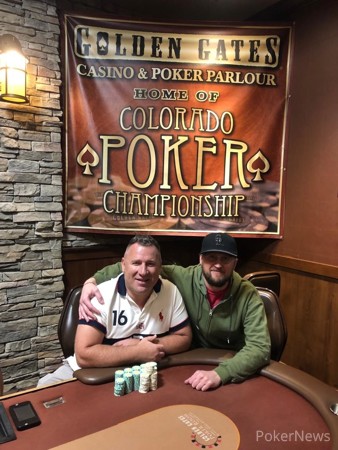 It took three full days of poker to reach the finish line in the August 2019 Colorado Poker Championship $1,100 Main Event. A record-setting 330 entries generated a total prize pool of $320,100 over three initial starting flights and when the dust settled, Steve Wilkie and Nate Zoller agreed to an even chop for $60,114 apiece after a nearly three-hour heads-up battle and 12 hours of play on Day 3.
Wilkie entered the day in the middle of the pack with 724,000 in chips, while Zoller started with just over 2 million, good for second place when cards went in the air. The two local grinders also happen to be friends from the same home poker league.
"If you told us on Friday morning that we were going to chop the event and each take home $60,000, we would have been thrilled," said Wilkie after the tournament.
Final Table Results
| Place | Player | Prize |
| --- | --- | --- |
| 1 | Steve Wilkie | $60,114* |
| 2 | Nate Zoller | $60,114* |
| 3 | Bobby Sanoubane | $31,210 |
| 4 | Barb Visher | $21,767 |
| 5 | Randy Needens | $16,325 |
| 6 | Jon Cohen | $12,804 |
| 7 | Jay Jesse | $10,819 |
| 8 | Wendy Freedman | $8,963 |
| 9 | George Medina | $7,714 |
* Denotes heads-up chop
Final Table Action
Though the day started with the majority of the field closely lumped together in the chip counts, things did not stay that way for long. Jay Jesse, who entered the day third in chips, lost a few three-bet pots to start off the day. Meanwhile, Zoller chipped up, surpassing Day 2 chip leader Barb Visher within the first hour of play.
During that time, George Medina had found himself down to 330,000 and got all in preflop with pocket tens against the ace-king of Jon Cohen. A king on the flop ended Medina's day in ninth place ($7,714), while Cohen began to go on a bit of a heater that saw him get as high as 1.7 million in chips.
Wendy Freedman (8th place - $8,963), who entered the day ninth in chips, also chipped up early, nearly reaching 1 million before calling a shove from Jay (7th place - $10,819) with pocket queens. Jay had two jacks and hit a straight on the turn, leaving Freedman short again. She proceeded to shove her last 378,000 in with pocket fives, only to see Jay shove over the top of her with pocket kings. After a few folds, Zoller looked down at pocket aces and knocked both of them out in one fell swoop.
As Cohen had chipped up to 1.7 million, Wilkie had also seen his stack increase to over 1 million. He then put a damper in Cohen's day when Cohen turned a king-high straight on the turn, only to have Wilkie river Broadway and get a full double as a result. Wilkie then found himself among the chip leaders with Visher and Zoller, while Bobby Sanoubane, Randy Needens, and Cohen found themselves short.
Of the shortest stacks, Cohen was the first to bust (6th place - $12,804) after losing almost all of his chips in a pot where Visher made the nut flush on the river. He busted a few hands later, while Sanoubane proceeded to find a triple and get back into the mix.
Play then continued for close to 90 minutes without an elimination. Wilkie chipped up to almost 5 million in chips during that time, becoming the clear chip leader before fifth-place finisher Needens ($16,325) was eliminated, getting his last 165,000 in with ace-king and having a pair of kings come out second-best versus Zoller's set of sevens.
It took another 80 minutes from there before Visher was eliminated in fourth place ($21,767), with chip stacks fluctuating fairly regularly during that time. With three players left, Sanoubane was the shortest stack and ended up getting knocked out after shoving his Big Slick from the small blind into Wilkie's pocket sevens from the big blind. He was left dry on chips after he was unable to improve on the runout, and the tournament proceeded onward heads up.
When heads-up play started, Wilkie had 7.3 million in chips to Zoller's 2.6 million. However, Zoller took the reigns to start, chipping up to nearly even and even taking the lead for a brief moment before Wilkie regained the momentum. From there, Wilkie ground Zoller down as low as 1.6 million as the two battled for just shy of three hours before Zoller got all in preflop with ace-nine to Wilke's pocket sevens. Zoller was down to the last card of his tournament life and spiked an ace on the river to double and find himself with a 2:1 chip lead.
At that point, the blinds had reached a high enough level that the players figured the cards would have a bigger impact than the players in determining the outcome. Due to their friendship, the two agreed to an even chop before putting stacks all in until an official first-place finisher was determined.
With the result, Zoller also locked up first place in the Colorado Poker Championship (CPC) Points Leaderboard, getting $1,000 as well as free entry into Wednesday's $2,500 High Roller for his prize. Wilkie had no points prior to the Main Event, and while he still finds himself on the cusp of a free seat, he is flying to Mexico on Wednesday morning instead.
In the meantime, the two are simply going to enjoy their feat. Zoller and Wilkie happened to see each other on the road about halfway home after Day 2 and called one another to talk. At the time, Wilkie was frustrated with how the end of Day 2 went. They talked things over and agreed to go home and come back fresh for Day 3 so that they could chop the event. Less than twenty-four hours later, that manifestation became reality.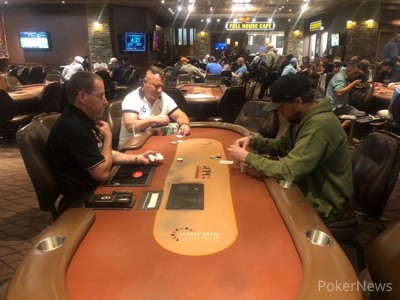 After over 150 minutes of heads-up action, Nate Zoller and Steve Wilkie have agreed to a chop for even money. As a result, both players will earn $60,114 for their efforts.
After the chop was agreed upon, the two got stacks all in preflop to play out the tournament for pride.
Nate Zoller:

Steve Wilkie:
The board ran out
for Wilkie to back into a flush and get a double.
On the following hand, stacks again went in.
Nate Zoller:

Steve Wilkie:
The board ran out
to give Wilkie a full house and officially make him the first-place finisher.
Stay tuned for a recap of the day's events.
| | | | | | |
| --- | --- | --- | --- | --- | --- |
| Steve Wilkie | | | | 9,900,000 | 6,550,000 |
| Nate Zoller | | | | Busted | |
"One million," announced Steve Wilkie as he raised from the small blind. Nate Zoller confirmed before he announced he was all in. Wilkie called.
Nate Zoller:

Steve Wilkie:
"Thank you," said Zoller, "for finally f***ing calling me."
The dealer fanned a flop of
. The turn came
to give Zoller outs to a flush as well. The river came
to give him a pair of aces and secure the double.
His stack was then totaled to 3.2 million, which Wilkie paid, now finding himself as a 2:1 underdog in the chip counts.
| | | | | | |
| --- | --- | --- | --- | --- | --- |
| Nate Zoller | | | | 6,550,000 | 3,650,000 |
| Steve Wilkie | | | | 3,350,000 | -3,650,000 |
The two remaining players are on a five-minute break.
Steve Wilkie opened his small blind to 650,000 and Nate Zoller defended. The two checked through the flop
, bringing the turn
. Zoller checked again.
Wilkie announced he was all in and Zoller decided he was all out.
| | | | | | |
| --- | --- | --- | --- | --- | --- |
| Steve Wilkie | | | | 7,000,000 | 600,000 |
| Nate Zoller | | | | 2,900,000 | -600,000 |
Nate Zoller has turned up the aggression over the last few hands, shoving all in and increasing his stack via taking the blinds a few times. As Level 34 comes to a close, more preflop all-ins should come soon as the total number of big blinds left in play will soon be reduced to just 33.
| | | | | | |
| --- | --- | --- | --- | --- | --- |
| Steve Wilkie | | | | 6,400,000 | -800,000 |
| Nate Zoller | | | | 3,500,000 | 800,000 |
A few pots have been won by each player without seeing any of them go past a flop, resulting in roughly no change in chips over the last few hands.
| | | | | | |
| --- | --- | --- | --- | --- | --- |
| Steve Wilkie | | | | 7,200,000 | -100,000 |
| Nate Zoller | | | | 2,700,000 | 100,000 |
Steve Wilkie completed his small blind and Nate Zoller checked his option, taking action to a flop of
. Both players checked and the turn came
. Zoller checked again and Wilkie bet 600,000. Zoller confirmed the amount and cut out a call.
The river came
and Zoller checked to Wilkie again, who set aside three stacks of green T25,000 chips and pushed them forward for a bet of 1.5 million. Zoller quickly folded.
| | | | | | |
| --- | --- | --- | --- | --- | --- |
| Steve Wilkie | | | | 7,300,000 | 1,000,000 |
| Nate Zoller | | | | 2,600,000 | -1,000,000 |
Level:

34
Blinds:

125,000/250,000
Ante:

125,000