€4,350 EPT Budapest Main Event
Day: 3
€4,350 EPT Budapest Main Event
Day 3 Completed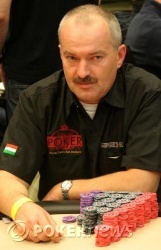 After four days of grueling poker at the Las Vegas Casino in Budapest, we reached the final table of the PokerStars.com EPT Hungarian Open. Ivo "The Chess Master" Donev bubbled off the final table in ninth place. He was seeking his first major tournament victory since winning a bracelet at the 2000 WSOP and it looks like he'll have to wait a little longer.

The EPT Budapest Final Table:
Seat 1: Marino Serenelli (Italy) - 357,000
Seat 2: Will Fry (UK) - 572,000
Seat 3: Ciprian Hrisca (Romania) - 1,038,000
Seat 4: Gino Alacqua (Italy) - 466,000
Seat 5: Martin Jacobson (Sweden) - 306,000
Seat 6: Albert Iversen (Denmark) - 1,017,000
Seat 7: Johnny Lodden (Norway) - 500,000
Seat 8: Zoltan Toth (Hungary) - 1,059,000

The eight remaining players will be slugging it out tomorrow for a first place prize of €595,839. All eyes will be on the young Norwegian pro Johnny Lodden, who made his first final table on the EPT despite numerous amount of cashes in EPT events over the last couple of years. Lodden is one of the most popular players on the tournament circuit. He's also among three Scandis at the final table, of which, Martin Jacobson (Sweden) and Albert Iversen (Denmark) both held the chip lead at different junctures in the tournament. Two veteran Italian players made the final table in Marino Serenelli and Gino Alacqua. The only British player left, the altruistic Will Fry, mentioned that he'll donate his winnings to charity. The last standing Romanian, Ciprian Hrisca, was the chipleader early on during Day 3 before he lost it to Zoltan Toth.

Zoltan Toth will be representing the host country since he's the only Hungarian to advance to the final table. Toth will begin the final table as the chipleader.

562 players bought into the first ever EPT event in Hungary. The total prize pool is €2,128,000 which makes it the largest ever tournament in the history of the country. 42 players advanced to Day 3. Here's a list of players who cashed on Day 3...

Day 3 Money Winners:
9. Ivo Donev - €32,984
10. Sebastian Saffari - €32,984
11. Robin Keston - €23,408
12. Menno Bussink - €23,408
13. Simeon Tsonev - €17,024
14. Oleg Korotkov - €17,024
15. Casey Kastle - €12,768
16. Christoph Haller - €12,768
17. Lukas Benkovic - €10,640
18. Jari Pekka Juhola - €10,640
19. Micha Hoedemaker - €10,640
20. Ofer Golko - €10,640
21. Denis Volkov - €10,640
22. Tibor Tolnai - €10,640
23. Alexander Kravchenko - €10,640
24. Nicolo Calia - €10,640
25. Pantelis Pavlis - €8,512
26. Pasquale Braco - €8,512
27. Dwayne Stacey - €8,512
28. Mauro Corsetti - €8,512
29. Tommi Etelapera - €8,512
30. Christophe Wemelbeke - €8,512
31. Janek Schleicher - €8,512
32. Nicholas Maieritsch - €8,512
33. Ofir Abramovivi - €7,448
34. Dave Hardy - €7,448
35. Robert Firestone - €7,448
36. Jecek Ladny - €7,448
37. [Removed:133] - €7,448
38. Rikard Englund - €7,448
39. Milan Andrejkovics - €7,448
40. Severin Walser - €7,448
41. Szabolcs Attila Saskoy - €6,834
42. George McKeever - €6,834

The final table will begin at 1pm local time. Check back in with PokerNews for complete coverage on the conclusion of the PokerStars.com EPT Budapest.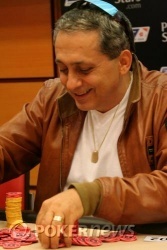 Donev raised to 48,000 and then called a reraise to 150,000 from Ciprian Hrisca. They saw a
flop and Donev had announced all in before the cards had been spread out on the table -- just as swiftly, Ciprian called.

Donev:

Ciprian:


Turn:

River:


Thus in a bit of a cooler, Donev is out and we are down to our final eight.
The final nine is still playing. As I wrote earlier, action has slowed down to snail's pace. Stay tuned for a hand of significance. I have a feeling that one is coming.... soon.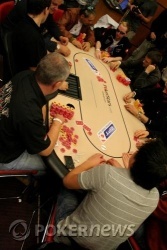 Zoltan Toth - 1,100,000
Albert Iversen - 950,000
Ciprian Hrisca - 760,000
William Fry - 520,000
Gino Alacqua - 500,000
Johnny Lodden - 450,000
Marino Serenelli - 390,000
Ivo Donev - 325,000
Martin Jacobson - 220,000
Level: 23
Blinds: 10,000/20,000
Ante: 2,000
Ciprian Hrisca raised under the gun, and Zoltan Toth attempted to limp in behind. He was told that this was not allowed, and had to call the 40,000. It turned out well for him, though, as his
made top pair on the flop, and he called a bet from Hrisca, and then Hrisca called his bet on the turn. They checked the river and Hrisca could only boast pocket sevens. Toth is now our new chip leader on around 1,000,000.
Zoltan Toth called a minimum raise in the big blind to see a
flop, which all three players checked. Come the
on the turn, Toth bet 70,000, and Gino Alacqua called. Toth bet again on the frankly irrelevant river and Alacqua called again -- only to much surprise when Toth turned over
for the nuts, putting him up to 875,000.
Ivo Donev doubled up with
against Ciprian Hrisca's pocket nines. Donev flopped a Queen. His hand held up and he doubled up. Ivo's stack is now close to 300,000.