Main Event
Day 5 Completed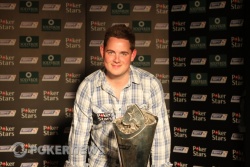 And the winner is crowned! The final table here in Vilamoura was an unpredictable mix of aggression, dispassionate consideration, and luck both good and bad. The chip leader at the start of play over eight hours ago came through to win the top prize, the huge trophy, and the rapturous congratulations of a British rail which swelled overnight as people actually flew South to support Toby Lewis, Sam Trickett and Teddy Sheringham - the best UK result at an EPT final table in some time.
It was a tough day for near-leader Trickett, who seemingly lost whenever his cards were on their backs, regardless of level of advantage they might have preflop against his opponents. His finishing fourth may have upset the expectations of some, but Jason Lee, Lewis and Martin Jacobson deserved their top spots, Lee in particular working a short stack with aplomb round the exits of EPT stalwart Rob Hollink and Sergio Coutinho, Frederik Jensen and Teddy Sheringham.
Runner up Martin Jacobson had a quiet start which got progressively louder, until a couple of big hands propelled his stack up over the chip-lead mark. Now only Toby Lewis stood between him and his momentum propelling him into the title, and he put up a strong fight, but Lewis eventually whittled him down until they were racing, Jacobson for his tournament life. Jacobson won the race and they were back level until the preceding cooler finished him off.
So while the large British contingent chant, "Run Good To-by; To-by Run Good!" we leave Casino Vilamoura and head from the felt into the balmy seaside air, where no doubt there will be celebrations tonight for all the finalists. Thanks to the Casino staff, the TDs and everyone who made it such a fun stop on the EPT 2010, and we look forward to seeing you in London!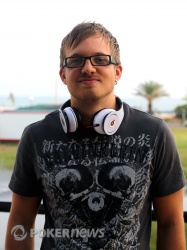 Wow, that didn't take long.
Toby Lewis made it 160,000 from the button and Martin Jacobson called. They saw an
flop which both players checked. Not so newsworthy so far. But wait...
Turn:
It looked innocuous enough, but here it got interesting. Jacobson bet out 180,000, and after a short period in the tank Lewis made it 525,000. Back to Jacobson, who enjoyed a little tankage of his own before re-popping to 1,205,000. And then right back to Lewis, who tanked, then made it 2,025,000.
There was surprisingly little pause before Jacobson went all in.
And no pause at all before Lewis called.
Jacobson:
for two pair
Lewis:
for a set
The Brits stormed the table, getting extremely excited, the copious amounts of beer they'd been necking all afternoon probably not helping.
"Hold!" they cried. "HOOOOLD, you b****!"
"Guys, calm down," Lewis told them; the play between him and Jacobson has been extremely gentlemanly.
There was a pause while the stacks were counted; Lewis was found to be only just ahead. Jacobson was looking for one of two remaining nines to hang on to his tournament life.
River: not a nine, but the
Lewis made a full house, and it was all over.
The heads up players have requested that the levels be dropped from 75 minutes to half an hour, in an unusual development. They play pretty fast, in every sense of the word, and with the rail heckling and the last of the sun fading, they seem keen to play down to a winner before it's tomorrow and everyone's flight leaves.
Level: 28
Blinds: 40,000/80,000
Ante: 5,000
Yet another one. It's still daylight outside, but only just.
Several pots start with a button raise from Martin Jacobson to exactly 125k, and a threebet to exactly 385k from Toby Lewis in the big blind (there are no antes now we're heads up). Jacobson called this latest one and then a further 425k on the
flop. On the
turn, both players looked like they were practising for job interviews as those gold spray-painted 'statues' which line the harbour in Vilamoura. Finally Lewis checked and Jacobson moved enough to bet 925k, which was enough to win him the tidy pot.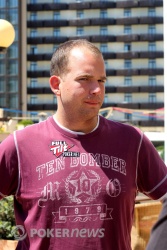 Martin Jacobson opened for 125,000 on the button and Toby Lewis made it 385,000. Back to Jacobson, who went all in for 2,375,000 - and a swift call later, they were on their backs.
Jacobson:

Lewis:
Board:
Although the British rail stormed the table and did their best to will out a swift victory for Lewis, shouting, "Ace in your face!" on the flop and then switching to, "King-ball!" on the turn, Jacobson doubled to 4.7 million.
"I heard at least one or two people cheering for you," Neil Johnson said to the admittedly under-represented Jacobson.