Main Event
Day 4 Completed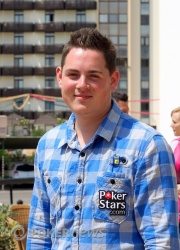 This has been one of the fastest Day 4s that we have ever experienced at an EPT, and as we head into the final table the British contingent dominates.
Less than six hours has passed since we reconvened in the Casino Vilamoura with 24 players. When we arrived, Swedish EPT Budapest finalist Martin Jacobson had a two-to-one chip lead over his nearest rival and although the three British players in the field - live tournament specialist Sam Trickett, Toby "810ofclubs" Lewis and former English international footballer Teddy Sheringham - were not among the biggest stacks, they were not exactly the smallest either.
Sam Trickett found himself short early on but quickly recovered and thereafter experienced a steady upward movement in the chip counts all day, busting short stacks left and right, while Toby Lewis enjoyed a huge double up through Martin Jacobson to propel him to big stack status. The two of them took turns holding the chip lead for the rest of the day, and while Trickett had the lead when they went to a single nine-handed table, Lewis managed to just pip him to the overnight chip lead by busting the super-short Erik van den Berg in ninth place. There are just 4,000 chips in it between the two chip leaders. Their fellow countryman, football legend Teddy Sheringham, is in third place.
"We may have all the chips but we can still find a way to burn them all," said a cheerful Lewis as he headed out into the afternoon sun. That would be a feat indeed - between Lewis, Trickett and Sheringham, Britain holds 73% of the chips in play.
It's not over yet, though - among the shorter stacks who made the final are Dutch legend and EPT winner Rob Hollink, the aforementioned young Swedish serial do-weller Martin Jacobson and American online pro Jason "JaspudUF" Lee. However this pans out, it is going to be very, very exciting.
When we reconvene at noon GMT+1, the table and the chips will look like so. Join us back here then.
Seat 1: Teddy Sheringham - 1,783,000
Seat 2: Toby Lewis - 3,322,000
Seat 3: Martin Jacobson - 441,000
Seat 4: Jason Lee - 1,167,000
Seat 5: Sergio Coutinho - 872,000
Seat 6: Sam Trickett - 3,318,000
Seat 7: Rob Hollink - 259,000
Seat 8: Frederik Jensen - 375,000
Passed around to Erik van den Berg who pushed on the button for 128,000, Toby Lewis decided to give him a spin in the small blind.
Van den Berg:

Lewis:
Van den Berg was staring the very real possibility of being eliminated on the final table bubble and was unable to hit anything on the
board. King-high wasn't much but it was enough and we now have our final table!
As expected, the Brits have been the most aggressive at this unofficial final table.
We witnessed a blind-on-blind confrontation between Sergio Coutinho (small blind) and Sam Trickett (big, in more than one sense of the word). Both players checked the
flop and they saw a turn - the
. Coutinho bet out 50,000 - but Trickett made it 140,000 to go and it was enough to elicit a swift fold from the last Portuguese man standing.
The next two hands were both taken down by Toby Lewis with preflop raises.
Everyone at the table who is not British is actually looking a little sad, and a little nervous. We don't blame them.
Level:

23
Blinds:

12,000/24,000
Ante:

2,000
We're not quite there yet, but the players are back and our nine-handed unofficial final table is underway.
Seat 1: Teddy Sheringham - 1,781,000
Seat 2: Erik van den Berg - 180,000
Seat 3: Toby Lewis - 3,084,000
Seat 4: Martin Jacobson - 481,000
Seat 5: Jason Lee - 1,300,000
Seat 6: Sergio Coutinho - 772,000
Seat 7: Sam Trickett - 3,365,000
Seat 8: Rob Hollink - 311,000
Seat 9: Frederik Jensen - 323,000
As Sam Trickett just now said, "It's been a good level for the Brits," - and it's not even quite over yet. They currently occupy the top three spots, and between them possess around 70% of the chips in play.
Players have stepped outside for a short break; when they return they will play the last three minutes of this level and then go straight into the next one. We have one more player to lose before we make our official final table and call it a day.
Fabrizio Ascari pushed all-in UTG for about 220,000. It was passed to Teddy Sheringham in the big blind, who called after a count and a minute's deliberation.
Ascari:

Sheringham:
The board came
no help for Ascari and no histrionics either. The colourful Italian goes out just before the final table.
Sheringham has 1.7 million and it looks as though we have an English 1,2,3 at the top of the leaderboard.
Sam Trickett opened with a min-raise to 40,000, and to his immediate left Marton Czuczor made it 112,000 to go. Everyone else folded and it was back on Trickett, who announced all in to cover Czuczor. The Hungarian called all in for around 500,000.
Trickett:

Czuczor:
Board:
You have to win those crucial flips to win tournaments - and Trickett is winning them all over the place today. Czuczor shook hands and was gone in the direction of the payout desk. Trickett meanwhile increased his chip lead to 3.1 million.
It seems no one on his table is safe from Teddy Sheringham's chip accumulation - just now Rob Hollink threebet him out of the big blind, and after a pause got the call (81k total). The flop came down
and Hollink led for 120k. A longer pause preceded a call by Sheringham. The turn:
. Now Hollink checked, and after an even longer pause, Sheringham checked how much Hollink had behind (about 380k) and moved all in. Hollink's cards were in the muck faster than the queue for First Class Flight Check-in.