Main Event
Day 3 Completed
Martin Jacobson

1,362,000
12,000

Marco Leonzio

778,000
16,000

Guillermo Garcia

766,000
16,000

Sam Trickett

712,000
81,000

Rob Hollink

696,000
83,000

Sergio Coutinho

635,000
-56,000

Nicolo Calia

609,000
-26,000

Jason Lee

600,000

Erik Van Den Berg

554,000
-39,000

Tom Johansen

521,000
234,000

Fabrizio Ascari

485,000
-25,000

Robert Cezarescu

457,000
-17,000

Marton Czuczor

440,000
81,000

Toby Lewis

396,000
23,000

Teddy Sheringham

PokerStars Friend of PokerStars

381,000
-2,000

Grzegorz Cichocki

333,000
46,000

Dmitry Gromov

315,000
-64,000

Frederik Jensen

301,000
72,000

Konsta Vesterinen

284,000
-26,000

Filipa Cerqueira

227,000
-40,000

Eliran Argelazi

202,000
-25,000

Kevin O'Donnell

196,000

Claudio Cecchi

168,000
-58,000

Carolyn Gray

103,000
-21,000
Table 1
Tom Johansen (521,000)
Eliran Argelazi (202,000)
Konsta Vesterinen (284,000)
Kevin O'Donnell (196,000)
Marton Czuczor (440,000)
Robert Cezarescu (457,000)
Marco Leonzio (778,000)
Dmitry Gromov (315,000)
Table 2
Jason Lee (600,000)
Carolyn Gray (103,000)
Sam Trickett (712,000)
Sergio Coutinho (635,000)
Frederick Jensen (301,000)
Filipa Cerqueira (227,000)
Grzegorz Cichocki (333,000)
Teddy Sheringham (381,000)
Table 3
Toby Lewis (396,000)
Fabrizio Ascari (485,000)
Claudio Cecchi (168,000)
Martin Jacobson (1,362,000)
Rob Hollink (696,000)
Erik Van Den Berg (554,000)
Nicolo Calia (609,000)
Guillermo Garcia (766,000)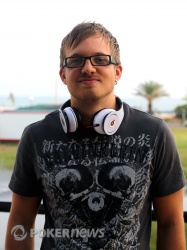 It's been another super-high-speed day of poker here in the Algarve and Martin Jacobson will be going into the final three tables of this Main Event with a frankly monstrous two-to-one chip lead over the next man.
The young Swede started the day near the top of the chip counts and after a great day, during which he knocked out Paul "Pab" Foltyn and Team PokerStars Pro JP Kelly among others, he has ended up head and shoulders above the next man. You may remember Jacobson from EPT Budapest where he finished third, or indeed from this year's WSOP where he took fourth place in a $1,500 NLH event. He's never yet managed to lift the trophy in a big live tournament, but he now has a more than decent shot at this one.
Also still in the running as players disperse into the bars and restaurants of Vilamoura are Nicolo Calia who could be looking at making back-to-back EPT finals after his seventh place finish in Tallinn, as well as dangerous young Brits Sam Trickett and Toby Lewis, Dutch legend Rob Hollink, and English international footballer and Friend of PokerStars Teddy Sheringham.
Of the players who made it to Day 3, those who fell by the wayside included Arnaud Mattern (did not cash), Luca Pagano (broke his own record with a 16th EPT cash), Andre Coimbra of PokerStars Team Online, and former chip daddy Brandon Cantu whose prediction to our own Gloria Balding that he would make the final did not, in the event, come true.
Some players may find themselves distracted tomorrow by the intriguing Fairways & Felts golf/poker tournament in the morning (Teddy Sheringham, at least, is considering playing it at 8am and then coming back for the Main Event when necessary) but the rest of us will be back here at the Casino Vilamoura at noon GMT+1 when we will be playing right down to a final table. You don't want to miss this one.
Janos Toth was all in with
and had had the misfortune to smack right into Martin Jacobson's
.
Board:
And with that, we were down to 24.
25 players remain - when they get to 24 the day ends. This means that Tom Johansen's next day was at risk when he moved in with
, up against chip leader Martin Jacobson's
. He flopped a set, rivered quads, and play continued...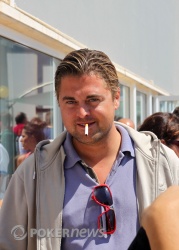 We sadly missed the action, watching another player on the other side of the room dwelling up for some minutes. When we arrived at the table, William Thorson was already all in. He sighed, stood up, and looked as though he knew what was coming.
Thorson:

Guillermo Garcia:
"Marc, we need to keep it low," Thorson called over to one of the press up on the stage. The dealer did not oblige.
Board:
And that was that for Mr. Thorson.
Garcia meanwhile is in great shape now on 750,000.
If you were wondering what chip monster Martin Jacobson and English international footballer Teddy Sheringham look like today, now you know.
26 players remain.
Martin Jacobson is in pretty good shape to better his third place finish back at EPT Budapest - he has almost a two-to-one chip lead over the next guy.
Martin Jacobson

1,350,000
250,000

Marco Leonzio

762,000
-8,000

Sergio Coutinho

691,000
141,000

Nicolo Calia

635,000
55,000

Sam Trickett

631,000
271,000

Rob Hollink

613,000
3,000

Jason Lee

600,000
125,000

Erik Van Den Berg

593,000
43,000

Guillermo Garcia

515,000
15,000

Fabrizio Ascari

510,000
-103,000

Robert Cezarescu

474,000
-6,000

Teddy Sheringham

PokerStars Friend of PokerStars

383,000
-72,000

Dmitry Gromov

379,000
-21,000

Toby Lewis

373,000
-287,000

Marton Czuczor

359,000
-155,000

Konsta Vesterinen

310,000
-80,000

Grzegorz Cichocki

287,000
-143,000

Tom Johansen

287,000
-113,000

Janos Toth

284,000
-106,000

Filipa Cerqueira

267,000
62,000

Frederik Jensen

229,000
-41,000

Eliran Argelazi

227,000
152,000

Claudio Cecchi

226,000
6,000

William Thorson

210,000

Kevin O'Donnell

196,000
-104,000
Level:

20
Blinds:

6,000/12,000
Ante:

1,000