Main Event
Day 1a Completed
Player
Chips
Progress

Sergiy Baranov

152,500

17,500

Anton Ionel

142,500

7,500

Efren Garcia Louzao

130,100

48,100

Andries Swart

119,800

29,800

Alexander Petersen

113,500

18,500

Javier Etayo

112,000

Dobromir Nikov

101,900

Martins Adeniya

95,000

Anton Kraous

94,900

Ziv Caspi

94,400

Massimo Di Cicco

91,200

27,200

Ruben Velasco Merino

89,200

Martino Chiodo

87,600

Andrei Stoenescu

85,000

David Gent

81,400

69,400

Mihails Morozovs

78,100

28,100

Juan Jose Chavez

77,100

-17,900

Ben Spraggons

73,800

Dimitar Danchev

72,000

Dmitri Tchernykh

69,800

-46,200

Yordan Dimitrov

64,400

Redmond Lee

63,200

31,200

Erich Kollmann

62,400

Raul Paez

62,400

Manuel Sanchez Morito

61,900
Level 8 : 300-600, 75 ante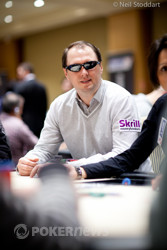 That's all she wrote for Day 1a of the PokerStars.com EPT Madrid. Eight levels have come and gone in short order, and the 125 players who began the day have been reduced to just about half that number. Leading the crowd into the bagging and tagging is Sergiy Baranov who managed to amass 152,500 chips over the course of the day.
Among those who chose the less-popular starting day were eight members of Team PokerStars Pro. Martin Staszko, the newest member of the Team, could not escape the first few levels before going extinct, and Marcin Horecki did likewise. Horecki flopped a set with pocket tens, and he ended up with all of his chips in the middle at the end of the
board. Juan Jose Chavez had managed to run down a winner with
, though, and Horecki was forced to the exits with another early and unfortunate EPT bust-out. Just at the tail end of the day, Pierre Neuville ran
into Anton Ionel's
to end his day and join the other two on the rail. That leaves Henrique Pinho (25,100), Alex Kravchenko (28,900), Arnaud Mattern (18,500 and a broken foot), and Toni Judet (20,100) to return for PokerStars on Day 2.
Others to have come and gone over the course of Day 1a were Roberto Romanello, Juha Helppi, Richard Lyndaker, Konstantin Puchkov, Zimnan Ziyard, and JP Kelly.
On the flip side of things, we have a few gentlemen flush with chips at night's end. Courtesy of that big knockout pot, Ionel's stack of 142,500 is one of the biggest in the room, but it looks like it's second biggest. Early in the day, Baranov took a big chunk from Konstantin Puchkov to climb into six figures, and he'd not look back from there. He finished up play with 152,500 chips in his bag, more than anyone else in the room. Others flush with chips include Efren Garcia (130,100), Andries Swarrt (119,800), and Martins Adeniya (95,000).
The 67 survivors from this opening flight will get the day off tomorrow. A fresh batch of players are set to take their place on Tuesday, and we'd expect to see a vastly larger crowd take their seats for the Day 1b flight. We'll be back here at noon to play another eight levels, and we hope to see you back here with us.
Until then, ciao from Madrid!
Level 8 : 300-600, 75 ante
We've hit that magical ten-minute mark in the day when the clock is paused and a card is draw. The Four of Shovels was pulled, and we'll play four more hands before bringing the bags out to wrap up this Day 1a.
Jan Collado moved all in for 10,825 in the cutoff and Redmond Lee thought for about 30 seconds and then made the call.
Collado:

Lee:
The board came
- a much needed double up for the German.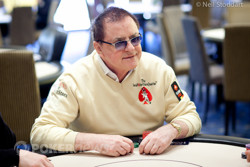 There will be no repeat of Pierre Neuville's EPT Copenhagen heroics after he busted in a big pot.
The Team PokerStars Pro raised to 1,600 and was called by one player before Anton Ionel three-bet to 3,600. The Belgian moved all-in and both players called behind, with Ionel covering them both.
Neuville and the third player both tabled big slick but Ionel had them both crushed with pocket kings. The board ran
.
Fatima Travanca is showing the boys at her table how it's done right now.
She opened to 1,200 from under the gun was three-bet to 2,600 by Hugo Marialva Felix from mid-position. She called to a
flop where she led for 3,600. Call. The turn came
and there was no slowing the PokerStars qualifier down as she fired again, for 4,200. Call.
The river was
and it looked as if Travanca had given up as she checked. Felix took this as an invitation to bet, for 7,200. Travanca had a final trick up her sleeve though and check-raised all-in for 20,400. Felix tanked for a minute and conceded defeat by folding.
Martins Adeniya has dropped back down into the pack, he fired 7,850 on the
flop and then 16,500 on the
turn against Efren Garcia Louzao but gave up on the
river. Louzao checked back and Adeniya showed
, no good against his opponent's
Player
Chips
Progress

Efren Garcia Louzao

147,000

Martins Adeniya

85,000

-20,000
Level: 8
Blinds: 300/600
Ante: 75
There was a sizeable looking pot when Michael Eiler had bet 6,550 after both Barny Boatman and Chris Moorman had checked. Boatman flat-called and Moorman thought for a minute or two before check-raising to about 22,000 - leaving himself 20,000 behind. Eiler thought for a minute before folding while Boatman also gave it up - the stacks of three starting to balance out.