Seat 8: Hongling Jiang (31) - Auckland, New Zealand (resides in London, UK)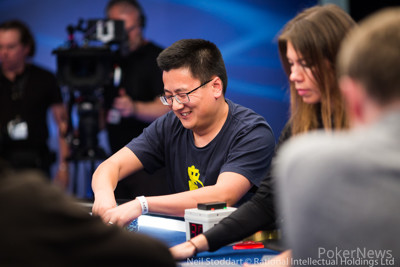 It's not easy to define where Honglin Jiang calls it his home. The 31-year-old New Zealander comes from Auckland but he's lived in London for the last five years. He's been studying there and working in finance "I'm kind of on my way back to that side of the world," Jiang said. He's moving back to Sydney, a city where his wife comes from.
Jiang recently resigned from his position and planned a few poker trips on his trip back to the Southern Hemisphere. He stopped in Barcelona last month to make the €10k Main Event final table, finishing ninth for €150,000. Now he's made it to another finale here at EPT Monte Carlo, securing himself another five-figure reward. He's only the second New Zealander to appear on the EPT Main Event final table, following EPT4 London fourth-place finisher Josh Egan.
While Jiang plays poker only recreationally, he's racked up more than $280,000 through six live reported cashes. He's guaranteed to move inside the top ten on New Zealand's all-time money list with his addition from the EPT Main Event final table.
But the recent success in poker doesn't shift Jiang's primary focus. "Family comes first," he said, noting that he will only play a few local events when he makes it to Australia as he doesn't aspire to regularly grind on the major live poker circuit.
Honglin Jiang in EPT Main Events:
Previous cashes: -
Previous final tables: -
Total Main Event winnings: -
Honglin Jiang's Main Event run:
| | Chips | Position |
| --- | --- | --- |
| Ended Day 1 with | 63,300 | 144 / 299 |
| Ended Day 2 with | 127,000 | 76 / 120 |
| Ended Day 3 with | 561,000 | 15 / 45 |
| Ended Day 4 with | 1,890,000 | 4 / 16 |
| Ended Day 5 with | 2,985,000 | 3 / 8 |