A brand new day at the 2019 PokerStars and Monte-Carlo®Casino European Poker Tour (EPT) arrived and so did a fresh tournament. The €330 EPT Cup started with Day 1a at 8 p.m. local time and a total of 265 players entered the first of two flights. Alexandre Moreau sits on top with a stack just shy of a million. The top three is completed by Andrea Schettino (675,000) and Vamshi Vandanapu (625,000).
One of the players that made it through to Day 2 is Jia Tang. Most of Tang's cashes were achieved in Macau, but he's had plenty of European success. Tang finished 27th in the 2018 EPT Prague Main Event, only to win a €1,100 side event a couple of days later. Tang is now guaranteed a spot on Day 2 but he only bagged 280,000. Other players that bagged on Day 1a of the €330 EPT Cup include Samvel Grigoryan (555,000), Vittorio Ferrigno (410,000), and Alexander Orlov (240,000)
The EPT Cup featured 20-minute levels and plenty of players showed up to play the low buy-in tournament. Players like Pete Chen, Natalie Teh, Sergei Popov, and Aylar Lie joined the field in the hopes of making it into the money and then into Day 2 of the tournament. Fifteen percent of the field was getting paid while only five percent of the field would make it through to Day 2. A total of 265 players entered the tournament which meant that 39 players would make the money and only 13 would make it through to Day 2.
Plenty of players were not fortunate enough to make the money, but some were. Alfredo Aramendia was the first player to collect money at the payout desk when he busted in 39th place and he cashed for €530. Others that cashed were Guy Goossens (36th - €530), Samy Boutaleb (30th - €600), Jorden Verbraeken (21st - €760), and Abdelkrim Chenoufi (19th - €830). All players that busted out of the tournament on Day 1a have a second chance if they choose to register Day 1b of the EPT Cup on April 29th at 6 p.m. local time.
Day 1b will have the same concept as Day 1a. Players will start with 20,000 in chips and levels will last 20 minutes. Fifteen percent of the players will make the money but only five percent will make it through to Day 2. The field and remaining prize money will be combined and they will battle it out on Tuesday, April 30 to play down to a winner.
PokerNews will be on site to report who takes down the €330 EPT Cup and plenty more tournaments at the EPT Monte-Carlo.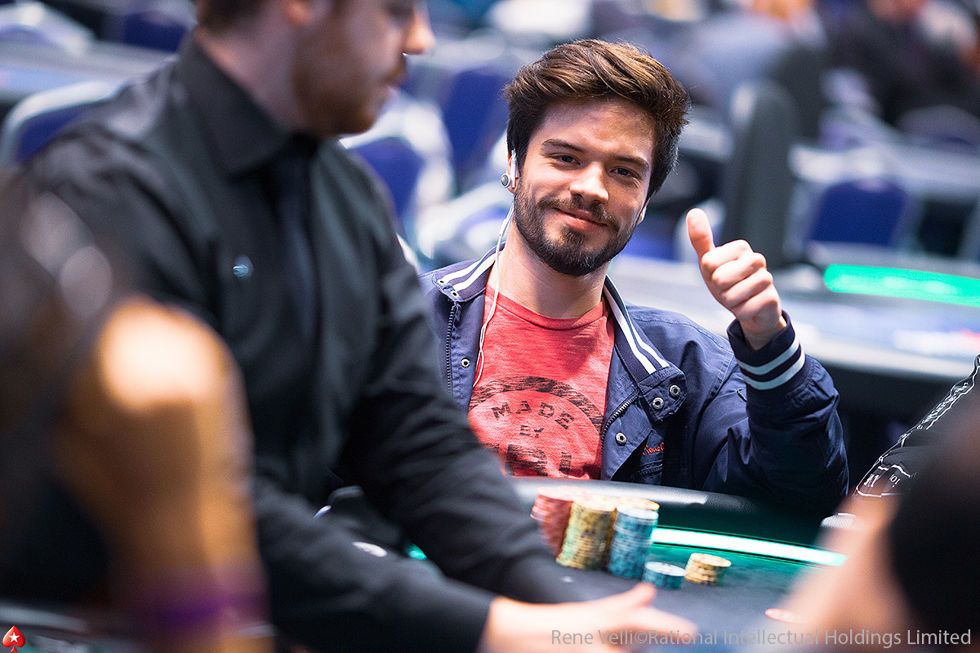 | Place | Player | Nationality | Prize |
| --- | --- | --- | --- |
| 14th | Bruno Hormigo | Portugal | € 1,060 |
| 15th | Morgane Portier | France | € 1,060 |
| 16th | Aurelien Mahot | France | € 950 |
| 17th | Christian Enz | Luxembourg | € 950 |
| 18th | Alexandre Bigeard | France | € 830 |
| 19th | Adelkrim Chenoufi | France | € 830 |
| 20th | Dmitrijs Tarbejevs | Latvia | € 830 |
| 21st | Jorden Verbraeken | Belgium | € 760 |
| 22nd | Christophe Di Miceli | France | € 760 |
| 23rd | Patricia Poli | France | € 760 |
| 24th | Francois Vincenti | France | € 680 |
| 25th | Wei Fan | Hong Kong | € 680 |
| 26th | Flavien Mullet | France | € 680 |
| 27th | Karim Mhemida | France | € 680 |
| 28th | Richard Regnier | France | € 600 |
| 29th | Fuad Serhan | UK | € 600 |
| 30th | Samy Boutaleb | France | € 600 |
| 31st | Frederic Vasseux | France | € 600 |
| 32nd | Volker Beck | Germany | € 530 |
| 33rd | Remy Scarabel | France | € 530 |
| 34th | Vahe Ter-Khachatryan | Armenia | € 530 |
| 35th | Marko Ivkic | Croatia | € 530 |
| 36th | Guy Goossens | Belgium | € 530 |
| 37th | Vladislav Naumov | Russia | € 530 |
| 38th | Nissim Vaknin | USA | € 530 |
| 39th | Alfredo Aramendia | Spain | € 530 |