At noon local time, the Main Event of the 2019 PokerStars and Monte-Carlo®Casino European Poker Tour will kick off its final day. Over the course of four days, a field that started off with 922 players has been whittled down to the final six. All remaining contestants can look forward to a payday of at least €152,800, but the lion's share of the prize pool of €4,471,700 is still up for grabs. The winner at the end of the night will receive €827,700 in prize money, plus adding the accolade of being called an EPT champion to their name.
EPT Monte Carlo always lures the best of the best to the rich principality in the south of France, and it comes to no surprise that two high stakes phenoms have made their way to the final six. Germany's Manig Loeser (4,005,000 / 67 bb) is a common sight in tournaments sporting five- and six-figure buy-ins and ranked #18 on the Global Poker Index (GPI). Loeser has the advantage of being used to the spotlights as well as the money at stake, and will certainly be one of the favorites up front.
2019 EPT Monte Carlo Main Event Final Table Seating and Chip Counts
| Seat | Player | Country | Chip Count | Big Blinds |
| --- | --- | --- | --- | --- |
| 1 | Ryan Riess | United States | 3,585,000 | 60 |
| 2 | Wei Huang | China | 5,690,000 | 95 |
| 3 | Nicola Grieco | Italy | 7,160,000 | 119 |
| 4 | Viktor Katzenberger | Hungary | 6,070,000 | 101 |
| 5 | Manig Loeser | Germany | 4,005,000 | 67 |
| 6 | Luis Medina | Portugal | 1,105,000 | 18 |
Loeser faces strong opposition from none other than 2013 WSOP Main Event champion Ryan Riess (3,585,000 / 60 bb). Over the years, Riess certainly has put his name up for consideration in regards for most accomplished world champ ever and his current #15 GPI ranking reflects that, putting himself even ahead of Loeser. A win for Riess would cement his legacy as one of poker's top talents, and while three people have won both the WSOP Europe Main Event and an EPT title, Riess could become the first person to combine poker's biggest price with EPT success.
Loeser and Riess will have to battle it out with Nicola Grieco, who starts as the chip leader with 7,160,000 in chips (119 bb). Grieco is an animated character at the table, and the passionate Italian has the chips and confidence to put on a show today and make him a dangerous wild card. Second in chips is Hungarian cash games Viktor Katzenberger (6,070,000 / 101 bb), who relocated to Malta to pursue a professional poker playing career. Katzenberger, a cash gamer by trade, has already locked up his biggest tourney score ever.
For recreational player Wei Huang, his first trip to Monaco has become a roaring success. The 34-year old from Shanghai looks up to Erik Seidel as his poker idol, but can pull off a feat the poker giant has never done before: winning an EPT Main Event. Rounding out the final six is 56-year old Luis Medina from Portugal (1,105,000 / 18 bb), who's the only short stack at the start of the final table.
Action of the final day will resume at noon local time with 36:58 left in the current level at blinds of 30,000/60,000 with a 60,000 big blind ante. Live coverage with hole cards will be on a security delay of 30 minutes and PokerNews coverage will follow along with the live stream. Make sure to check back regularly as the 2019 EPT Monte Carlo draws to a close and one of these six will add their name to the tour's rich history of winners.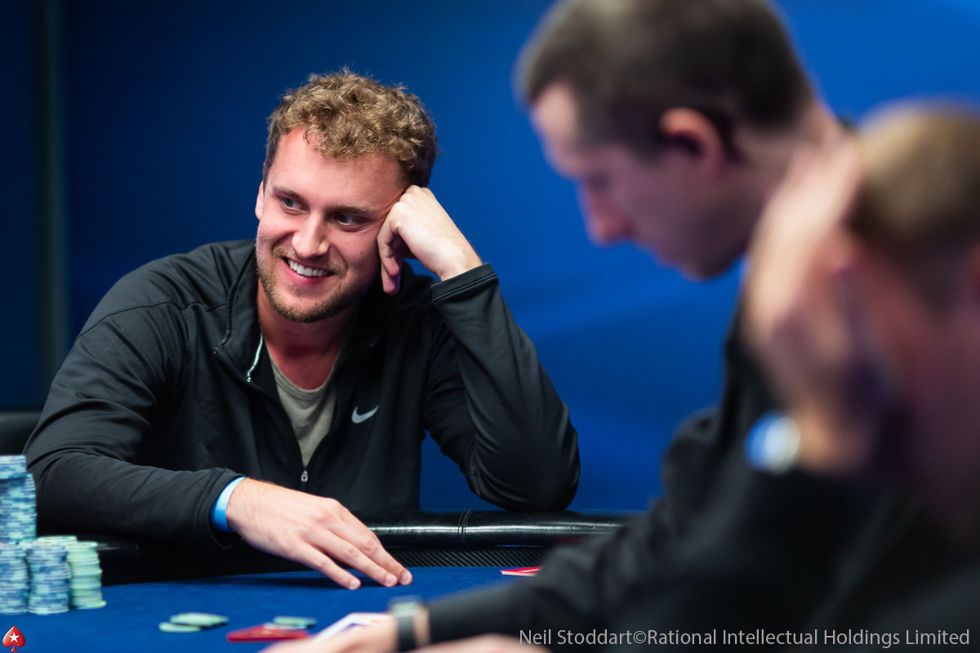 History of the EPT in Monte-Carlo at a Glance
| Year | Entries | Prize Pool | Winner | Country | Top Prize (in EUR) |
| --- | --- | --- | --- | --- | --- |
| 2005 | 211 | € 1,983,400 | Rob Hollink | Netherlands | € 635,000 |
| 2006 | 298 | € 2,801,200 | Jeff Williams | United States | € 900,000 |
| 2007 | 706 | € 6,636,400 | Gavin Griffin | United States | € 1,825,010 |
| 2008 | 842 | € 8,420,000 | Glen Chorny | Canada | € 2,020,000 |
| 2009 | 935 | € 9,350,000 | Pieter de Korver | Netherlands | € 2,300,000 |
| 2010 | 848 | € 8,480,000 | Nicolas Chouity | Lebanon | € 1,700,000 |
| 2012 | 665 | € 6,650,000 | Mohsin Charania | United States | € 1,350,000 |
| 2013 | 531 | € 5,310,000 | Steve O'Dwyer | Ireland | € 1,224,000 |
| 2014 | 650 | € 6,500,000 | Antonio Buonanno | Italy | € 1,240,000 |
| 2015 | 564 | € 5,640,000 | Adrian Mateos | Spain | € 1,082,000 |
| 2016 | 1098 | € 5,325,300 | Jan Bendik | Slovakia | € 961,800 |
| 2017* | 727 | € 3,525,950 | Raffaele Sorrentino | Italy | € 466,714 |
| 2018 | 777 | € 3,768,450 | Nicolas Dumont | France | € 712,000 |
| 2019 | 922 | € 4,471,700 | - | - | € 827,700 |
*Held as PokerStars Championship