Pobal Flops Higher Pair to Leave Michot Short

Level 26 : 25,000-50,000, 50,000 ante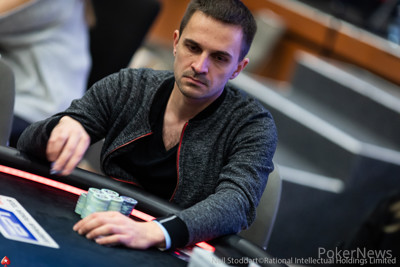 Luke Marsh raised to 110,000 from the hijack with
and Ricardo Da Rocha found
in the cutoff. Da Rocha three-bet to 330,000 and everyone folded including Marsh.
Laurent Michot held
in the early position and raised to 125,000 and got no action.
Tomas Paiva limped in from the cutoff with
and Mikalai Pobal opted to check with
The flop came
, Pobal check-called the 90,000 bet of Paiva. The turn was the
, Pobal checked again. Paiva bet 300,000 and that was enough to get the fold.
Dietrich Fast raised to 100,000 from the middle position to pick up the blinds and ante with
.
Paiva limped in from the middle position with
. Laurent Michot completed his small blind with
and Luke Marsh opted to check with
. The flop came
, it was checked to Paiva who bet 120,000 to get both of his opponents to fold.
Gaby Livshitz had
in the hijack and raised to 100,000. Pobal found
in the cutoff and called. Laurent Michot three-bet to 335,000 on the button with
. The blinds folded and so did Livshitz. Pobal called. The flop came
for Michot to hit a pair of tens and for Pobal to hit a pair of kings. They both checked to the
on the turn. Pobal bet 280,000 and Michot called. The river completed the board with the
to keep Pobal ahead. Pobal barreled a bet of 450,000 into the pot, leaving 490,000 behind. Michot looked over to Pobal's stack, used two time bank cards, and then decided to call to be left behind short.
Player
Chips
Progress

Norbert Szecsi

11,920,000

-30,000

Tomas Paiva

4,980,000

340,000

Gaby Livshitz

4,130,000

-230,000

Luke Marsh

4,050,000

-240,000

Dietrich Fast

3,300,000

100,000

Ricardo Da Rocha

2,930,000

130,000

Mikalai Pobal

2,850,000

975,000

Laurent Michot

595,000

-1,095,000