€10,300 EPT High Roller
Day: 3
€10,300 EPT High Roller
Day 3 Completed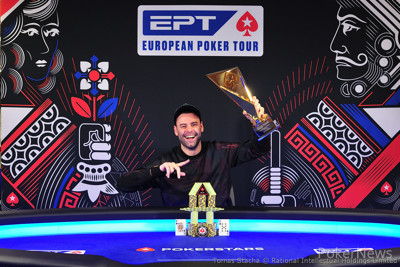 Day 3 of the €10,300 High Roller has come to an end after 11 hours of play. A day that started with 23 hopefuls ended with one champion who took home EPT trophy and the €475,410 grand prize. The tournament attracted a field of 271 entries and the top 39 finishers earned a slice of the €2,628,700 prize pool.
That champion was Englishman Robert Cowen who added another big title to his growing poker resume. Cowen won his first WSOP bracelet in November and now, four months later, he takes home his first EPT trophy, which is for nearly double the amount of money of his WSOP victory.
With his poker resume including cashes that extend all the way back to 2008, Cowen has now won well over half (~$900,000 of his career ~$1,400,000) within the last four months, pointing to evidence that Cowen is a player on the serious come up.
2021 EPT Prague €10,300 EPT High Roller Final Table Results
| | | | |
| --- | --- | --- | --- |
| Place | Player | Country | Prize Money |
| 1 | Robert Cowen | United Kingdom | €475,410 |
| 2 | Andriy Lyubovetsky | Ukraine | €402,170 |
| 3 | Conor Beresford | United Kingdom | €256,300 |
| 4 | Ricardo Caridade | Portugal | €206,880 |
| 5 | Adrian Mateos | Spain | €162,190 |
| 6 | Mike Watson | Canada | €122,760 |
| 7 | Christopher Puetz | Germnay | €90,160 |
| 8 | Kayhan Roshanfekr | Norway | €66,240 |
Cowen's Day 3 was a remarkable one. He started the day with just ten big blinds and was the 22nd stack out of the starting 23 players. He was nearly out the door just fifteen minutes into the day when he was all in and trailing through the flop but would hit a pair on the turn to double and stay alive. From there it was time to spin it up as he gradually gained chips to thwart the immediate threat.
He was still third lowest in chips at the two-table redraw and would stay hovering around the bottom third into the final table where he was the fifth stack out of eight. But still, he remained crouching in the weeds as he was the short stack at dinner break.
Then it was finally time to make his move as he started to accumulate with five remaining and really turn up the pressure three-handed where he would put a lock on his opponents until the title.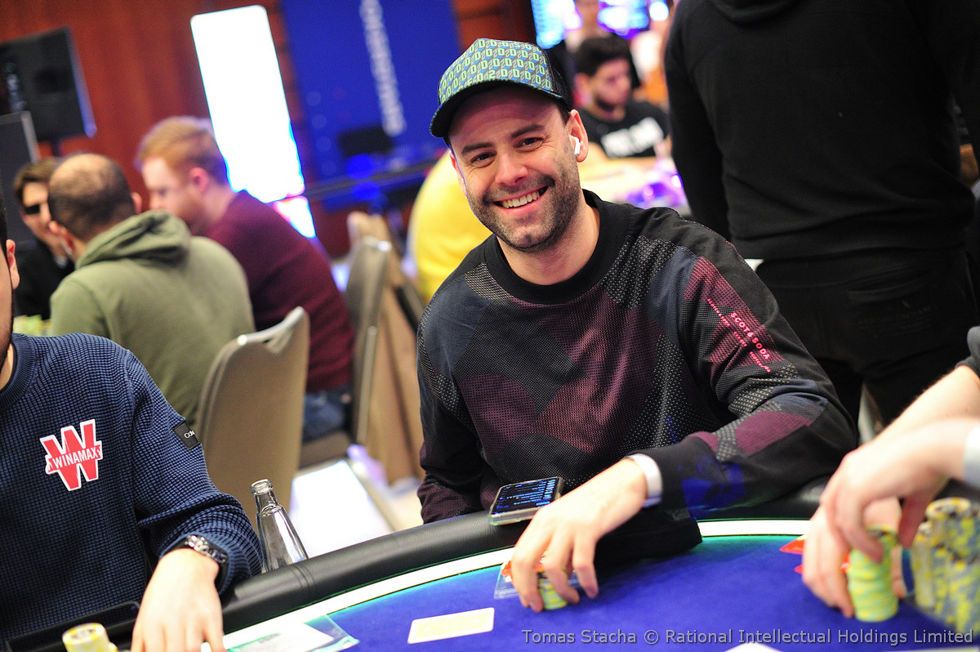 Action of the Day
The day began with 23 and would start to move at a steady downward clip as players dropped at a consistent pace, going down to 15 before the first break. That pace would continue into the second break where ten would remain at that point. The final table was reached shortly after that when Niall Farrell was taken out in ninth place after securing a pay jump by the matter of a few seconds.
The final table continued at the same steady pace when Kayhan Roshanfekr was the first to depart in eighth place.
Christopher Puetz was the next to go in seventh when he ran his ace-queen into the ace-king of Adrian Mateos who was starting to emerge as the big stack at that point. Mike Watson then went out in sixth place just before the dinner break.
Heading into dinner break, Mateos had a big chip lead on the field and would've been the odds on favorite to take the title at that point. But things took a drastic turn after dinner as Mateos started losing several pots in a row and after just one hour was suddenly the short stack. He would not be able to regain any momentum and his slippery slide culminated in a fifth place finish.
Ricardo Caridade was then eliminated in fourth place, as he was able to ride a short stack through to several pay jumps.
Three-handed play was an even affair with each player having highs and lows. Eventually, Conor Beresford would bow out after losing a big flip to Andriy Lyubovetskiy to set up heads up play.
Cowen and Lyubovetskiy agreed to an ICM deal before heads up play to even out the payouts more but left €50,000 up top to play for and the EPT trophy. Lyubovetskiy, representing Ukraine, had started the day as chip leader and was near the top most of the day before a downturn with two tables left that almost saw him go out before the final table. But he would stave off the short stack struggle and rise back towards the top at the final table and enter heads up play with 43% of the chips and a serious chance to win.
But heads-up play was short despite the deep stacks and soon Cowen found himself as champion after his king-nine held against queen-jack.
That wraps up the PokerNews coverage of EPT Prague in what has been a widely successful series. Stick around for more EPT action in EPT Monte Carlo coming in Late April.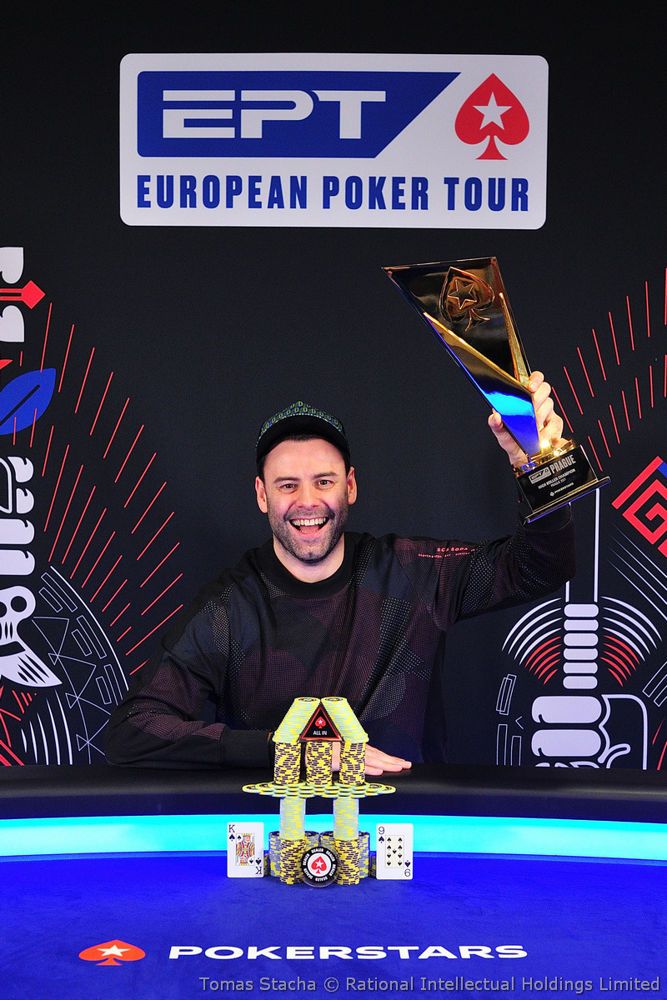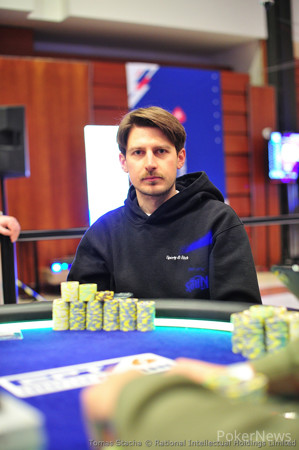 Robert Cowen opened to 300,000 on the button / small blind and was three-bet in the big blind by Andriy Lyubovetskiy to 1,000,000. Cowen then moved all-in with his stack just slightly more than that of Lyubovetskiy. After some brief thought, Lyubovetskiy called.
Robert Cowen:

Andriy Lyubovetskiy:
The board came
. Cowen's king-high held up to eliminate Lyubovetskiy as the runner-up and make Robert Cowen the champion.
The two remaining players have decided on an ICM deal based on chip stacks and have adjusted the top two payouts accordingly.
With a chip stack of 7,670,000, Robert Cowen is assured €425,410 and with a chip stack of 5,880,000 Andriy Lyubovetskiy is guaranteed €402,070.
They will play for an additional €50,000 plus the EPT title and trophy.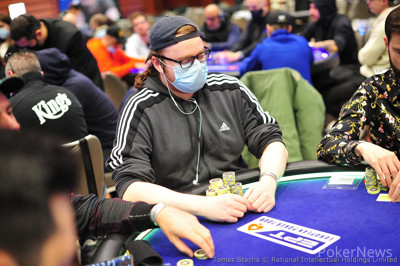 After Andriy Lyubovetskiy raised to 200,000 on the button, Conor Beresford three-bet to 700,000 in the small blind. Lyubovetskiy then moved all in for just under 3,000,000 and Beresford called to set up the biggest pot of the tournament.
Conor Beresford:

Andriy Lyubovetskiy:
The
flop was clean for Beresford, but the
on the turn put him a card away from devastation. The river
brought that devastation, putting Beresford on just four big blinds, which would go in shortly after with
against Robert Cowen's
, with the board bringing no help and sending the Brit home in third place.
Andriy Lyubovetskiy raised from the small blind and Conor Beresford defended.
The flop came
. From the big, Beresford bet 340,000 and was called.
The turn was the
. Lyubovetskiy check-called a bet of 450,000.
The river came the
. Beresford moved all in. Lyubovetskiy considered it for nearly 30 seconds before he folded.
Level: 29
Blinds: 50,000/100,000
Ante: 100,000
The survellance camera above the final table has malfunctioned, causing a brief delay while the players rack up their chips and move to an adjacent table.
Immediately after the last pot that extended Robert Cowen's chip lead, the players went on a 15-minute break.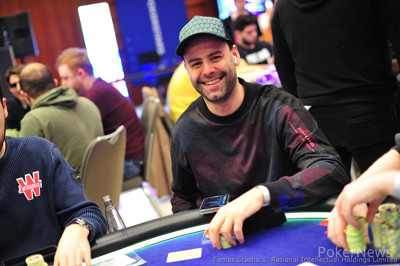 With a decent-sized pot built already by the turn, Conor Beresford bet 225,000 from the big blind into Robert Cowen on a
board. Cowen then raised to 775,000 and Beresford called.
On the
river, Beresford checked to Cowen, who bet 960,000. He didn't look thrilled, but Beresford put in calling chips to see Cowen turn over
for top two pair, which earned a pot big enough to give Cowen half the chips in play.
Player
Chips
Progress

Robert Cowen

6,800,000

1,850,000

Andriy Lyubovetskiy

3,755,000

1,485,000

Conor Beresford

2,995,000

-3,405,000