PokerStars EPT Dublin Main Event
Day: 4
PokerStars EPT Dublin Main Event
Day 4 Completed
That concludes our coverage of the 2007 PokerStars EPT Dublin Main Event. Here's one last look at how the final nine players ended up:

(1) Reuben Peters €532,620
(2) Annette Obrestad €297,800
(3) Reijo Manninen €178,680
(4) Trond Eidsvig €127,630
(5) Daan Ruiter €105,510
(6) Anders Pettersson €83,380
(7) Michael Durrer €66,370
(8) Thierry van den Berg €47,650
(9) Casper Hansen €30,630

From Dublin, Ireland - good night and good luck!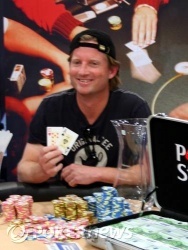 Reuben Peters of Colorado has officially been dubbed the 2007 PokerStars EPT Dublin Champion. During the heads-up match, Reuben seemed to steal the chip lead away from Annette Obrestad in the blink of an eye and suddenly found himself standing speechless, cradling a pair of trophies (one in each arm), in front of a wall of flashbulbs and spectators.

With the way that Annette was running today, very few people gave Reuben Peters a chance to win the tournament when the event reached the heads-up stage.

"I was the one that got the cards in the end," said the humble Coloradan after all of the post-tournament hubbub simmered down. A stock trader by day, Peters plays his fair share of online poker at PokerStars, where he won his seat to this week's event.

PokerNews would like to extend a big congratulations to all of the final table participants for a job well done.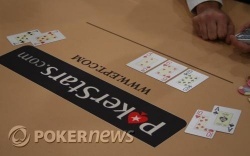 Looking at their stacks, you may have never known that Reuben Peters had more chips than Annette Obrestad. In fact, when Lee Jones announced to the crowd that Annette was the all-in player, many spectators in the crowd yelled out, "it's the other way around!"

Indeed, Lee Jones was correct in his assessment and it was Reuben who had Annette covered when the final hand went down. Here's how it happened:

From the button, Reuben made it 52,000 to go and was reraised by Annette, who kicked it to 190,000; Peters just called and the flop came
.

After some thought, Obrestad led out with a 230,000 bet and Peters countered with a big bet of his own - he moved all in.

Annette went into the tank for quite some time - at one point even getting out of her seat to examine her chip stack. She sipped several drinks from a bottle of water before eventually making the call. At the showdown, Annette showed
, while Reuben showed
for top pair, top kicker.

The turn and river filled out
,
and before declaring an official winner, Lee Jones and the tournament staff checked and rechecked the chip stacks to be certain Peters had Obrestad covered. After the count was made official, Lee Jones declared Reuben Peters the 2007 EPT Dublin Main Event Champion.
By stringing together a series of small pots, Reuben Peters has taken the chip lead from Annette Obrestad, who has held it since the final table began, four hours ago.

It's a slim margin, but an incredible comeback!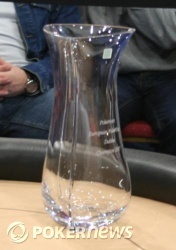 Lee Jones just announced that the host casino has added its own trophy to the prizepool. Whoever wins this thing will have a very nice looking mantle.
Level: 23
Blinds: 10,000/20,000
Ante: 2,000
A few hands into heads-up play, Reuben Peters managed to double through Annette Obrestad, narrowing the gap in the chip differential.

On a board showing 4-6-9, Peters got all of his money in holding 4-6 for bottom two pair and Annette tabled J-9 for top pair, jack kicker.

The turned and river blanked out 8, K and the double up improved Peters' chip stack to just under one million.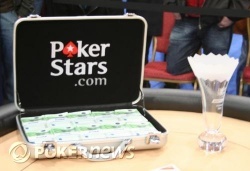 Tournament director Thomas Kremser has delivered the money and the trophy to the final table; first place today is worth over a half a million Euros.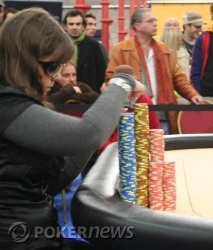 Steamrolling through this final table via a combination of good cards, good fortune and good poker play, Annette Obrestad has just eliminated her fifth final-table opponent of the day, Reijo Manninen.

Manninen moved all in pre-flop and it cost Annette 171,000 to make the call. She did, and turned over A-3 suited (clubs); Manninen tabled A-J.

The flop came K-Q-K and it looked as though Reijo would double up, but a three came on the turn, leaving the Finn drawing to an ace, queen, jack or ten to stay alive. Today was not his day, however, as a nine fell on the river, giving Annette the check mark.

For his third-place finish, Reijo picked up €178,680 in prize money.