Sponsored by:

Main Event
Day 3 Completed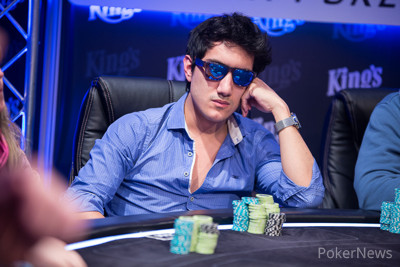 The final table has been set in the PokerStars.net Eureka Poker Tour Rozvadov €1,100 Main Event, with Argentinian sensation Ivan "Negriin" Luca dealing the final blow and grabbing a dominating lead for Tuesday's last day of action.
Interestingly enough, Luca with have position on someone he is very familiar with, his girlfriend Maria Lampropoulos. Lampropoulos has about 3 million in chips less than Luca, but still plenty of an opportunity to make some noise.
The third and penultimate day of the event saw 63 players return to King's Casino. More than eight levels of 60 minutes each passed before the eight finalists had been determined, but action was fast and furious right at the start, with Michael Eiler and Marek Blasko as the first two to fall.
Other notables to fall before the last three tables included Pavel Chalupka (47th), Dominik Paus (37th), and Amir Mozaffarian (34th).
European Poker Tour regular Jonas Lauck put his hopes on a nut flush draw in a three-bet pot against Lampropoulos, but the kings of the last woman in the field held up to see her skyrocket into the top five.
PokerStars online qualifier Alexandru Farcasanu bluffed away his stack with ace-high and Robert Kokoska's top pair held up to see the Romanian depart in 23rd place.
Martin Kristeller went from zero to hero and back to zero after first cracking pocket kings and then having his aces cracked within a matter of half an hour. He finished in 19th place.
Grzegorz Wyraz finished in 16th after losing a flip with ace-queen against the pocket sevens of David Urban, and the same applied for Dragoslav Timarac on the feature table to bust him in 15th. Hannes Speiser had raised with sevens, Lampropoulos flatted with jacks, and Timarac, the Serbian, pushed with sevens. Luca reshoved with ace-king suited and an ace on the flop sent Timarac packing.
Start-of-the-day chip leader Daniel Rose lost momentum early on and then had his aces cracked before shoving with 10 big blinds and king-queen. Urban found the ace-king from one seat over and an ace on the flop reduced the field to the last 12 hopefuls.
Martin Ilavsky, Rene Kodlin, and Andres Viola were on the rail next, and the unofficial final table of the last nine was set.
Domenico Gala experienced a roller coaster on the feature table and ultimately got into a huge pot with Luca after raising the button with queens. Luca flopped trip tens and check-raised before betting the turn and shoving the river of a paired board. Gala tanked for six minutes and called it off for 1 million in chips only to see his over pair was no good.
With that elimination, Day 3 came to a close with 43:43 left on the clock in Level 27 at blinds of 30,000/60,000 and a running ante of 10,000.
Luca holds a commanding lead with 5.355 million chips, almost twice as many as second place's Peter Siemund from Berlin with 2.845 million. Lampropoulos is in third on 2.455 million.
Seven different nationalities made it to the official final table, as the line up is completed by Urban from Slovakia (2.005 million), Bulgaria's Stoyan Stefanov (1.505 million), Mick Heder from Denmark (1.37 million), the last remaining Czech in Kokoska (895,000), and Austria's Hannes Speiser (445,000).
Final Table Seat Draw
| Seat | Player | Country | Chip Count |
| --- | --- | --- | --- |
| 1 | Mick Heder | Denmark | 1,370,000 |
| 2 | David Urban | Slovakia | 2,005,000 |
| 3 | Hannes Speiser | Austria | 445,000 |
| 4 | Stoyan Stefanov | Bulgaria | 1,505,000 |
| 5 | Maria Lampropoulos | Argentina | 2,455,000 |
| 6 | Ivan Luca | Argentina | 5,355,000 |
| 7 | Peter Siemund | Germany | 2,845,000 |
| 8 | Robert Kokoska | Czech Republic | 895,000 |
Action will resume on Tuesday at 2 p.m. local time, but the updates won't start until one hour later due to the security delay of the live stream with hole cards. The finalists have €12,500 locked up thus far, but all eyes are set on the Eureka title and first-place payout of €124,890 that comes with it.
Make sure to tune back in for the PokerNews reporting to find out who will be crowned champion in the biggest poker room in Europe.
| | | | | | |
| --- | --- | --- | --- | --- | --- |
| Ivan Luca | | | | 5,355,000 | |
| Peter Siemund | | | | 2,845,000 | -235,000 |
| Maria Lampropoulos | | | | 2,455,000 | 415,000 |
| David Urban | | | | 2,005,000 | 320,000 |
| Stoyan Stefanov | | | | 1,505,000 | -20,000 |
| Mick Heder | | | | 1,370,000 | -120,000 |
| Robert Kokoska | | | | 895,000 | 70,000 |
| Hannes Speiser | | | | 445,000 | -110,000 |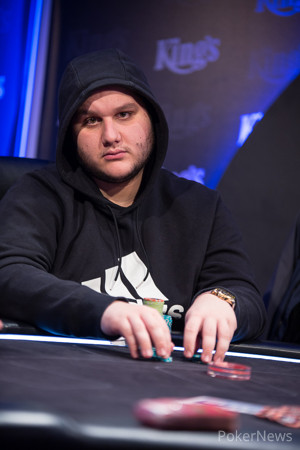 Domenico Gala raised to 130,000 from the button and Ivan Luca called out of the big blind. The flop came
saw Luca check-raise from 110,000 to 300,000 and Gala called. After the
turn, Luca bet 535,000 and Gala called.
The
river saw a pot of 2 million chips already and Gala had 1 million behind and was put all in. The Italian tried some table talk and all of a sudden Luca became chatty, after having spent the majority of the day in silence.
Several minutes passed and Hannes Speiser even asked Gala if he should call time. Maria Lampropoulos was squeezed in between Gala and Luca, barely able to watch the drama unfold.
Seven minutes after the shove, Gala called with
and Luca showed the
for a full house to bust the Italian and take a monster lead into the final.
Level:

27
Blinds:

30,000/60,000
Ante:

10,000
David Urban raised to 110,000 from the hijack and Maria Lampropoulos called in the big blind. On the
flop, Lampropoulos check-called a bet worth 140,000 before both players checked the
turn. On the
river, Lampropoulos check-raised from 175,000 to 400,000 and then called the shove of Urban to make it obvious both players held an ace for the straight.
Urban:

Lampropoulos:
Chop it up!
Maria Lampropoulos opened to 100,000 and Peter Siemund then three-bet to 250,000 from the hijack, only Lampropoulos called. The duo checked down the
flop and the
turn. On the
river, Lampropoulos bet 350,000 and Siemund eventually folded the
.
The Argentinian said she had a pair as per table chat.
David Urban raised to 110,000 from under the gun and was called by Domenico Gala as well as Mick Heder in the big blind. On the
flop, Heder check-folded and Urban bet 180,000 to pick up a call by Gala. On the
turn, Urban fired a second barrel worth 375,000 and this time the Italian folded.
In one of the first hands, Robert Kokoska three-bet shoved to claim the pot without showdown.
Then, David Urban raised to 100,000 from the cutoff and Domenico Gala defended his big blind. On the
flop, Gala check-called a bet of 120,000 and both players checked the
turn. On the
river, Gala checked and Urban bet 345,000. The Italian eventually called and showed
as winning hand.
As per tournament director Thomas Lamatsch, Day 3 will continue until the end of level 27 or once the final eight have been reached, whichever of the the two comes first.
Play has just resumed with 35:05 left for level 26 and no hole cards will be displayed on the stream unless there is a showdown, this will once again be available on the official final table tomorrow.