Level Info
| | |
| --- | --- |
| Level | 21 |
| Blinds | 8,000 / 16,000 |
| Ante | 2,000 |
LAPT San José Main Event
Day 3 Completed
In thrilling fashion, Ryan Fee has just claimed the title of champion here at the PokerStars.net LAPT San Jose! Fee outlasted Humberto Brenes, Victor Ramdin, Alexandre Gomes, Andre Akkari, Carter Gill, Eddy Sabat, and a field of 219 skilled players to claim the title. Along the way, Fee proved that he will be a force to be reckoned with in live tournament poker for the foreseeable future, playing competently alongside some of the best players in the world.
The field of 219 players represents a sharp decline from the 397 who played this event the last time around. The staff was a bit disappointed by the turnout, but there's no indication that poker is falling off in this area of the world. A huge number of local and semi-local players came out to play, and they were cheered on by a supportive and attentive group of spectators for the duration of the event. Regardless of the reason for the decline, poker is alive and well in Latin America.
Fee, who is just twenty years old, was the chip leader for the vast majority of the last two days, only relinquishing the top spot on a few short occasions. He took a reasonable lead into heads-up play, but Joel Micka battled back, proving his own worth as a heads-up specialist. When all of the chips went into the middle on the closing hand, Micka was just barely covered, and things could have ended drastically differently for both men if not for a dramatic ace on the river.
With that, the second PokerStars.net LAPT San Jose has come to a close. Congratulations to our champion, Ryan Fee! Until next time, buenas noches from Costa Rica!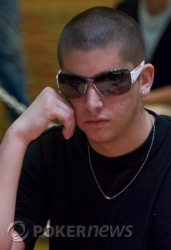 Joel Micka opened a can of worms with a starting raise to 40,000. Very quickly, Ryan Fee raised back, making it 105,000 total. With little hesitation, Micka three-raised it to 300,000. Fee moved all in and Micka made the call, putting nearly all of the chips in play in the middle of the table!
Showdown:
Micka:
Fee:
As a crowd of media and spectators pressed in on the table, the dealer ran out the flop of
. It was a miss for Fee, but he did pick up a gutshot straight draw. The turn was a meaningless
. The crowds inched their way closer to the table, and flash bulbs were popping as everyone was craning their necks to catch a glimpse of what would be the final river card of the tournament.
Fifth street:
Ryan Fee struck his ace on the river, earning him the massive pot. The two men were virtually even in chips, but it was Fee who had Micka just slightly covered. With that, Joel "JMPRODIGY" Micka was eliminated in second place, taking home $148,993 -- his biggest cash finish in his poker career.
Micka picked his way through the field with bold raises and well-timed aggression for the past three days. With two tables left last night, Micka was very short on chips, but he managed to hang on to his stack and was just one card away from a victory. Congratulations to Joel Micka for his fine performance this week!
Joel Micka had the button. He opened with a raise to 48,000, and Ryan Fee played back at him. Fee announced a reraise, and slid out 105,000 chips. Micka sat still for a minute with his head resting on his hands, looking pensively at his chips.

"Two hundred more," said Micka, making it a total bet of 305,000. That was enough for Fee as he slid his cards into the muck.

We have still yet to see a single flop in heads-up play!
Over the course of the first ten or fifteen minutes of heads-up play, the two men have been trading jabs. Nearly every pot has been won with a single preflop raise or reraise. It will be interesting to see how long the feeling-out period lasts, and how soon the two men get together in a big confrontation.
Play has resumed with heads-up play.
The clock is paused, and the players are taking a quick unscheduled break. We expect to be back very soon.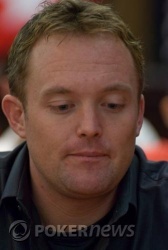 Joel Micka opened with a raise to 32,000 from the button. Next to act was Brent Sheirbon, and he moved all in for a total of 140,000. Ryan Fee ducked out, and Micka made the call, putting Sheirbon in danger of being eliminated.
Showdown:
Micka:
Sheirbon:
The board frowned on Sheirbon, coming out
. Failing to find his outs, Brent Sheirbon was sent to the exit in third place, earning $109,913 for his hard work during the last three days.
After a sluggish start, the action has been fast and furious in the last two levels. Level 21 is upon us, and the cards are back in the air!
Level:

21
Blinds:

8,000/16,000
Ante:

2,000