Justin Thurlow Wins 2019 Canterbury Park Fall Poker Classic Main Event for $47,635 After Four-Way Chop

Level 27 : 30,000-60,000, 30,000 ante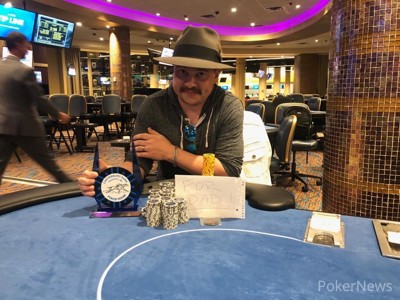 The 2019 Canterbury Park Fall Poker Classic has seen two weeks of events play to their conclusion with the $1,100 Main Event now officially in the books. The event saw 376 entries generate a total prize pool of $364,720 with 62 players making their way into the Minneapolis-area venue with their sights set on victory.
Of those 62, just 45 made it into the money and in total, the day saw nearly 13 full 40-minute levels play to their conclusion before a four-way deal was struck with Justin Thurlow taking home the trophy and the title of champion. After the deal was agreed upon, his earnings for the victory were $47,635.
"Everybody was a threat," said Thurlow of his competition at the final table in an interview after the tournament finished. "I just stayed really, really focused throughout the whole tournament and it was just super awesome being able to close it out with some of my best friends in poker."
Final Table Results
| Place | Player | Prize |
| --- | --- | --- |
| 1 | Justin Thurlow | $47,635* |
| 2 | Gennady Shimelfarb | $47,000* |
| 3 | Bob Van Syckle | $43,000* |
| 4 | Stephen Webb | $39,000* |
| 5 | Saad Ghanem | $36,000* |
| 6 | Rob Wazwaz | $15,318 |
| 7 | Eric Torgerson | $12,036 |
| 8 | James Lawrence | $9,483 |
| 9 | Nghia Le | $6,930 |
* denotes chop
Day 2 Action
Day 2 had a steady pace to it from the time cards went into the air until the tournament concluded. The bubble loomed near at the first break of the day after two levels of play and the tournament got into the money in the third level of play on the day, with Brad Berman, Yao Yin, and Blake Bohn all being eliminated shortly before the bubble burst.
It only took an hour and a half from there to hit the final three-table redraw, with action continuing at the same pace for another three hours of play until the final table was reached. Players to make it into the money and fall short of the final table included the likes of Day 1 chip leaders Jeff Petronack (40th place - $2,006) and Steven Belland (35th place - $2,188) as well as former Fall Poker Classic Main Event champions Kou Vang (23rd place - $2,954) and Scotter Clark (14th place - $4,741).
The Final Table
Defending champion Nghia "3 Putts" Le found himself short with 10 players remaining and doubled up at the same time John Sorenson (10th place - $5,836) was eliminated to bring the tournament to the final table of nine. That would be all Le could muster, however, as he took ninth place after getting all in preflop with ace-queen to Bob Van Syckle's pocket sevens. A queen on the turn gave Le help but a seven on the river ended his bid and he left with an exclamation that "it was fun" as he went through the paperwork after his elimination.
Another level passed before James Lawrence and Eric Torgerson both found their ways to the rail at the expense of Gennady Shimelfarb, who was in the process of building a huge chip lead via a handful of eliminations from the final two tables on in.
Shimelfarb then knocked out Rob Wazwaz to take the tournament to five, where play went on for a full level with then-short stacks Saad Ghanem and Stephen Webb battling to stay alive. Ghanem then doubled with ace-king versus Shimelfarb's pocket jacks to make four of five stacks close, which prompted the five to discuss a deal.
The deal was agreed upon and Webb was slated to earn $26,000 with the other four players locking up $36,000. The remaining $40,635 was set to be divided up with $27,000 more going to the winner and the remaining $13,635 being for the runner up. However, action did not pick up after the agreement and it took another full level-plus before Ghanem made his exit in fifth place after getting short again.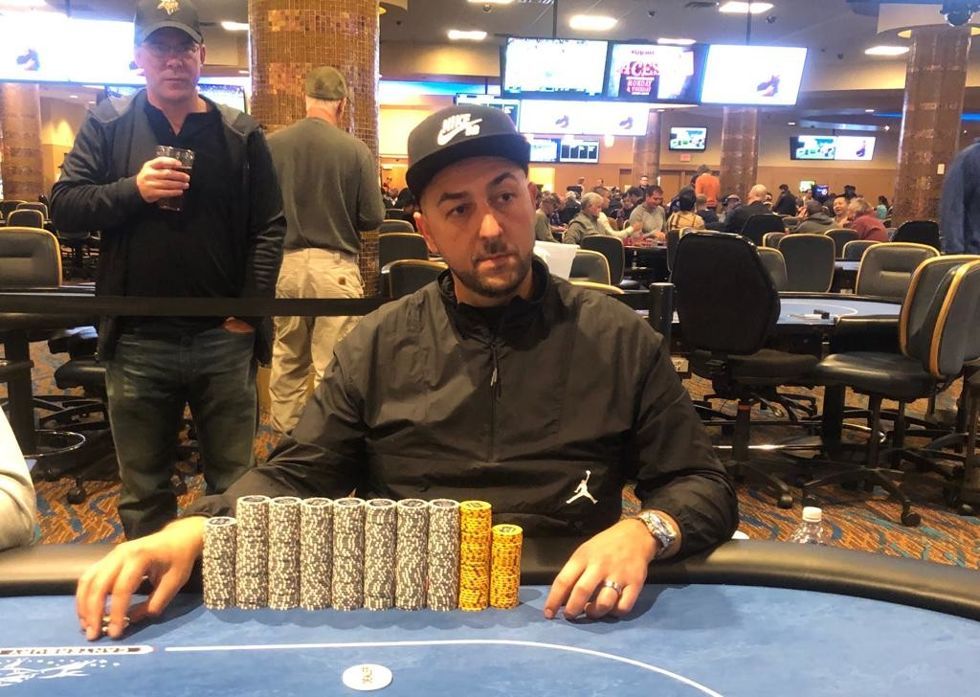 Another level then went by with stacks continuing to fluctuate. Webb picked up pocket aces and found a double against Thurlow, who had built up a sizeable chip lead prior to the hand. Thurlow still had the lead, though, and Shimelfarb and Webb were tied in the middle of the pack with Van Syckle a bit behind the pair. More talks of a chop arose and the four players found a deal they could all agree to.
Thurlow could not say enough about the entire final table lineup after the tournament: "we had some players from our mixed games here at Canterbury and we had players that constantly make final tables like Bob (Van Syckle) and Rob Wazwaz, and so it was all guys that I've known for years and it was just super awesome."
Thurlow said he has played this event multiple years and took fifth place in the event last year. He said he felt very confident about the possibility of back-to-back final tables, a feat that he was not unique in conquering. He lauded "3 Putts" on the same feat after winning last year and taking ninth in this year's edition.
Seen in a Stetson for the entirety of the tournament, Thurlow was overheard multiple times discussing how it belonged to his father who had recently passed away: "I was just so excited, and I put a little sign up (saying), "FOR DAD" because I lost my dad about a month ago" he said. "It was awesome."
Here's a look at all those who captured titles during the 2019 Fall Poker Classic at Canterbury Park:
| Tournament | Entries | Prize Pool | Winner | Prize |
| --- | --- | --- | --- | --- |
| Event #1: $125 Tag Team NLH | 169 teams (540 entries) | $51,840 | Michael Simon & Kristofer Simon | $3,379 |
| Event #2: $365 Monster Stack | 386 | $116,186 | Peixin Liu | $17,623 |
| Event #3: $250 NLH | 200 | $41,400 | Thai Dinh | $9,928 |
| Event #4: $250 Seniors NLH | 233 | $48,231 | Robert Watters | $5,248 |
| Event #5: $550 NLH | 131 | $63,535 | Zeph Baer | $16,725 |
| Event #6: $250 Limit Omaha 8 | 125 | $25,875 | Jason Seitz | $6,473 |
| Event #7: $250 NLH 6-Max | 170 | $35,190 | Eric Eelkema | $9,499 |
| Event #8: $550 Dealers Choice | 56 | $27,160 | Art Hamann | $9,506 |
| Event #9: $250 Pot-Limit Omaha | 89 | $18,423 | Matt Warn | $5,000 |
| Event #10: $340 Black Chip Bounty | 213 | $40,683 | Kenny Hammerlund | $8,593 |
| Event #11: $365 Monster Stack | 320 | $96,320 | Bill Kachel | $22,156 |
| Event #12: $250 NLH | 132 | $27,738 | Peter Kuretsky | $7,063 |
| Event #13: $125 Ladies NLH | 73 | $7,008 | Patricia Boeckman | $2,243 |
| Event #14: $340 Double Stack NLH | 130 | $37,830 | Nick Marsh | $7,865 |
| Event #15: $550 NLH | 110 | $53,350 | Gerald Cunniff | $12,918 |
| Event #16: $250 Limit Hold'em | 51 | $10,557 | Kathy "Kit Kat" Klassen | $3,695 |
| Event #17: $340 NLH 6-Max | 137 | $39,867 | Yao "YY" Yin | $11,162 |
| Event #18: $250 NLH | 111 | $22,877 | Yao "YY" Yin | $5,000 |
| Event #19: $2,500 High Roller | 28 | $64,484 | Ian Matakis | $32,245 |
| Event #20: $1,100 Main Event | 376 | $276,000 | Justin Thurlow | $47,635 |