$1,100 Main Event
Day: 1b
$1,100 Main Event
Day 1b Completed

Level 14 : 1,500/3,000, 3,000 ante
The field has been set for Day 2 of the 2019 Canterbury Park Fall Poker Classic $1,100 Main Event.
Day 1b saw 219 entries add to the first flight's 157 runners, bringing the two-day total up to 376 as 14 levels were played to conclusion. When Level 14 ended, 35 players remained with Steven Belland leading the way and bagging a stack of 243,000.
Belland had around half that figure going into the final level of the night before winning a few pots that sent him up the counts. Meanwhile, Cody Jaeschke (226,500) appeared to be a lock for the chip lead before losing a huge pot in the last couple minutes of the night to fall back into second in chips for the flight.
Justin Thurlow (217,500), Kou Vang (211,500), and Jason Seitz (190,500) round out the top five, with all three also experiencing significant gains to their stacks during the final hour of play for the evening. Other players to advance included Yao Yin (173,000), Blake Bohn (118,500), Tyler Kolness (111,000), and past champions Brad Berman (88,500) and Scotter Clark (61,000).
Among those who were not as fortunate in their trials included another trio of former champions in Mike Schneider (2012), Dennis Stevermer (2017), and Nghia Le (2018). Le, better known around the Minnesota poker community as "3 Putts" will still have a shot at defending his title due to taking a shot at Day 1b after bagging the smallest stack of 39,000 on Day 1a.
The 35 to advance to Day 2 will add their names to the roster of 27 that punched their tickets from the initial flight, meaning that a field of 62 will combine under one roof for the first time to compete for the championship.
Day 2 will begin at 12:30 p.m. local time at the beginning of Level 15 (2,000/4,000/4,000). Levels will remain at 40 minutes in length and the tournament is scheduled to play down to a winner. However, just 45 are set to make it into the money, meaning there is plenty of work to be done for all who return.
PokerNews will be onsite covering the tournament to its conclusion. Come back and find out who will claim the title.

Level 14 : 1,500/3,000, 3,000 ante
Day 1b is officially in the books and official chip counts have been provided. Stay tuned for a recap of the day's action.
Player
Chips
Progress

Steven Belland

243,000

133,000

Cody Jaeschke

226,500

38,500

Justin Thurlow

217,500

4,000

Kou Vang

211,500

61,000

Jason Seitz

190,500

72,000

Stuart Luhm

189,500

Mario Hudson

189,000

56,500

Tyree Johnson

182,500

182,500

Paul Hickerson

175,000

-32,000

Andrew Johnson

174,500

1,500

Yao Yin

173,000

26,000

Jerry Hanson

159,000

159,000

Trent Wilt

146,500

146,500

Jason Sell

138,000

-25,000

Sammy Whammy

121,000

23,500

Stephen Webb

119,500

119,500

Blake Bohn

118,500

47,500

Tyler Kolness

111,000

-44,000

Jesse Rockowitz

107,000

31,500

Matt Alexander

106,500

-33,500

Bob Van Syckle

106,500

106,500

Vic Peppe

95,000

64,500

Ian Matakis

91,500

21,500

Brad Berman

88,500

-346,500

James Gibson

86,000

86,000

Level 14 : 1,500/3,000, 3,000 ante
The tournament clock has reached the 10-minute mark and the number two has been drawn, signifying two more hands will be played on each of the five remaining tables before play concludes for the night.

Level 14 : 1,500/3,000, 3,000 ante
Stacks got all in preflop between Stuart Luhm, who was under the gun, and Shelly Morrill, who was in the small blind.
Shelly Morrill:

Stuart Luhm:
"Oh you've got to be kidding me!" said Morrill.
"Give me a five! said Luhm at the same exact time.
Both of them saw the flop come
, giving Luhm a three-outer. The turn came
to give Morrill four more outs at a wheel, but she was unable to hit as the river came
.
"Here you go sir," she said as she slid her chips from the two-seat over to Luhm in the four-seat. The dealer began to count.
"He has me covered. It's okay," Morrill said.
"He does," confirmed the dealer.
Tablemate Vic Peppe confirmed after the fact that Luhm ripped all of his chips in the middle preflop. He said he folded ace-king as well, though Morrill called and found herself on the short end of the stick shortly before the end of the evening.
Player
Chips
Progress

Stuart Luhm

189,500

-30,500

Shelly Morrill

Busted

Level 14 : 1,500/3,000, 3,000 ante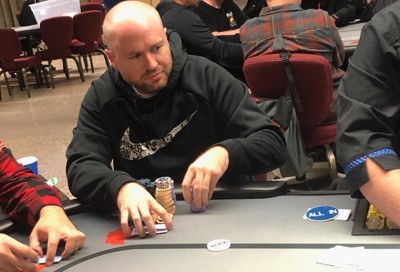 Andrew Johnson opened to 6,000 from early position and action folded around to Steve Wazwaz, who was on the button and three-bet to 20,000. Johnson four-bet all in and Wazwaz called for less.
Steve Wazwaz:

Andrew Johnson:
Wazwaz was in trouble before the flop and in even worse shape when it came
. The turn
left him drawing dead as the river fell
to result in his tournament coming to a close with about 15 minutes of play left in the day at Johnson's expense, who now finds himself with a stack of around 173,000.
Player
Chips
Progress

Andrew Johnson

173,000

67,000

Steve Wazwaz

Busted

Level 14 : 1,500/3,000, 3,000 ante
Andrew Johnson was in the hijack and saw action folded to him. He opened to 6,000 and received calls from Jason Sell in the cutoff, Paul Hickerson on the button, and the small blind. Action was then on Steve Wazwaz, who was in the big blind and three-bet to 26,000, Johnson folded to put action back onto Sell, who did not act immediately.
"Twenty-six thousand," said the dealer, making sure Sell knew the situation. He was indeed well aware, taking another 10 seconds before announcing he was all in. Action folded back to Wazwaz and he let his hand go without much deliberation.
Sell flashed two cards with visible paint on both of them.
"Queens?" Wazwaz asked. Sell confirmed. "Poket sixes," added Wazwaz, letting him know the hand he had folded as Sell raked in the pot without seeing a flop.
Level: 14
Blinds: 1,500/3,000
Ante: 3,000

Level 13 : 1,500/2,500, 2,500 ante
The official numbers are in and published for the 2019 Canterbury Park Fall Poker Classic $1,100 Main Event. In total, 376 entries over two starting flights generated a total prize pool of $364,720. The top 45 places will make it into the money and earn a first-level payout of $2,006. Prizes will escalate from there with the eventual champion taking home $80,241 and an accompanying trophy.
Full payout details have been provided in the Payouts tab.

Level 13 : 1,500/2,500, 2,500 ante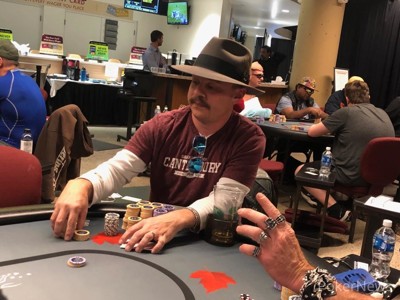 Justin Thurlow and Tam Le had gotten stacks in with over 50,000 in the middle prior to the rest of the stacks being committed. The board read
with Thurlow's winning hand of
still tabled. The dealer was in the process of counting stacks and totaled Le's to be around 68,000 with Thurlow's totaling more than that, leaving Le dry on chips as the two exchanged a fist bump before Le got up and left.
Thurlow was kind enough to recount the action after the hand, stating that Le had opened to 6,000 from under the gun and Thurlow called on his direct left. The two went heads up to the flop, where Thurlow called Le's continuation-bet. Le shipped the rest in on the turn and Thurlow called.
Le had
and Thurlow was able to hit a safe river to score the knockout and vault his stack to over 213,500. He talked about it after the fact, saying that he had barely over starting stack when the level began.
"But it's make-or-break, though," said Thurlow. "I've busted so many tournaments in Level 13 too!"
It is looking like he will survive this one with less than 10 minutes remaining in the penultimate level of the day.