$1,100 Main Event
Day: 1a
$1,100 Main Event
Day 1a Completed

Level 14 : 1,500/3,000, 3,000 ante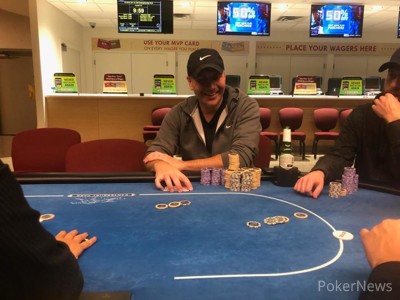 The first of two starting days in the 2019 Canterbury Park Fall Poker Classic $1,100 Main Event has come to a close with 14 levels of 40 minutes having been played to their conclusion. The day saw 157 entries make their way to Shakopee, MN, and at the end of the day, 27 players punched their tickets to Day 2.
Jeff Petronack, who took second place in the $2,500 High Roller earlier this afternoon for $19,345, found his runner-up finish to be all the motivation he needed to put the most chips into a bag when play concluded for the evening. To say he finished the day with a huge chip lead would be an understatement: his stack of 377,500 wound up to be more than double that of anybody else in the field.
Petronack surged on the final level of the night, earning a huge double when he shoved all in on the river after filling up to a full house. He was paid off by pocket kings and didn't stop there, scoring at least two more knockouts before play ended to bring him up to his final chip total when chips went into bags.
Rounding out the top five in chips are Rob Wazwaz (168,500), Bobby Cassioppi (162,000), Rich Alsup (150,500), and Erick Wright (150,500). Those four are only half of a group of eight players to end the day with between 140,000 and 170,000 in chips, with other local faces such as Gennady Shimelfarb (143,500) and Gary Loeffler (143,500) also in the mix.
Despite bagging a top-ten stack, Loeffler's ticket to Day 2 was far from a sure thing as he found himself down to just 6,000 in chips before climbing his way back up the leader board. One other player worthy of mention is defending champion, Nghia "3 Putts" Le (38,500), who bagged the shortest stack of all 27 players to advance.
Notable players who did not advance included Blake Bohn, Ian Matakis, Kou Vang, Scotter Clark, and Ahmed Taleb. Along with everybody else, they will have more chances on Saturday's Day 1b. The tournament is a "best stack forward" event, meaning that players who advanced could technically take another shot at bagging a larger stack on the final flight of the tournament.
Day 1b will see cards in the air on Saturday at noon local time with another 14 levels of 40 minutes on tap. Come back to PokerNews to catch all the action.

Level 14 : 1,500/3,000, 3,000 ante
Play has finished on Day 1a and chips are all in bags for the 27 remaining players. Official chip counts have been provided and a recap of the day's action will soon follow.
Player
Chips
Progress

Jeff Petronack

377,500

116,500

Rob Wazwaz

168,500

168,500

Bobby Cassioppi

162,000

-24,000

Rich Alsup

150,500

-21,500

Erick Wright

150,500

150,500

Aaron Curti

149,000

32,000

Gary Loeffler

143,500

59,500

Gennady Shimelfarb

143,500

60,500

Robert Mitchell

142,500

142,500

Jeff Taylor

128,500

128,500

Greg Rahn

126,000

126,000

Saad Ghanem

124,500

124,500

Jay Melancon

115,000

115,000

Jeremy Dresch

109,000

65,000

Alex Winter

106,500

106,500

Steve Meirink

106,000

-34,000

Paul Kelly

105,500

105,500

Mike Nelson

97,500

-17,500

Eric Torgerson

96,500

96,500

James Lawrence

83,000

83,000

Sam Chase

73,000

36,500

Nick Marsh

57,500

57,500

Zeph Baer

54,500

-22,500

Jake Schumacher

49,500

49,500

Jeffrey Radigan

43,500

43,500

Level 14 : 1,500/3,000, 3,000 ante
The tournament director has spoken: "okay dealers, finish the hand you're on and deal four more hands. Four more hands once this hand is completed."
Four more hands will be played before chips will be bagged and tagged for the evening.

Level 14 : 1,500/3,000, 3,000 ante
Jeff Petronack has just cracked pocket kings to score an elimination just moments after cracking the same hand with pocket fives to earn a double. He was kind enough to recount the hand, saying a player in early position raised to 7,500.
"I called with king-nine off suit - a real strong hand - and the (player on the) button called behind," said Petronack. "The flop came
and the player went all in for, what, 20,000?" He asked the table for confirmation and they said 22,000.
"Twenty-two thousand," Petronack corrected. "I called and he (the player on the) button folded. He had two kings."
"Jack-nine!" said another player at the table.
"The turn came
and the river came a
. I hit my two outer, just like I did against his kings," said Petronack, pointing to tablemate Jeremy Dresch, whose kings he cracked just moments before. With the pot, Petronack now finds himself north of a quarter-million in chips with the end of the night looming near.

Level 14 : 1,500/3,000, 3,000 ante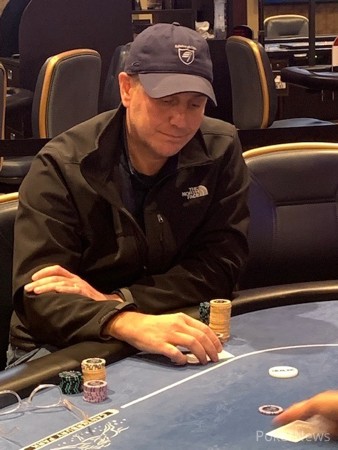 There was around 80,000 in the middle on a board reading
and Jeff Petronack announced he was all in from under the gun. His opponent was Jeremy Dresch, who was in the cutoff and went into the tank for over a minute.
"I'm talking myself into a fold here," Dresch said. Twenty seconds later, he went against his better judgment and threw out a call.
Petronack turned over
, putting them far enough out in front of him that they were right next to the river five to show that he had hit a full house on the final card of the hand. Dresch mucked and the dealer turned up his hand due to the all-in situation, displaying a cracked
.
According to tablemate Bobby Cassioppi, Petronack had opened preflop and called a three-bet from Dresch. Both players checked the flop and Petronack fired out 20,000 on the turn. Dresch called before calling the shove again on the river to double up Petronack, who now finds himself with 326,000.
Cassioppi also added that he himself had doubled against Dresch the hand before. The double brought his stack up to 186,000, making him one of the largest stacks in the room with four tables left and just over 20 minutes of play remaining in the day.

Level 14 : 1,500/3,000, 3,000 ante
A player limped in from under the gun and Mike Nelson went all in for 54,000 over the limp out of the cutoff. Aaron Curti then three-bet all in out of the big blind to fold out the limper and the two tabled their hands.
Mike Nelson:

Aaron Curti:
The flop came
, giving Nelson both a flush draw and a gutshot straight draw to increase his equity in the hand tremendously from where he stood before the flop. That equity would be cut in half as the turn
hit the felt, but the river
would prove to be just what he needed to score the double.
Curti rolled his eyes and paid off the 54,000 and the table got ready to get back to business for the next hand.
Player
Chips
Progress

Aaron Curti

117,000

-102,000

Mike Nelson

115,000

115,000
Level: 14
Blinds: 1,500/3,000
Ante: 3,000

Level 13 : 1,500/2,500, 2,500 ante
A player raised to 6,500 from under the gun and Zeph Baer called from his direct left in early position. All remaining players folded and the two went heads up to the flop
, where action went check-check.
The under-the-gun player checked again on the turn
and Baer put out a bet of 5,000. His opponent called.
The river fell
and Baer threw out a bet of 12,000. His opponent thought for about 20 seconds and then tossed out chips to call.
Baer tabled
for a pair of aces and his opponent sent his cards to the muck.
Player
Chips
Progress

Zeph Baer

99,000

-3,500

Level 13 : 1,500/2,500, 2,500 ante
Aaron Curti saw action folded to him on the button and opened to 7,000. He was called by Steve Meirink, who was in the small blind, and the two went heads up to a flop of
. Meirink checked.
"All in," said Curti.
"Call," responded Meirink with a half-shrug after about three seconds.
Steve Meirink:

Aaron Curti:
Curti had put Meirink all in after flopping bottom two pair and Meirink called with the nut flush draw and a Broadway draw to go along with it. The turn
was of no help to Meirink, who now found himself with one card left to improve to double and stay alive. The river
fell in his favor, filling up his flush draw to top Curti's two pair.
Upon seeing the river, Curti immediately tapped the felt to signify a nice hand as Meirink pushed forward his stack to be counted. It was totaled to be 60,500 and Curti send the appropriate amount to Meirink.
Player
Chips
Progress

Aaron Curti

219,000

-62,000

Steve Meirink

140,000

140,000