The fourth and final starting day of the 2018 partypoker LIVE MILLIONS Germany €5,300 Main Event saw more than 130 players in their seats in the second level of the day and once the registration had closed, that number grew to astonishing 415 entries to make Day 1d the strongest flight of all. In level eight, Dusk Till Dawn's Simon Trumper and president of partypoker LIVE John Duthie could confirm to all poker enthusiasts in the King's Casino in Rozvadov that the gross guarantee of €5,000,000 had been reached and the total attendance stands at 1,014 entries, of which fewer than one third, 324 participants to be exact, remain in contention.
After 12 levels of 40 minutes each, only around 131 players bagged up for the night with several familiar faces near the top of the leader board. Ultimately it was local player Ondrej Drozd that claimed the lead with 9.83 million and the Czech will be second in chips when the cards get back underway for Day 2. Pavel Plesuv (8.5 million), Vasyl Penteliuk (8.385 million), Dean Hutchison (7.7 million), Robert Cowen (7.485 million), Robert Kokoska (7.320 million), and German poker superstar Ole Schemion (6.635 million) all claimed big stacks to their name as well.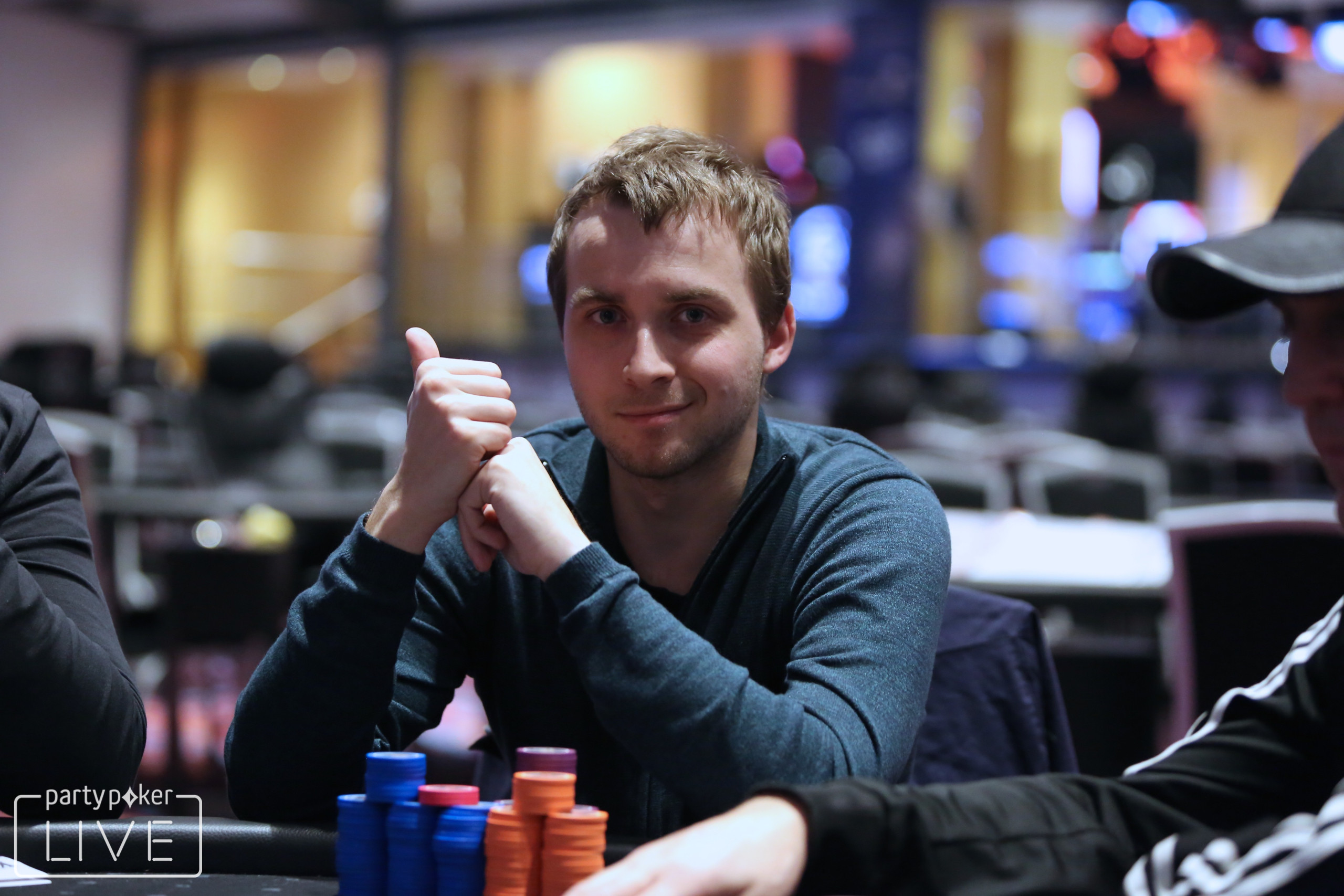 Among further notables that made it through after failing to advance via previous starting days were Sergio Castelluccio (5.535 million), Triple Crown winner Niall Farrell (5.3 million), Vlad Darie (5.275 million), Felipe Ramos (4.620 million), James Akenhead (4.085 million), Michal Mrakes (3.615 million) and MILLIONS Nottingham champion Maria Lampropulos (2.1 million).
Three partypoker representatives advanced on Day 1d in Roberto Romanello (2.6 million), Dzmitry Urbanovich (1.225 million) and team online's Renato Nomura (465,000). However, their teammates Marcel Luske, Johnny Lodden, Anatoly Filatov and Joni Jouhkimainen all fell short in their attempt to run up a stack.
Other big names that bowed out before bagging and tagging include Alexandre Viard, Sebastian Langrock, Jack Hardcastle, David Lappin, Daragh Davey, Dara O'Kearney, Daniel Wilson, Jan Bendik and Andrej Desset. Czech master of speech play Martin Kabrhel was eliminated in the last hand of the night when his ace-deuce failed to get there against the pocket jacks of Norson Saho.
Viard was victim of a flush over flush setup when the Frenchman flopped an open-ended straight flush draw only for Federico Petruzzelli to turn over ace-king suited for the nut flush. The miracle two-outer never arrived and that was it for Viard. Drozd first appeared as bigger stack mid-way through the day after scooping a big pot with rivered two pair against Mikalai Vaskaboinikau and jumped above ten million chips in the last level of the night when turning a full house against an opponent with trips. The Czech prevailed at the top of the counts despite the late surge of fellow countryman Kokoska, Pavel Plesuv and Vasyl Penteliuk.
All survivors of the remaining four starting days will combine to one field and the level duration as of Day 2 will increase to 60 minutes each. The money bubble will burst throughout the day and the action resumes at 12 p.m. noon local time with level 13 and blinds of 35,000/70,000 and a button ante of 70,000.
The PokerNews live reporting team will be on the floor to provide all the action from Europe's biggest poker arena until a champion is crowned this upcoming Sunday.
2018 partypoker LIVE MILLIONS Germany €5,300 Main Event Day 2 Seat Draw
| Table | Seat | Player | Country | Chip Count | Big Blinds |
| --- | --- | --- | --- | --- | --- |
| 79 | 1 | Hamza Miri | Germany | 4,285,000 | 61 |
| 79 | 2 | Christopher Atzori | United Kingdom | 2,525,000 | 36 |
| 79 | 3 | Aristeidis Moschonas | Greece | 8,975,000 | 128 |
| 79 | 4 | James Akenhead | United Kingdom | 4,085,000 | 58 |
| 79 | 5 | Anthony Clancy | United Kingdom | 880,000 | 13 |
| 79 | 6 | Jessica Pilkington | United Kingdom | 5,660,000 | 81 |
| 79 | 7 | Daniil Kiselev | Russian Federation | 3,135,000 | 45 |
| 79 | 8 | Michal Zahálka | Czech Republic | 3,075,000 | 44 |
| | | | | | |
| 83 | 1 | Andriy Palyuga | Czech Republic | 1,720,000 | 25 |
| 83 | 2 | Mitch Johnson | United Kingdom | 2,255,000 | 32 |
| 83 | 3 | Andrew King | United Kingdom | 1,600,000 | 23 |
| 83 | 4 | Jaroslaw Sikora | Poland | 4,175,000 | 60 |
| 83 | 5 | Felipe Tavares | Brazil | 4,620,000 | 66 |
| 83 | 6 | Nemo | Germany | 3,500,000 | 50 |
| 83 | 7 | Adam Herynek | Czech Republic | 2,160,000 | 31 |
| 83 | 8 | Andreas Walnum | Norway | 8,140,000 | 116 |
| | | | | | |
| 84 | 1 | Nicholas Romanello | United Kingdom | 2,765,000 | 40 |
| 84 | 2 | Robert Cowen | United Kingdom | 7,485,000 | 107 |
| 84 | 3 | Seyed Smit | Germany | 3,295,000 | 47 |
| 84 | 4 | Sebastian Benz | Germany | 2,675,000 | 38 |
| 84 | 5 | Pavel Plesuv | Moldova | 8,500,000 | 121 |
| 84 | 6 | Aleksandr Orlov | Russian Federation | 2,380,000 | 34 |
| 84 | 7 | David Odráška | Czech Republic | 5,195,000 | 74 |
| 84 | 8 | Jasmír | Czech Republic | 935,000 | 13 |
| | | | | | |
| 85 | 1 | Alexander Tschernych | Israel | 5,880,000 | 84 |
| 85 | 2 | Martin Staszko | Czech Republic | 3,795,000 | 54 |
| 85 | 3 | Steffen Sontheimer | Germany | 2,315,000 | 33 |
| 85 | 4 | Anatolii Zyrin | Russian Federation | 3,900,000 | 56 |
| 85 | 5 | Ihar Soika | Belarus | 3,200,000 | 46 |
| 85 | 6 | Krasimir Yankov | Bulgaria | 3,770,000 | 54 |
| 85 | 7 | Hamad Almannai | Lebanon | 2,005,000 | 29 |
| 85 | 8 | Raketák | Czech Republic | 5,685,000 | 81 |
| | | | | | |
| 89 | 1 | Greko Gregor | Germany | 3,065,000 | 44 |
| 89 | 2 | David Hudson | United Kingdom | 3,900,000 | 56 |
| 89 | 3 | Christophe Bouziane | France | 1,180,000 | 17 |
| 89 | 4 | Oliver Price | Ireland | 2,390,000 | 34 |
| 89 | 5 | Vasyl Penteliuk | Russian Federation | 8,385,000 | 120 |
| 89 | 6 | Vasyl Zabrodskyy | Ukraine | 6,635,000 | 95 |
| 89 | 7 | Stanislav Koleno | Slovakia | 1,830,000 | 26 |
| 89 | 8 | Andrea Piazza | Italy | 1,870,000 | 27 |
| | | | | | |
| 90 | 1 | Kirill Nikitenko | Russian Federation | 2,385,000 | 34 |
| 90 | 2 | Jan Mach | Czech Republic | 7,425,000 | 106 |
| 90 | 3 | Andrew Ross Laurie | United Kingdom | 3,415,000 | 49 |
| 90 | 4 | Tim Hubert Verheyen | Belgium | 1,750,000 | 25 |
| 90 | 5 | Pim Kuipers | Netherlands | 1,575,000 | 23 |
| 90 | 6 | Maciej Kondraszuk | Poland | 3,150,000 | 45 |
| 90 | 7 | Marek Lux | Czech Republic | 1,055,000 | 15 |
| 90 | 8 | Georgios Zisimopoulos | Germany | 3,680,000 | 53 |
| | | | | | |
| 91 | 1 | Uzair Khawaja | Denmark | 5,960,000 | 85 |
| 91 | 2 | Benjamin Jackson | United Kingdom | 1,775,000 | 25 |
| 91 | 3 | Chrispher Schmidt | Germany | 3,990,000 | 57 |
| 91 | 4 | Stefan Lehner | Austria | 3,185,000 | 46 |
| 91 | 5 | TELY | France | 2,290,000 | 33 |
| 91 | 6 | Claudio Di Giacomo | Italy | 4,235,000 | 61 |
| 91 | 7 | Julian Thomas | Austria | 1,600,000 | 23 |
| 91 | 8 | Christopher Cunliffe | United Kingdom | 3,800,000 | 54 |
| | | | | | |
| 95 | 1 | Hendrikus van der Heijden | Netherlands | 1,900,000 | 27 |
| 95 | 2 | Terry Green | United Kingdom | 870,000 | 12 |
| 95 | 3 | Daniel Clark | United Kingdom | 3,050,000 | 44 |
| 95 | 4 | Manig Loeser | United Kingdom | 4,855,000 | 69 |
| 95 | 5 | Besim Hot | Switzerland | 4,380,000 | 63 |
| 95 | 6 | Rifat Gegic | Germany | 2,410,000 | 34 |
| 95 | 7 | Ante Varnica | Croatia | 3,040,000 | 43 |
| 95 | 8 | Leo Nash | Ireland | 5,650,000 | 81 |
| | | | | | |
| 96 | 1 | Markus Prinz | Germany | 2,200,000 | 31 |
| 96 | 2 | IamTheBoss12 | Germany | 1,640,000 | 23 |
| 96 | 3 | Dominik Poremba | Germany | 730,000 | 10 |
| 96 | 4 | Raffaele Sorrentino | Italy | 2,065,000 | 30 |
| 96 | 5 | Thomas Hueber | Austria | 2,650,000 | 38 |
| 96 | 6 | Roberto Romanello | United Kingdom | 2,600,000 | 37 |
| 96 | 7 | David Urban | Slovakia | 4,205,000 | 60 |
| 96 | 8 | Barny Boatman | United Kingdom | 2,715,000 | 39 |
| | | | | | |
| 97 | 1 | Hikary Ouday | United Kingdom | 3,625,000 | 52 |
| 97 | 2 | Niall Farrell | United Kingdom | 5,300,000 | 76 |
| 97 | 3 | Sergei Petrushevskii | Russian Federation | 2,580,000 | 37 |
| 97 | 4 | Michal Mrakeš | Czech Republic | 3,615,000 | 52 |
| 97 | 5 | chiKKita banAAna | Germany | 1,710,000 | 24 |
| 97 | 6 | Christian Christner | Germany | 5,190,000 | 74 |
| 97 | 7 | Benjamin Clayden | United Kingdom | 2,150,000 | 31 |
| 97 | 8 | Richard Sheils | United Kingdom | 3,675,000 | 53 |
| | | | | | |
| 101 | 1 | Christopher Andler | Sweden | 4,240,000 | 61 |
| 101 | 2 | Martin Kury | Germany | 4,850,000 | 69 |
| 101 | 3 | Rehman Kassam | United Kingdom | 5,000,000 | 71 |
| 101 | 4 | Timothy Adams | Canada | 2,880,000 | 41 |
| 101 | 5 | Michael Tureniec | Sweden | 2,755,000 | 39 |
| 101 | 6 | Andrei Krylou | Belarus | 1,690,000 | 24 |
| 101 | 7 | Jaroslav Peter | Czech Republic | 1,010,000 | 14 |
| 101 | 8 | Georgios Vrakas | Germany | 4,915,000 | 70 |
| | | | | | |
| 102 | 1 | Antonio Scalzi | Italy | 1,635,000 | 23 |
| 102 | 2 | Francesco Romanello | Italy | 2,470,000 | 35 |
| 102 | 3 | Csaba Sztreborny | Hungary | 5,500,000 | 79 |
| 102 | 4 | Anton Johansson | Sweden | 2,385,000 | 34 |
| 102 | 5 | Hollywood | Germany | 4,355,000 | 62 |
| 102 | 6 | Vlad Darie | Romania | 5,725,000 | 82 |
| 102 | 7 | Neil Slater | United Kingdom | 1,200,000 | 17 |
| 102 | 8 | Adrian Mateos | Spain | 2,385,000 | 34 |
| | | | | | |
| 103 | 1 | Adriano Luzzi | United Kingdom | 3,670,000 | 52 |
| 103 | 2 | Vishal Maini | United Kingdom | 5,300,000 | 76 |
| 103 | 3 | Ryan Franklin | United States | 825,000 | 12 |
| 103 | 4 | John Conroy | Ireland | 2,900,000 | 41 |
| 103 | 5 | Jason Wheeler | United States | 5,465,000 | 78 |
| 103 | 6 | David Novotný | Czech Republic | 1,065,000 | 15 |
| 103 | 7 | Martynas Vitkauskas | Lithuania | 715,000 | 10 |
| 103 | 8 | Prezes | Poland | 3,700,000 | 53 |
| | | | | | |
| 107 | 1 | RUNEN777 | Germany | 3,220,000 | 46 |
| 107 | 2 | Günter Jakwerth | Austria | 3,045,000 | 44 |
| 107 | 3 | Oleg Suntsov | Russian Federation | 3,055,000 | 44 |
| 107 | 4 | Micheal Allmroot | Germany | 2,935,000 | 42 |
| 107 | 5 | Leonid Logunov | Russian Federation | 2,500,000 | 36 |
| 107 | 6 | Rosen Angelov | Bulgaria | 4,595,000 | 66 |
| 107 | 7 | Guy Goossens | Belgium | 2,655,000 | 38 |
| 107 | 8 | Alexander Lakhov | Russian Federation | 4,070,000 | 58 |
| | | | | | |
| 108 | 1 | Jan-Peter Jachtmann | Germany | 7,220,000 | 103 |
| 108 | 2 | Oliver Heidel | Germany | 4,900,000 | 70 |
| 108 | 3 | Martin Mulsow | Germany | 1,800,000 | 26 |
| 108 | 4 | Maduka Meragal | Canada | 5,095,000 | 73 |
| 108 | 5 | Fahredin Mustafov | Bulgaria | 1,400,000 | 20 |
| 108 | 6 | Samantha Cohen | United States | 2,870,000 | 41 |
| 108 | 7 | Han Kuo Yong | Germany | 1,800,000 | 26 |
| 108 | 8 | Radek Jantos | Czech Republic | 3,045,000 | 44 |
| | | | | | |
| 109 | 1 | Dominik Nitsche | Germany | 3,225,000 | 46 |
| 109 | 2 | Aleksandar Tomović | Serbia | 1,655,000 | 24 |
| 109 | 3 | Marek Ohnisko | Czech Republic | 2,410,000 | 34 |
| 109 | 4 | Ioannis Angelou-Konstas | Greece | 560,000 | 8 |
| 109 | 5 | Liwei Sun | Italy | 2,520,000 | 36 |
| 109 | 6 | Kfir Ivgi | Israel | 3,515,000 | 50 |
| 109 | 7 | Jozef Hancin | Slovakia | 1,130,000 | 16 |
| 109 | 8 | Patrick Clarke | Ireland | 3,000,000 | 43 |
| | | | | | |
| 113 | 1 | ggbn | Germany | 10,270,000 | 147 |
| 113 | 2 | Alwyn Powell | United Kingdom | 1,310,000 | 19 |
| 113 | 3 | Alfred Herzog | Germany | 1,180,000 | 17 |
| 113 | 4 | Christian Rudolph | Germany | 1,370,000 | 20 |
| 113 | 5 | Xia Lin | Italy | 1,455,000 | 21 |
| 113 | 6 | Bartosz Stasiewicz | Poland | 3,270,000 | 47 |
| 113 | 7 | Paul Newey | United Kingdom | 2,945,000 | 42 |
| 113 | 8 | Petr Rakouš | Czech Republic | 1,840,000 | 26 |
| | | | | | |
| 114 | 1 | Giuliano Bendinelli | Italy | 1,955,000 | 28 |
| 114 | 2 | Evgenii Evdokimov | Russian Federation | 4,395,000 | 63 |
| 114 | 3 | Thomas Taylor | Canada | 710,000 | 10 |
| 114 | 4 | Kretzschmar Gerold | Germany | 960,000 | 14 |
| 114 | 5 | Steve O´Dwyer | Ireland | 320,000 | 5 |
| 114 | 6 | Hossein Pour Mehrshad | Iran, Islamic Republic Of | 5,575,000 | 80 |
| 114 | 7 | Thomas Haney | United Kingdom | 1,630,000 | 23 |
| 114 | 8 | Micky Blasi | Malta | 3,300,000 | 47 |
| | | | | | |
| 115 | 1 | Martin Harris | United Kingdom | 1,030,000 | 15 |
| 115 | 2 | Grzegorz Idziak | Poland | 3,530,000 | 50 |
| 115 | 3 | Aleksei Ivanov | Belarus | 1,600,000 | 23 |
| 115 | 4 | Arnošt Kopecký | Czech Republic | 2,125,000 | 30 |
| 115 | 5 | Yiannis Liperis | United Kingdom | 2,360,000 | 34 |
| 115 | 6 | Muhammad Ali | United Arab Emirates | 6,805,000 | 97 |
| 115 | 7 | Michal Schuh | Czech Republic | 2,330,000 | 33 |
| 115 | 8 | Bigsmd | Germany | 1,050,000 | 15 |
| | | | | | |
| 119 | 1 | Stoyan Obreshkov | Bulgaria | 3,220,000 | 46 |
| 119 | 2 | Dean Hutchison | United Kingdom | 7,700,000 | 110 |
| 119 | 3 | Kalidou Sow | France | 2,000,000 | 29 |
| 119 | 4 | Vadzim Lipauka | Belarus | 2,500,000 | 36 |
| 119 | 5 | Guido Presti | Italy | 3,535,000 | 51 |
| 119 | 6 | Marek Blaško | Slovakia | 1,980,000 | 28 |
| 119 | 7 | Andreas Ahrer | Germany | 3,550,000 | 51 |
| 119 | 8 | Aleksandras Rusinovas | Lithuania | 3,400,000 | 49 |
| | | | | | |
| 120 | 1 | Ivan Sheptytskyi | Ukraine | 1,415,000 | 20 |
| 120 | 2 | Oldřich Trávníček | Czech Republic | 850,000 | 12 |
| 120 | 3 | Vladimír Burstein | Czech Republic | 4,690,000 | 67 |
| 120 | 4 | Nicholas Kearns | United Kingdom | 5,460,000 | 78 |
| 120 | 5 | Philipp Gruissem | United Kingdom | 6,985,000 | 100 |
| 120 | 6 | Anthony Romanello | United Kingdom | 1,855,000 | 27 |
| 120 | 7 | Martin Zvěřina | Czech Republic | 470,000 | 7 |
| 120 | 8 | Dzmitry Urbanovich | Belarus | 1,225,000 | 18 |
| | | | | | |
| 121 | 1 | Massimilliano Patroncini | Italy | 1,230,000 | 18 |
| 121 | 2 | Marian Dumitrache | Romania | 3,905,000 | 56 |
| 121 | 3 | Aleš Karban | Czech Republic | 4,260,000 | 61 |
| 121 | 4 | Kiryl Radzivonau | Belarus | 4,150,000 | 59 |
| 121 | 5 | Rostislav Stejskal | Czech Republic | 1,185,000 | 17 |
| 121 | 6 | Vlado Banicevic | Montenegro | 4,530,000 | 65 |
| 121 | 7 | Usman Siddique | United Kingdom | 1,475,000 | 21 |
| 121 | 8 | Mike Leah | Canada | 2,530,000 | 36 |
| | | | | | |
| 125 | 1 | Artürs Ščerbaks | Germany | 2,940,000 | 42 |
| 125 | 2 | Andrej Bogdanov | Germany | 3,650,000 | 52 |
| 125 | 3 | Gerner | Germany | 2,065,000 | 30 |
| 125 | 4 | Artan Dedusha | United Kingdom | 2,685,000 | 38 |
| 125 | 5 | Ivo Donev | Austria | 4,250,000 | 61 |
| 125 | 6 | Panagiotou Vasileios | Greece | 5,570,000 | 80 |
| 125 | 7 | Rafael Antonio Pandolfo | Brazil | 2,960,000 | 42 |
| 125 | 8 | Emma Fullarton | United Kingdom | 3,200,000 | 46 |
| | | | | | |
| 126 | 1 | Janos Kurtosi | Hungary | 3,075,000 | 44 |
| 126 | 2 | Oleksii Liashenko | Ukraine | 1,905,000 | 27 |
| 126 | 3 | Lukasz Wasek | Poland | 2,500,000 | 36 |
| 126 | 4 | Dominik Panka | Poland | 3,500,000 | 50 |
| 126 | 5 | Patrick Leonard | United Kingdom | 2,015,000 | 29 |
| 126 | 6 | Yichuan Ye | Italy | 2,440,000 | 35 |
| 126 | 7 | Kings1 | Ukraine | 1,730,000 | 25 |
| 126 | 8 | Timo Kamphues | Germany | 850,000 | 12 |
| | | | | | |
| 127 | 1 | Jurij Berežnoj | Czech Republic | 1,835,000 | 26 |
| 127 | 2 | Sandro Pitzanti | Netherlands | 1,200,000 | 17 |
| 127 | 3 | Yuri Masliankou | Belarus | 2,810,000 | 40 |
| 127 | 4 | James Keith Walker | United Kingdom | 1,655,000 | 24 |
| 127 | 5 | Markus Ross | Germany | 1,605,000 | 23 |
| 127 | 6 | Alessandro Borsa | Italy | 2,085,000 | 30 |
| 127 | 7 | James Nixon | United Kingdom | 1,575,000 | 23 |
| 127 | 8 | Mohammed Ladak | United Kingdom | 6,225,000 | 89 |
| | | | | | |
| 131 | 1 | Josip Šimunič | Austria | 4,090,000 | 58 |
| 131 | 2 | Christian Nofal | Germany | 830,000 | 12 |
| 131 | 3 | Gabriele Lepore | Italy | 5,150,000 | 74 |
| 131 | 4 | Antti Halme | Czech Republic | 4,790,000 | 68 |
| 131 | 5 | Ludovic Geilich | United Kingdom | 2,065,000 | 30 |
| 131 | 6 | Lenka Součková | Czech Republic | 1,050,000 | 15 |
| 131 | 7 | Tomas Fara | Czech Republic | 1,640,000 | 23 |
| 131 | 8 | Markus Dobler | Germany | 1,025,000 | 15 |
| | | | | | |
| 132 | 1 | Daniel Parsonage | United Kingdom | 2,440,000 | 35 |
| 132 | 2 | Carlos Rodriguez | United States | 3,650,000 | 52 |
| 132 | 3 | Florian Duta | Romania | 2,925,000 | 42 |
| 132 | 4 | Christopher Frank | Germany | 6,980,000 | 100 |
| 132 | 5 | Koray Aldemir | Germany | 5,025,000 | 72 |
| 132 | 6 | Norson Saho | Brazil | 4,530,000 | 65 |
| 132 | 7 | KAMIKAZEKARL | Germany | 4,230,000 | 60 |
| 132 | 8 | Tibor | Slovakia | 4,085,000 | 58 |
| | | | | | |
| 133 | 1 | David Warner | United Kingdom | 2,195,000 | 31 |
| 133 | 2 | Valerii Lubenets | Ukraine | 3,275,000 | 47 |
| 133 | 3 | Aleksandr Nemtcov | Russian Federation | 3,945,000 | 56 |
| 133 | 4 | Markus Kuhnen | Germany | 3,000,000 | 43 |
| 133 | 5 | Sjors Harmens | Netherlands | 1,815,000 | 26 |
| 133 | 6 | Petr Ségl | Czech Republic | 1,180,000 | 17 |
| 133 | 7 | Edgard Raffoul | Lebanon | 1,100,000 | 16 |
| 133 | 8 | Werner Oberbauer | Germany | 1,760,000 | 25 |
| | | | | | |
| 137 | 1 | Andrei Boghean | Romania | 2,005,000 | 29 |
| 137 | 2 | Petr Šíma | Czech Republic | 5,140,000 | 73 |
| 137 | 3 | Joseph Parsons | United Kingdom | 2,580,000 | 37 |
| 137 | 4 | Neil Ryder | United Kingdom | 7,350,000 | 105 |
| 137 | 5 | Joseph Mouawad | Lebanon | 1,595,000 | 23 |
| 137 | 6 | Giuseppe Moio | Italy | 4,610,000 | 66 |
| 137 | 7 | Ionut Voinea | Romania | 4,295,000 | 61 |
| 137 | 8 | Vitalii Pankov | Russian Federation | 2,520,000 | 36 |
| | | | | | |
| 138 | 1 | Robert Kokoška | Czech Republic | 7,320,000 | 105 |
| 138 | 2 | Jan Bednář | Czech Republic | 1,075,000 | 15 |
| 138 | 3 | Daan Mulders | Netherlands | 1,570,000 | 22 |
| 138 | 4 | Gerald Karlic | Austria | 3,780,000 | 54 |
| 138 | 5 | Bartlomiej Machon | Poland | 1,695,000 | 24 |
| 138 | 6 | Luca Marchetti | Italy | 2,865,000 | 41 |
| 138 | 7 | Oleg Titov | Russian Federation | 3,595,000 | 51 |
| 138 | 8 | Martin Dzurenda | Slovakia | 1,845,000 | 26 |
| | | | | | |
| 139 | 1 | Bertrand Grospellier | France | 2,375,000 | 34 |
| 139 | 2 | Henri Bühler | Germany | 3,715,000 | 53 |
| 139 | 3 | Joao Simao | Brazil | 6,150,000 | 88 |
| 139 | 4 | Richard Dalberg | Norway | 2,410,000 | 34 |
| 139 | 5 | Georgios Berkis | Germany | 5,120,000 | 73 |
| 139 | 6 | Anton Wigg | Sweden | 1,175,000 | 17 |
| 139 | 7 | Ondřej Drozd | Czech Republic | 9,830,000 | 140 |
| 139 | 8 | Ercan Olgun | Latvia | 5,265,000 | 75 |
| | | | | | |
| 143 | 1 | Olga Finogenova | Russian Federation | 3,885,000 | 56 |
| 143 | 2 | Mohsin Ali Khan | United Kingdom | 3,455,000 | 49 |
| 143 | 3 | Robert Schulz | Germany | 2,385,000 | 34 |
| 143 | 4 | Filip Hanusek | Czech Republic | 1,150,000 | 16 |
| 143 | 5 | Dragos Trofimov | Italy | 1,385,000 | 20 |
| 143 | 6 | Abdelhakim Zoufri | Netherlands | 2,305,000 | 33 |
| 143 | 7 | Artur Wasek | Poland | 5,915,000 | 85 |
| 143 | 8 | Aliaskei Boika | Belarus | 1,930,000 | 28 |
| | | | | | |
| 144 | 1 | Bernd Gleissner | Germany | 1,440,000 | 21 |
| 144 | 2 | Orca | Germany | 1,490,000 | 21 |
| 144 | 3 | Mathias Wessel | Germany | 4,350,000 | 62 |
| 144 | 4 | Moritz Dietrich | Germany | 2,900,000 | 41 |
| 144 | 5 | Joseph Ardern | United Kingdom | 4,430,000 | 63 |
| 144 | 6 | Imad Fakhro | Germany | 4,250,000 | 61 |
| 144 | 7 | Pavlos Xanthopoulos | Greece | 825,000 | 12 |
| 144 | 8 | Pascal Hartmann | Germany | 1,935,000 | 28 |
| | | | | | |
| 145 | 1 | Kacper Pyzara | Poland | 3,400,000 | 49 |
| 145 | 2 | Sander van Wesemael | Netherlands | 4,720,000 | 67 |
| 145 | 3 | Milan Šimko | Czech Republic | 2,950,000 | 42 |
| 145 | 4 | Dimitros Farmakoulis | Greece | 1,050,000 | 15 |
| 145 | 5 | Simone Oddo | Italy | 1,800,000 | 26 |
| 145 | 6 | Radoslaw Wesierski | Poland | 2,655,000 | 38 |
| 145 | 7 | Michael Fletcher | United Kingdom | 2,090,000 | 30 |
| 145 | 8 | Florian Löhnert | Germany | 1,400,000 | 20 |
| | | | | | |
| 149 | 1 | Felix Bleiker | Switzerland | 2,765,000 | 40 |
| 149 | 2 | Hossein Ensan | Germany | 2,000,000 | 29 |
| 149 | 3 | Chi Zhang | United Kingdom | 2,895,000 | 41 |
| 149 | 4 | Jiří Horák | Czech Republic | 1,655,000 | 24 |
| 149 | 5 | Sergio Castelluccio | Italy | 5,535,000 | 79 |
| 149 | 6 | James Graham Ablott | United Kingdom | 4,000,000 | 57 |
| 149 | 7 | Matthew Eardley | United Kingdom | 5,400,000 | 77 |
| 149 | 8 | Robert Auer | Austria | 1,455,000 | 21 |
| | | | | | |
| 150 | 1 | Ion Naicu | Romania | 1,940,000 | 28 |
| 150 | 2 | Jonathan Concepcion | Spain | 2,215,000 | 32 |
| 150 | 3 | Stephen Shayler | United Kingdom | 1,160,000 | 17 |
| 150 | 4 | Vojtěch Růžička | Czech Republic | 1,540,000 | 22 |
| 150 | 5 | Jozef Bartaloš | Slovakia | 965,000 | 14 |
| 150 | 6 | Oleg Shkapenko | Ukraine | 2,000,000 | 29 |
| 150 | 7 | Chaofei Wang | Italy | 1,780,000 | 25 |
| 150 | 8 | Abdullah Al-Emadi | Qatar | 1,695,000 | 24 |
| | | | | | |
| 151 | 1 | Pierre Neuville | Belgium | 885,000 | 13 |
| 151 | 2 | Maria Lampropulos | United Kingdom | 2,100,000 | 30 |
| 151 | 3 | London Lloyd | United States | 1,645,000 | 24 |
| 151 | 4 | Tom-Aksel Bedell | Spain | 4,320,000 | 62 |
| 151 | 5 | Antonios Koukouras | Greece | 2,075,000 | 30 |
| 151 | 6 | Jack Sinclair | United Kingdom | 5,200,000 | 74 |
| 151 | 7 | Rickie Alan Silcock | United Kingdom | 1,870,000 | 27 |
| 151 | 8 | David Docherty | United Kingdom | 1,490,000 | 21 |
| | | | | | |
| 155 | 1 | Kubala | Germany | 950,000 | 14 |
| 155 | 2 | Awesomenezz | Germany | 3,680,000 | 53 |
| 155 | 3 | Orpen Kisacikoglu | United Kingdom | 1,805,000 | 26 |
| 155 | 5 | Michal Jan Lubas | Poland | 3,155,000 | 45 |
| 155 | 6 | Robert Bickley | United Kingdom | 2,260,000 | 32 |
| 155 | 7 | Gianluca Speranza | Austria | 5,480,000 | 78 |
| 155 | 8 | Pavel Ignatov | Russian Federation | 2,590,000 | 37 |
| | | | | | |
| 156 | 1 | Jaroslav Novotný | Czech Republic | 1,250,000 | 18 |
| 156 | 2 | Sean McLeod | Germany | 3,880,000 | 55 |
| 156 | 3 | Martin Finger | Germany | 1,835,000 | 26 |
| 156 | 4 | Jon Kyte | Norway | 8,185,000 | 117 |
| 156 | 6 | Christof Schelthoff | Germany | 3,105,000 | 44 |
| 156 | 7 | Carl Thomas | United Kingdom | 4,190,000 | 60 |
| 156 | 8 | Markus Dürnegger | Austria | 1,420,000 | 20 |
| | | | | | |
| 161 | 1 | Jenya Gavrilovich | Bulgaria | 2,855,000 | 41 |
| 161 | 2 | Vlado Sevo | Austria | 1,695,000 | 24 |
| 161 | 3 | Arne Ruge | Germany | 2,385,000 | 34 |
| 161 | 5 | Vu-Van Yiann | France | 1,345,000 | 19 |
| 161 | 6 | Viliyan Petleshkov | Bulgaria | 7,700,000 | 110 |
| 161 | 7 | Dietrich Fast | Germany | 2,060,000 | 29 |
| 161 | 8 | Michael Sklenicka | Czech Republic | 910,000 | 13 |
| | | | | | |
| 162 | 1 | Josef Guláš | Czech Republic | 2,290,000 | 33 |
| 162 | 2 | Ole Schemion | Germany | 6,635,000 | 95 |
| 162 | 3 | Viktor Blom | Sweden | 8,805,000 | 126 |
| 162 | 5 | Grzegorz Wyraz | Poland | 4,775,000 | 68 |
| 162 | 6 | Tomas Jozonis | Lithuania | 3,500,000 | 50 |
| 162 | 7 | Lander Lijo | Spain | 5,730,000 | 82 |
| 162 | 8 | Julian Menhardt | Germany | 3,305,000 | 47 |