₽6,000,000 Triton Poker Super High Roller
Event Info
| | |
| --- | --- |
| Buy-in | 6,000,000 RUB |
| Prize Pool | 167,040,000 RUB |
| Players | 29 |
Level Info
| | |
| --- | --- |
| Level | 22 |
| Blinds | 50,000 / 100,000 |
| Ante | 100,000 |
₽6,000,000 Triton Poker Super High Roller
Day 2 Completed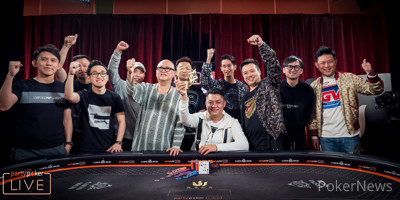 The second Triton Poker High Roller as part of the 2018 partypoker LIVE MILLIONS Russia festival at the Sochi Casino and Resort has crowned a champion. After 14 entries on Day 1, that number was more than doubled in the first three levels of Day 2 as a field of 29 entries emerged in the RUB6,000,000 Triton Poker Super High Roller. The field consisted of 20 unique players and nine re-entries, and the top four spots were guaranteed a portion of the prize pool of more than $2.6 million.
Ultimately, it was Malaysia's Ivan Leow who lifted the trophy and won his second Triton Poker title in two weeks after defeating Abraham Passet in heads-up. Leow had been on the final table of the RUB3,000,000 High Roller the previous evening and went from chip leader to bubble boy in a matter of an hour and entered Day 2 of the Super High Roller in very similar fashion. His aggressive playing style saw him involved in almost every hand early on and Leow busted, then re-entered and tore up the feature tables at the Sochi Casino and Resort.
The 36-year-old already has five six-figure scores to his name in the current year including a victory in the Triton Poker Super High Roller Series Jeju HKD$500,000 Short Deck Ante-Only event for more than $1 Million and Leow topped that score with his victory here in Russia.
"Who is the best player from Malaysia right now?" Philipp Gruissem asked Triton founder Richard Yong and his son Wai Kin just yesterday and both named Michael Soyza, Wai Leong Chan and Leow almost immediately. Their countryman proved the fact just 24 hours later.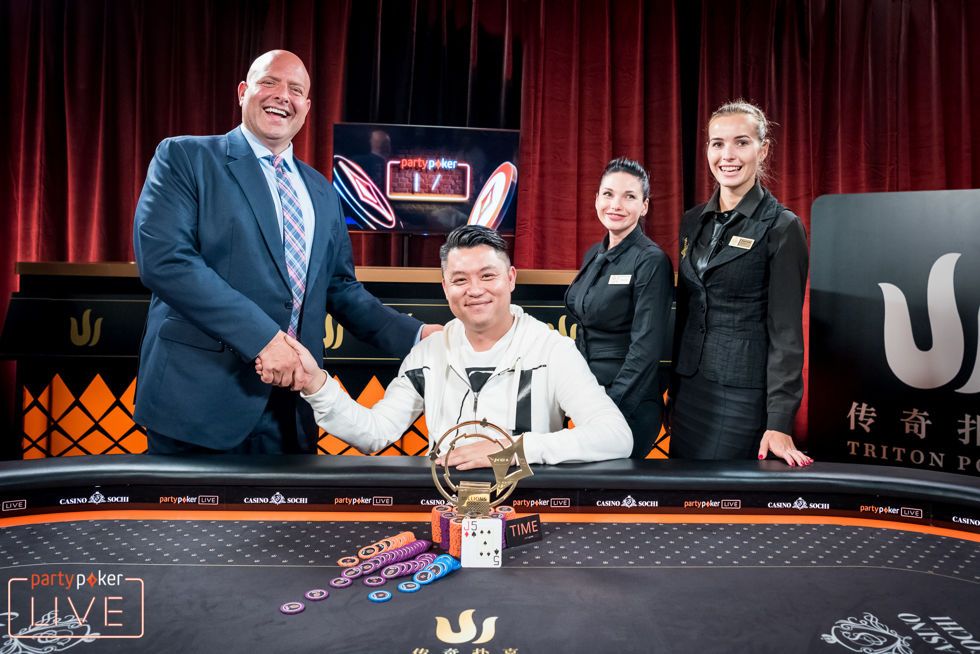 For Passet, it was also the far-biggest score on the live poker circuit. The German, who moved to Cambridge in the United Kingdom three years ago and started playing poker more seriously two and a half years ago, settled for more than $700,000. Aforementioned Wai Leong Chan, who finished runner-up to Mikita Badziakouski in the Triton Poker Main Event in Jeju, ended up in third and Manig Loeser also took home a portion of the prize pool. German High Roller regular Dietrich Fast was eliminated by Leow on the money bubble.
Final Result RUB6,000,000 Triton Poker Super High Roller Sochi
| Place | Winner | Country | Prize (in RUB) | Prize (~ in USD) |
| --- | --- | --- | --- | --- |
| 1 | Ivan Leow | Malaysia | 72,000,000 | $1,134,000 |
| 2 | Abraham Passet | United Kingdom | 47,040,000 | $740,880 |
| 3 | Wai Leong Chan | Malaysia | 30,000,000 | $472,500 |
| 4 | Manig Loeser | Germany | 8,000,000 | $283,500 |
Action of the Final Day
The registration remained open for another three levels and the number of entries was more than doubled. Among those to buy back in besides eventual-champion Leow were Timofey Kuznetsov, Koray Aldemir, Patrik Antonius, Richard Yong, Wai Kin Yong and Koray Aldemir, to name just a few. Aymon Hata, who won the RUB3,000,000 High Roller the previous night, also entered, but was never able to run up a stack and busted before the two table redraw.
Phil Ivey was among the big stacks heading into the day but Leow and Koray Aldemir doubled through him to send Ivey towards the bottom of the counts. Johannes Becker lost with kings to ace-king and pocket nines to pocket nines, his final attempt was also not crowned by success either. Philipp Gruissem also fell short of another High Roller cash here in Sochi and that set up the last two tables.
Abraham Passet caught some heat with the eliminations of Konstantin Uspenskii and Patrik Antonius in quick succession and became the second big stack besides Dietrich Fast. Uspenskii four-bet shoved with pocket eights into pocket queens and Antonius turned a straight only for Passet to hit a full house with the very same card.
Richard Yong and fellow countryman Chin Wei Lim missed out on the final table and Leow jumped into the lead after sending Phil Ivey and Timothy Adams to the rail in the same hand, reducing the field to the last eight hopefuls. Leow raised on the button with aces, Ivey got his stack in with ace-five in the small blind and Adams rejammed ace-queen from the big blind at the worst possible time.
The all in showdowns kept on coming and Wai Kin Yong became the first casualty on the final table. Paul Phua first doubled against Manig Loeser only to bust moments later when his top pair couldn't hold up against the nut flush draw of Loeser. Soon after, the bubble was reached when Niall Farrell's aces were cracked by the pocket nines of Passet and the Scotsman bowed out one hand later.
While Fast was among the chip leaders until then, this all but changed after several clashes with Leow and both met again to determine the bubble boy. Fast raised with pocket nines and Leow called with king-queen suited. With his flush draw on the flop, Leow just called and then bet the turn when pairing his queen. Fast didn't believe his opponent and jammed to find himself with two outs in the showdown, no miracle happened and the German was crowned the bubble boy.
Manig Loeser also fell victim to Ivan Leow when he check-raised middle pair and a flush draw against the top pair of Leow in a four-way family pot. Loeser moved all in after the turn and Leow called with the additional nut flush draw. to see a blank on the river.
The commanding lead of Leow vanished right after in a full house under full house hand with Passet, however, before Leow sent his countryman Wai Leong Chan to the rail. He flopped top two pair with queen-jack and Leow continued with ace-ten for a straight draw. Leow paired his ace on the turn and the chips went in, a ten on the river gave Leow the better two pair.
Passet gave it a valid effort in heads-up and even claimed the lead for some time, but after more than an hour Leow had established a commanding lead with sheer aggression. Passet put his hopes on a six-high flush draw on a paired flop and Leow called with jacks and fours to celebrate after two blanks on turn and river.
While that marks the end of the high stakes action of the Triton Poker events in Sochi, the partypoker LIVE MILLIONS Russia festival continues right away with Day 2 of the Main Event on Friday, August 10th, 2018. The PokerNews live reporting team will be on the floor to provide all the action until a champion is crowned.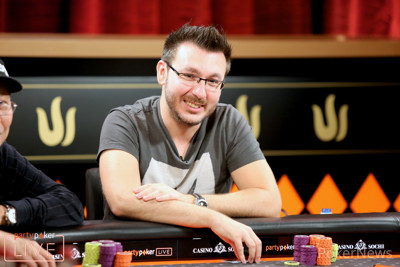 In a limped pot to the
flop, Abraham Passet checked and Ivan Leow bet 150,000. Passet check-shoved for 1,395,000 and Leow called. Both players turned over their cards and stood up from their seats while a rail gathered.
Abraham Passet:

Ivan Leow:
Passet picked up some more outs with the
, but the
on the river was a blank. Passet was eliminated in 2nd place and takes home RUB47,040,000 for his efforts, while Leow scooped his second title in a Triton Poker sponsored event within two weeks.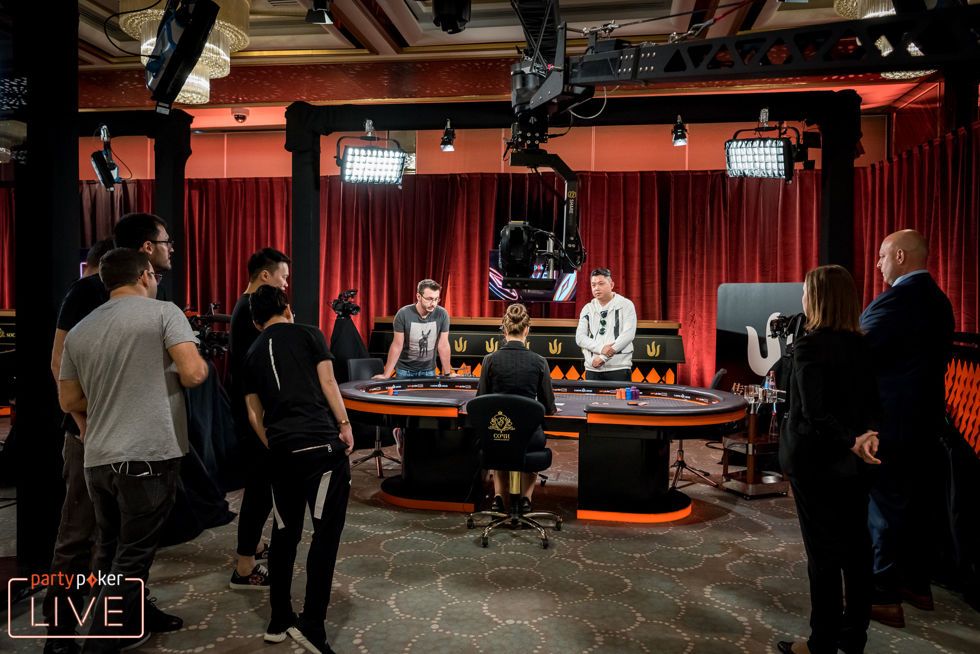 A recap of today's action is to follow shortly.
| | | | | | |
| --- | --- | --- | --- | --- | --- |
| Ivan Leow | | | | 7,250,000 | 1,500,000 |
| Abraham Passet | | | | Busted | |
Ivan Leow limped the
and Abraham Passet checked the
and both headed to the
flop. Passet check-raised to 300,000 and Leow called. On the
turn and
river both checked and they chopped it up.
Passet limped the
, Leow raised to 275,000 with
and another big blind vanished from Passet's stack after he quickly surrendered and was left with 15 of them.
| | | | | | |
| --- | --- | --- | --- | --- | --- |
| Ivan Leow | | | | 5,750,000 | 325,000 |
| Abraham Passet | | | | 1,500,000 | -325,000 |
Level:

22
Blinds:

50,000/100,000
Ante:

100,000
At the end of the current level, the two players agreed on a short break and the chip counts for the next level can be found below. Abraham Passet will return with 18 big blinds in his attempt to defeat Ivan Leow.
| | | | | | |
| --- | --- | --- | --- | --- | --- |
| Ivan Leow | | | | 5,425,000 | 325,000 |
| Abraham Passet | | | | 1,825,000 | -275,000 |
The next limped pot brought a flop of
and Ivan Leow checked with
for bottom pair, Abraham Passet bet 90,000 with the
. On the
turn, Leow checked and folded to a bet of Passet.
Passet then min-raised to 160,000 with the
and Leow three-bet to 375,000 with
. Passet called and the flop appeared the
, Leow bet 225,000 and Passet let go.
| | | | | | |
| --- | --- | --- | --- | --- | --- |
| Ivan Leow | | | | 5,100,000 | -100,000 |
| Abraham Passet | | | | 2,100,000 | 100,000 |
Abraham Passet limped the
and Ivan Leow checked with the
to see the flop of
, which he checked. Passet bet 80,000 and Leow called.
After the
turn both players checked and Leow also checked the
on the river after improving to a flush. Passet bet 180,000 and Leow's small check-raise to 400,000 claimed the pot instantly when Passet was caught with the fingers in the cookie jar.
Leow limped with
and Passet checked with the
. The
flop brought no action and the
fell on the turn. Passet bet 100,000 and Leow opted to raise to 500,000, which again shut down all further action.
| | | | | | |
| --- | --- | --- | --- | --- | --- |
| Ivan Leow | | | | 5,200,000 | 700,000 |
| Abraham Passet | | | | 2,000,000 | -700,000 |
Level:

21
Blinds:

40,000/80,000
Ante:

80,000
Abraham Passet raised to 130,000 with the
and Ivan Leow called with the
. Both checked the
flop and the
turn. On the
river, Leow bet 225,000 and Passet called, then mucked.
Leow raised to 150,000 with
and Passet called with
. The
flop went check, check, and Passet bet the
turn for 125,000. Leow called and the
river brought another bet of 450,000 by Passet, Leow folded quickly.
| | | | | | |
| --- | --- | --- | --- | --- | --- |
| Ivan Leow | | | | 4,500,000 | 300,000 |
| Abraham Passet | | | | 2,700,000 | -400,000 |