Main Event
Day 5 Completed
Level 31 : 60,000-120,000, 10,000 ante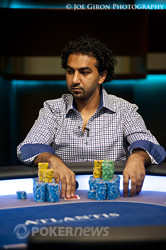 Well, it's been quite a day at the PokerStars Caribbean Adventure, the longest one we've had to endure this week. After nearly 13 hours of action, the final table has been set in the Main Event, and it will be Faraz Jaka who's kept the yellow jersey, bagging up the biggest stack to lead the table into the finale. He's got 6.47 million, but both Kyle Julius and Xuan Liu are within one big blind of overtaking him.
The day began innocently enough with a measured and calm pace to the play. Slow, even. While the first three fell relatively quickly, the last 21 were in no mood to go home early. Hours passed and chip stacks began to draw closer to even, though, and in due course, the action picked up.
Jaka took a big tumble midway through the day when his ace-king ran into pocket kings, but he didn't appear rattled in the slightest. As the field shrunk, Jaka's aggression continued to build, and he was pounding away at his table as they began to get short-handed with less than 16 players left. In the end, Jaka essentially doubled up with very few showdowns over the final levels of the night.
Joining Jaka atop the counts are Kyle Julius and Xuan Liu, and it really was the three of them passing the chip lead around all day. Dutchman Ruben Visser did have his hands on the big stack for a short while, and his finishing count of 4.4 million puts him comfortably in fourth place and above the chip average.
Thanks to that long day, the average stack has grown a bit short, and there are less than 300 big blinds in play to begin the final table. Anthony Gregg will begin on the shortest stack with less than ten of those big blinds, but you'd be a fool to count him out just yet. Those with sharp memories know the name from 2009 when Gregg made it all the way to heads-up in this event before falling to Poorya Nazari in the final duel. He's got a shot at redemtion tomorrow, and there's still plenty of fight left in him.
The final table kicks off at 1:00pm tomorrow, but our coverage will begin at 1:40pm along with the live stream. Here's a look at the lineup card:

| Seat | Player | Chips |
| --- | --- | --- |
| 1 | Mark Drover | 1,430,000 |
| 2 | Anthony Gregg | 1,160,000 |
| 3 | David Bernstein | 1,960,000 |
| 4 | Ruben Visser | 4,400,000 |
| 5 | Faraz Jaka | 6,470,000 |
| 6 | John Dibella | 3,465,000 |
| 7 | Xuan Liu | 6,355,000 |
| 8 | Kyle Julius | 6,450,000 |
Thanks for sticking with us for the long session; we'll see you back here tomorrow afternoon to crown our 2012 PCA Champion!
Level 31 : 60,000-120,000, 10,000 ante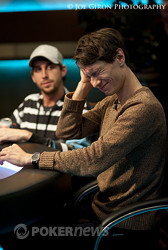 Well that was an exciting finish to our Day 5. Unless your name happens to be Lee Goldman.
On the final hand of the evening, John Dibella came in for 250,000 under the gun, and Lee Goldman three-bet shoved for 1.025 million from middle position. In the small blind, Ruben Visser asked for the count, but he eventually ducked out of the way to let Goldman go heads up for his tournament. He was well ahead.
Showdown
Goldman:

Dibella: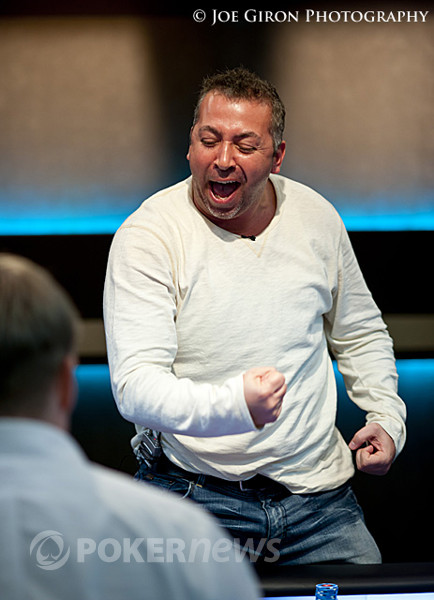 Dibella was hating his spot, and he had about half his own stack committed to the underpair. The
flop was a swing and a miss, and so was the
turn. By this point, fans of both players were crowding in along the edges of the stage, yelling for cards and craning their necks upward to catch a glimpse of the river card.
It was the
, and a chorus of shock and awe exploded from the set! One of those shouts came from Dibella who let out a big roar and a pump of the fist. The miracle two-outer struck on the river, and the set of nines earn Dibella the knockout.
It comes at the expense of Lee Goldman, and he's been stung out of here in ninth place on the final table bubble. That's good for $101,000, but i might be a while before that becomes any consolation to the young pro. It's his second six-figure cash in the last three months, but it's left him on the outside looking in for tomorrow's final
Level 31 : 60,000-120,000, 10,000 ante
It's been a long day here in the Main Event as we've ticked past twelve hours of play.
From what we can remember, we might be setting a record here. If the final table is reached this level, the average stack heading into tomorrow will be just 33.5 big blinds. If that's not a record low on the EPT, it's awfully close with a couple of the huge events in San Remo. Thirty big blinds might be a comfortable stack in your home game, but it can be an awfully scary thing when the difference between eighth and first is seven figures.
Xuan Liu raised to 240,000 from the cutoff seat, and Kyle Julius made the call next door to go heads up with her.
The dealer fanned out
, and Liu checked. Julius took his cue to make a bet of 250,000, Liu called, and the
turned on fourth street. Check-check. The river paired the board with the
, and now Liu led out with 380,000 of her own chips. Julius couldn't call, and Liu dragged the pot.
It appears that it moves her up to 6.23 million, and if that's the case, she's just eked into the chip lead again, though the three the top players are separated by just a couple chips.
On the first hand back from the break, Anthony Gregg took his stand. He opened by shoving his last 560,000 chips into the pot in early position, and he found action as Xuan Liu flatted on the button. The blinds released, and Gregg was heads up for his tournament life.
Showdown
Gregg:

Liu:
There was no funny stuff on board, and the
locked up the double for Gregg.
Level: 31
Blinds: 60,000/120,000
Ante: 10,000
Here's another batch of shots, these ones coming from Joe Giron's lap around the unofficial final table.
Player
Chips
Progress

Kyle Julius

6,790,000

390,000

Xuan Liu

6,215,000

220,000

Faraz Jaka

6,110,000

520,000

Ruben Visser

4,640,000

-260,000

David Bernstein

2,200,000

-100,000

John Dibella

2,180,000

-20,000

Mark Drover

1,670,000

-290,000

Lee Goldman

1,315,000

-290,000

Anthony Gregg

570,000

-30,000
Level 30 : 50,000-100,000, 10,000 ante
Our nine finalists have stepped off stage for a quick ten-minute break.