Main Event (VND10,000,000,000 GTD)
Day: 3
Main Event (VND10,000,000,000 GTD)
Day 3 Completed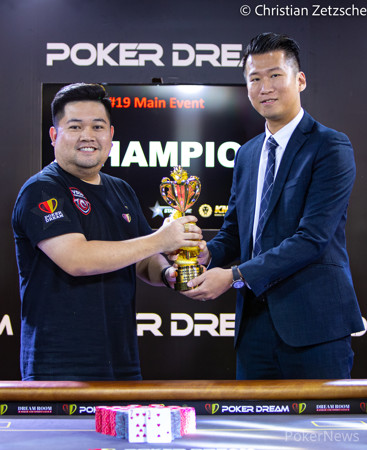 The 2022 Poker Dream Vietnam Main Event with a price tag of VND 25,000,000 (~ $1,019) has come to a thrilling conclusion just as the clock struck midnight. Out of a field of 822 entries, Minh Anh Nguyen defeated Brandon Koh in heads-up to claim the biggest slice of the VND 17,940,150,000 (~ $722,083) prize pool much to the thunderous support by fellow Vietnamese on the rail.
Runner-up Koh was denied an incredible chip-and-a-chair comeback story after he saw his stack reduced to all but a single blind on the final two tables. Numerous double-ups later, Koh was in the driver's seat for the heads-up with Nguyen only to come up one spot short. For the efforts, the Malaysian takes home a consolation prize of VND 2,055,000,000 (~$82,738) while the gold dragon trophy and top prize of VND 3,378,000,000 (~$136,004) remains on home soil.
The flagship tournament of the series attracted the biggest prize pool in a NLHE Main Event in the history of Vietnam, which was only toppled in prize money during the stop by the 92-entry strong field Super High Roller.
Well-known high-stakes player Winfred Yu finished in third place while Taiwan's Zong Chi He was also among the notable finalists. Five players from Vietnam reached the nine-handed final table and it was Nguyen who was able to finish the job for the home crowd.
Final Result 2022 Poker Dream Vietnam Main Event
| Place | Winner | Country | Prize (in VND) | Prize (~in USD) |
| --- | --- | --- | --- | --- |
| 1 | Minh Anh Nguyen | Vietnam | 3,378,000,000 | $136,004 |
| 2 | Brandon Koh | Malaysia | 2,055,000,000 | $82,738 |
| 3 | Winfred Yu | Hong Kong | 1,452,150,000 | $58,466 |
| 4 | Tien Minh Ngo | Vietnam | 1,093,400,000 | $44,022 |
| 5 | Manh Huu Nguyen | Vietnam | 862,000,000 | $34,706 |
| 6 | Zong Chi He | Taiwan | 646,700,000 | $26,037 |
| 7 | Dennis Ng | Hong Kong | 459,000,000 | $18,480 |
| 8 | Nam Hoang Nguyen | Vietnam | 318,400,000 | $12,819 |
| 9 | Dinh Tien Van | Vietnam | 251,600,000 | $10,130 |
The final day saw 19 players return to their seats in the Grand Hall at the luxury five-star Hoiana Resort & Golf near Hoi An. Among them was also David Erquiaga, who has been tearing up the Asian live poker scene in the current year with numerous deep runs. However, his bid for another major victory was cut short when he lost a flip to Dhaval Mudgal in the opening stages.
Hazel Chui was the last woman standing and entered the final day in the middle of the pack. Her stack was reduced to fumes when she ran pocket tens into pocket aces and she ultimately had to settle for 14th place. Mudgal was the next casualty after his early hot run cooled off rather quickly. In the meanwhile, Koh recovered from one single big blind on the feature table after a clash with Peter Sim to somehow stay in contention.
Manh Huu Nguyen then went on a card rush on the outer tables to eliminate Fu Bang Huang and Hojin Kim, entering the final table as the chip leader while Sim's run ended prior to that. Three rapid eliminations reduced the field to the final six as Dinh Tien Van, Nam Hoang Nguyen, and Dennis Ng were all gone within fewer than 20 minutes. After that it became a cagey fight and Koh scored a crucial double through Nguyen.
Zong Chi He tangled with Koh on numerous occasions to eventually bow out to his arch nemesis of the final day. For Manh Huu Nguyen, a miserable run on the grand stage ended with a rather disappointing fifth place when his last two blinds and change vanished with pocket aces getting cracked.
Koh cemented his grip on the proceedings with the elimination of Tien Minh Ngo in fourth place and Yu tangled with Nguyen one time too many before Koh finished the job. An entertaining heads-up duel saw the lead change several times and Nguyen ultimately had the best of it after Koh changed gears and slow-played aces to get flushed away in second place.
That concludes a successful second stop of the new Poker Dream live poker series, which has its eyes firmly set on a bright future in the Asia-Pacific region with a diverse range of buy-ins for casuals and High Rollers alike.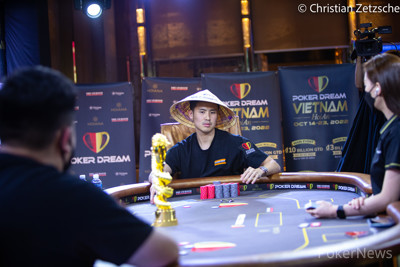 Brandon Koh changed his strategy once again when he limped the
and Minh Anh Nguyen checked his option with the
. The
flop was bet by Nguyen for 300,000 and Koh called.
Sure enough, the
followed on the turn as Nguyen made his flush. He checked and Koh bet 500,000 for Nguyen to just check-call and set the trap. The river was the
and Nguyen checked once again. Koh bet 2,000,000 with 6,200,000 behind and Nguyen vaulted out of his chair to study the stack of his opponent.
Nguyen took two minutes before he pushed all-in and now it was Koh who double-checked just one of his cards while staring at the board, then counted his remaining stack behind.
Ultimately, Koh couldn't get away from his aces with the nut flush blocker and was eliminated in second place for a cruel end to his comeback story from a single blind on the last two tables.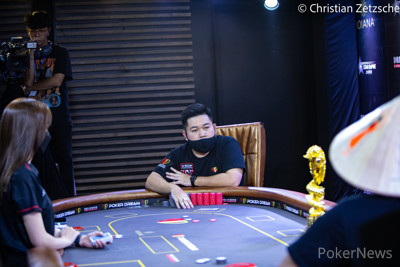 Brandon Koh raised to 900,000 on the button and Minh Anh Nguyen three-bet jammed out of the big blind for 6,600,000. Koh asked for an exact count before he made the call.
Minh Anh Nguyen:

Brandon Koh:
The
flop let the rail from Vietnam explode and they kept shouting their support on the
turn and
river as Nguyen doubled into a narrow lead.
Level: 33
Blinds: 150,000/300,000
Ante: 300,000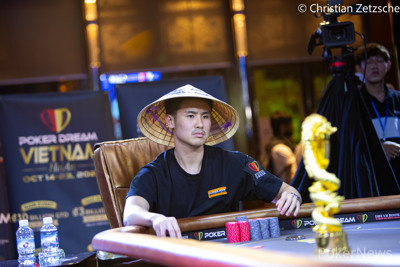 Brandon Koh has maintained a button raise for three big blinds while Minh Ahh Nguyen preferred to limp in. More often that not, Koh then still raised to the very same 750,000 and Nguyen let go.
Koh then limped in the first time with the
and Nguyen raised to 750,000 with the
for Koh to fold.
Koh limped in with the
next and Nguyen raised to 750,000 for his opponent to call. On the
flop, Nguyen bet 900,000 and Koh came along with his open-ender. That led them to the
turn on which both players checked.
The
river completed the board and Nguyen now bet 2,500,000 into a pot of 6,100,000. Koh called and the cards were tabled. Nguyen only had the
and Koh pulled back into the lead.
Minh Anh Nguyen limped with the
and Brandon Koh checked his option with the
. The
flop was checked by Koh, who then called a bet worth 250,000 by Nguyen. Koh check-called for another 475,000 on the
turn and led the
river for 300,000.
Nguyen quickly cut out a potential raise while studying his stack carefully. However, the move never came as Nguyen opted to fold.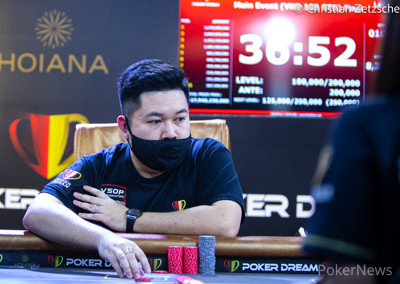 Brandon Koh raised to 750,000 on the button once more with the
this time and Minh Anh Nguyen glanced at the
. He leaped out of his chair to study the stack size of his opponent before cutting out another three-bet to 2,400,000 this time.
Without much hesitation, Koh called and the first bigger pot of heads-up play emerged with a flop of
that missed both players entirely. Nguyen continued for 1,100,000 and Koh gave it half a minute of consideration before making the call.
The
followed on the turn and Nguyen bet for another 2,000,000 to force a fold from Koh, taking over the lead.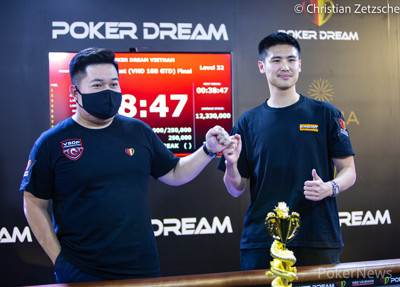 Brandon Koh raised to 750,000 with the
and Minh Anh Nguyen three-bet to 2,100,000 without his cards being disclosed.
Nguyen now limped the small blind and Koh raised to 750,000 with the
as the heads-up play kicked off with some action.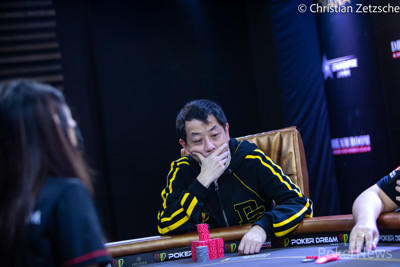 Minh Anh Nguyen folded the button and Brandon Koh jammed out of the small blind. Winfred Yu had 1,800,000 behind in the big blind and called.
Winfred Yu:

Brandon Koh:
The
flop improved Koh to a pair and the
turn had Yu on the ropes, the
river paired the board to eliminate Yu in third place. Koh's rail from Malaysia started celebrating as the chips were pushed to him.
There will now be a short break before the heads-up duel gets underway. In the meanwhile, Yu has left the tournament area and will collect VND1,452,150,000 for his efforts.