Event Info
| | |
| --- | --- |
| Prize Pool | 297,000 AUD |
| Players | 135 |
Level Info
| | |
| --- | --- |
| Level | 26 |
| Blinds | 40,000 / 80,000 |
| Ante | 80,000 |
Level:

14
Blinds:

2,000/5,000
Ante:

5,000
Plenty of action here in the early hands, Toby Giles was all-in with pocket tens versus David Rodwell's A-K.
A king on the flop put Rodwell in front and Giles stood up, hoping to gain some extra equity calling for a ten. The river provided the ten and Giles doubled up.
Jarryd Godena was all-in with
up against Peter An's pocket nines. No ace or queen on board sent Godena to the re-buy counter.
On the same table, Hasan Onay picked off a bluff with ace-ten to send Meerwais Hussaini to the same place.
In the first hand of the day, Marc Seymour was UTG and went all-in with 144,000. Michael Oscuro called, the rest of the table folded and the cards were tabled.
Seymour:

Oscuro:
The board
ran out clean for Seymour and he doubled up.
Level:

13
Blinds:

2,000/4,000
Ante:

4,000
Cards are in the air for the final day of the $2500 High Roller here at the Poker Palace with blinds commencing at 2,000/4,000/4,000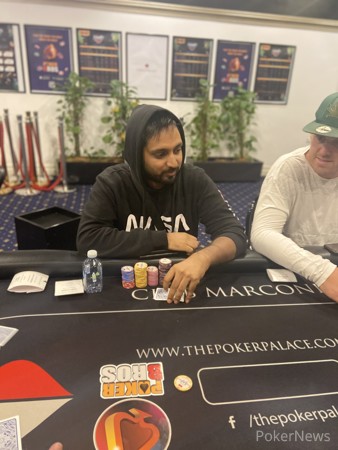 The final day of the $2500 High Roller event gets underway today with 45 players returning from Day 1, which had 122 entries. More are expected to join the field taking advantage of late registration being open until the end of the first blind level today. Blinds restart at level 7 on 2,000/4,000/4,000 and are 40 minutes in duration.
Anish Kumar (903,500) is our chip leader and everyone will be chasing him down trying to get the largest piece of a prize pool that is closing in on a massive $300,000, far exceeding the estimated $150,000. Included in those will be Steven Gergis (602,000) and Morten Mortensen from Denmark (514,500) who came 2nd and 7th respectively in the corresponding event during the Marconi Christmas Cup Series last December.
Play begins at 4.00 p.m local time and will play down until a winner is crowned. Stay tuned to the updates here on PokerNews to find out who the winner will be.
| Table | Seat | Player | Chip Count |
| --- | --- | --- | --- |
| 1 | 1 | Collin Tran | 248,000 |
| 1 | 2 | - | - |
| 1 | 3 | Richard Faura | 94,500 |
| 1 | 4 | Vincent Huang | 291,000 |
| 1 | 5 | Jamal Ishac | 172,000 |
| 1 | 6 | Steven Gergis | 602,000 |
| 1 | 7 | Honglin Jiang | 44,000 |
| 1 | 8 | - | - |
| | | | |
| 2 | 1 | - | - |
| 2 | 2 | Jarrod Thatcher | 260,500 |
| 2 | 3 | Yita Choong | 279,000 |
| 2 | 4 | - | - |
| 2 | 5 | Chris Tran | 96,500 |
| 2 | 6 | Wissam Al Hayek | 251,000 |
| 2 | 7 | - | - |
| 2 | 8 | Michel Bouskila | 234,500 |
| | | | |
| 3 | 1 | Jarryd Godena | 115,000 |
| 3 | 2 | David Rodwell | 276,000 |
| 3 | 3 | Peter An | 424,500 |
| 3 | 4 | - | - |
| 3 | 5 | - | - |
| 3 | 6 | Meerwais Hussaini | 104,000 |
| 3 | 7 | Lewis Murray | 168,000 |
| 3 | 8 | Toby Giles | 128,000 |
| | | | |
| 4 | 1 | George Elias | 96,500 |
| 4 | 2 | Alan Zheng | 210,000 |
| 4 | 3 | David Hanna | 83,000 |
| 4 | 4 | - | - |
| 4 | 5 | - | - |
| 4 | 6 | William Undy | 430,000 |
| 4 | 7 | Joseph Antar | 177,000 |
| 4 | 8 | Luis Arrilucea | 228,500 |
| | | | |
| 5 | 1 | - | - |
| 5 | 2 | - | - |
| 5 | 3 | Rehman Kassam | 516,500 |
| 5 | 4 | Jarod Cunningham | 564,500 |
| 5 | 5 | Steve Pappas | 160,500 |
| 5 | 6 | Rob Damelian | 304,000 |
| 5 | 7 | Marco Perri | 583,500 |
| 5 | 8 | Morten Mortensen | 514,500 |
| | | | |
| 6 | 1 | - | - |
| 6 | 2 | Didier Guerin | 352,000 |
| 6 | 3 | Ryan Bownds | 161,500 |
| 6 | 4 | - | - |
| 6 | 5 | Anish Kumar | 903,500 |
| 6 | 6 | Patrick Yazbeck | 242,500 |
| 6 | 7 | Charles Chiha | 115,000 |
| 6 | 8 | Dejan Boskovic | 168,000 |
| | | | |
| 7 | 1 | Michael Oscuro | 405,000 |
| 7 | 2 | Kaygee Gergis | 165,000 |
| 7 | 3 | - | - |
| 7 | 4 | - | - |
| 7 | 5 | - | - |
| 7 | 6 | Rob Spano | 355,500 |
| 7 | 7 | Bassam Habib | 265,000 |
| 7 | 8 | Marc Seymour | 144,000 |
| | | | |
| 8 | 1 | Patrick Camilleri | 100,000 |
| 8 | 2 | - | - |
| 8 | 3 | - | - |
| 8 | 4 | David Sebesfi | 309,000 |
| 8 | 5 | Michael Brahim | 431,500 |
| 8 | 6 | Jim Pizanias | 181,500 |
| 8 | 7 | Ben Salah | 98,000 |
| 8 | 8 | Tyson Orth | 145,000 |
AU$2,500 High Roller
Day 2 Started