Event #3: $10,000 No Limit Hold'em
Event Info
| | |
| --- | --- |
| Prize Pool | $530,000 |
| Players | 53 |
Players Info - Day 2
Event #3: $10,000 No Limit Hold'em
Day 2 Completed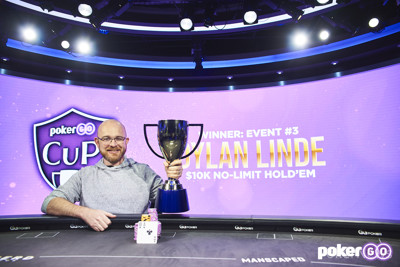 Dylan Linde catapulted to the top of the PokerGO Cup Leaderboard after coming from behind to defeat Sam Soverel in heads-up play to win the PokerGO Cup Event #3: $10,000 No-Limit Hold'em for $169,600.
It appeared that it would be Soverel's day as he entered the final table with the chip lead and single-handedly eliminated every opponent until his run ended against Linde.
This marks the second cash for Linde this festival after previously finishing in third place in the PokerGO Cup Event #2: $10,000 NLHE for $85,400.
Although Linde has had several deep runs in big events, he has been unable to find the winner's circle in more than 2 1/2 years when he notched his biggest career cash by winning the WPT Five Diamond World Poker Classic $10,400 Main Event for $1,631,468.
Linde credits hard work and a good network of poker friends to help him improve his game over the years.
"It's been a huge evolution for me," Linde said to PokerGO when asked about how his game has matured over the years. "I've done a lot of studying and worked with a lot of players who are a lot better than I am. I'm just lucky to be friends with some very good players that have helped me improve a lot, especially during lockdown when I just spent a lot of time studying and playing online."
PokerGO Cup Event #3: $10,000 NLHE Final Table Results
| Place | Name | Country | Payout | PokerGO Tour Points |
| --- | --- | --- | --- | --- |
| 1 | Dylan Linde | United States | $169,600 | 170 |
| 2 | Sam Soverel | United States | $111,300 | 111 |
| 3 | Steve Zolotow | United States | $74,200 | 74 |
| 4 | Bill Klein | United States | $53,000 | 53 |
| 5 | Sergi Reixach | Spain | $42,400 | 42 |
| 6 | Cary Katz | United States | $31,800 | 32 |
| 7 | Chris Brewer | United States | $26,500 | 27 |
The event attracted 53 entries generating a healthy $530,000 prize pool. The final table, which took place at the PokerGO Studio at the ARIA Resort & Casino, was broadcasted to poker fans around the world at the subscription-based PokerGO.
Remember, an annual subscription to PokerGO costs $99.99, but you can save $20 off by using promo code "CUP2021" at checkout. Sign up by going here.
PokerGO Cup Event #3: $10,000 NLHE Final Table Action
Soverel entered the final table with a commanding chip lead with more than double the stack of his nearest competitor in Steve Zolotow.
Fireworks erupted right away in a hand between Soverel and the short-stacked Bill Klein and Chris Brewer. Soverel min-raised with big slick before Klein jammed for six big blinds with rockets. Brewer came in for a little more than Klein with nines and Soverel called them both. Klein won the hand to effectively triple and Brewer was the first player on the rail in seventh place for $26,500 after a king spiked the board to pair up Soverel.
PokerGO founder Cary Katz was the next to go in sixth place for $31,800 on a bad beat when his aces didn't hold against Soverel's jacks after a jack came raining down on the river to give Soverel a set.
Soverel continued to his tear eliminating Zolotow (third - $72,400), Bill Klein (fourth - $53,000), and Sergi Reixach (fifth - $42,400).
All Soverel Until Heads-Up Play
It was all Soverel up until heads-up play where he began with triple the stack of Linde. The winner of the heads-up battle would also become the new captain on the PokerGO Cup Leaderboard.
However, Linde battled back and eventually had double the chips of Soverel after a big hand where he jammed the river with two pair and eventually got a call by Soverel with the top pair.
Linde's momentum continued and he had 10-times the chips of Soverel when the final hand took place. Soverel jammed with ace-three and wasn't able to improve after Linde called with ace-ten suited to finish in second place for $111,300.
2021 PokerGO Cup Standings
Dylan Linde entered PokerGO Cup Event #3 in sixth-place on the PokerGO Cup Leaderboard after finishing in third place in Event #2 and unseeded PokerGO Tour Leaderboard captain and PokerGO Cup Event #2 champion Ali Imsirovic. Event #1 champion Alex Foxen resides just behind Linde and Imsirovic in third place on the PokerGO Cup Leaderboard.
Linde's reign as leaderboard captain will be a short one as Imsirovic leads the final six of the PokerGO Cup Event #4: $15,000 No-Limit Hold'em and with just six players remaining with Foxen closest on his tail. Imsirovic could get there with a fourth-place finish or better while Foxen could get be the Leaderboard captain with a third-place finish or better.
Meanwhile, it is possible that Mo Rahim, Daniel Weinand, Jordan Cristos, and David Coleman could all be the new leaderboard captain if they win the event depending on where Imsirovic and Foxen finish.
In related news, Sam Soverel continues to impress as he has cashed in the first three PokerGO Cup events before blanking the fourth event and moved up to fourth place thanks to his runner-up performance in Event #2 with Event #1 runner-up Sean Perry rounding out the top five spots on the leaderboard.
| Rank | Name | Country | Earnings | Points |
| --- | --- | --- | --- | --- |
| 1 | Dylan Linde | United States | $255,000 | 255 |
| 2 | Ali Imsirovic | Bosnia and Herzegovina | $183,000 | 183 |
| 3 | Alex Foxen | United States | $178,200 | 178 |
| 4 | Sam Soverel | United States | $168,200 | 168 |
| 5 | Sean Perry | United States | $132,000 | 132 |
| 6 | Sergi Reixach | Spain | $128,200 | 128 |
| 7 | Jason Koon | United States | $122,000 | 122 |
| 8 | Steve Zolotow | United States | $100,600 | 100 |
| 9 | David Coleman | United States | $66,000 | 66 |
| 10 | Mo Rahim | United States | $61,000 | 61 |
2021 PokerGO Schedule and Results
| Date | Event | Entries | Prize Pool | Winner | Country | Prize |
| --- | --- | --- | --- | --- | --- | --- |
| July 6-7 | Event #1: $10,000 No-Limit Hold'em | 66 | $660,000 | Alex Foxen | United States | $178,200 |
| July 7-8 | Event #2: $10,000 No-Limit Hold'em | 61 | $610,000 | Ali Imsirovic | Bosnia and Herzegovina | $183,000 |
| July 8-9 | Event #3: $10,000 No-Limit Hold'em | 53 | $530,000 | Dylan Linde | United States | $169,600 |
| July 9-10 | Event #4: $15,000 No-Limit Hold'em | 50 | $750,000 | | | $240,000 |
| July 10-11 | Event #5: $25,000 No-Limit Hold'em | | | | | |
| July 11-12 | Event #6: $25,000 No-Limit Hold'em | | | | | |
| July 12-13 | Event #7: $50,000 No-Limit Hold'em | | | | | |
| July 13-14 | Event #8: $100,000 No-Limit Hold'em | | | | | |
*Images courtesy of PokerGO
Event #3: $10,000 No Limit Hold'em
Day 2 Started