Event #7: $50,000 No-Limit Hold'em
Event Info
| | |
| --- | --- |
| Prize Pool | $1,700,000 |
| Players | 35 |
Players Info - Day 2
Event #7: $50,000 No-Limit Hold'em
Day 2 Completed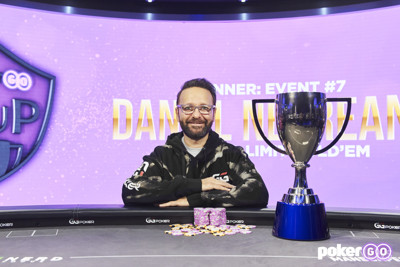 GGPoker Ambassador Daniel Negreanu came from the middle of the pack at the five-player official final table from an original field of 35 entries in the PokerGO Cup Event #7: $50,000 No-Limit Hold'em to eliminate his final four opponents single-handed including the red-hot Ali Imsirovic to win the $700,000 top prize.
It might sound hard to believe, but this was Negreanu's first title in nearly eight years. Back in 2013, Negreanu won the WSOP Player of the Year in no small part by winning two of his six WSOP gold bracelets in 2013 with victories in the WSOP Asia Pacific A$10,000 Main Event for A$1,038,825 ($1,087,160) and the WSOP Europe Event #7: € 25,600 NLHE High Roller for €725,000 ($979,955).
Despite Negreanu managing many impressive results over the past eight years, he is happy to get the monkey off his back in a huge way on Tuesday evening at the PokerGO Studio at the ARIA Resort & Casino.
"If I look at my results since 2013, I've cashed for $20 to $30 million, so I've still been able to post wins in terms of finances, but the elusive top prize has been missing," Negreanu said to PokerGO when talking about not finding the winner's circle in many years. "I've been a bridesmaid so many times. Just the demons and the ghosts in your brain, like when I'm heads up with (David Coleman) and that three hit the turn, it was just every reminder, like Buckner back in Shea Stadium. Every possible bad thing I'm thinking in my head. I can't help it. I'm human. So just to get that win out of the way it feels like I don't have to think about that anymore."
Event #7: $25K NLHE Final Table Results
| Place | Player | Country | Payout | PokerGO Tour Points |
| --- | --- | --- | --- | --- |
| 1 | Daniel Negreanu | Canada | $700,000 | 420 |
| 2 | David Coleman | United States | $455,000 | 273 |
| 3 | Alex Foxen | United States | $280,000 | 168 |
| 4 | Sergi Reixach | Spain | $192,500 | 116 |
| 5 | Ali Imsirovic | Bosnia and Herzegovina | $122,500 | 74 |
Negreanu shared with PokerGO after the win that he has changed his game in the past few years to include more bluffing.
"I think my game is better than it's ever been," Negreanu said. "It's simply a factor of really understanding bluffing more and understanding that I need to do it more. For most of my career in the 2000s, I didn't need to bluff much because people called too often. I got to play a small-ball approach that didn't require me taking any risks. Now, if you do that against really great players, you're not going to get value because they're just going to keep folding. The value has to come from a little bit more aggression. So I upped my aggression in a lot of spots, I do a lot more bluffing, and earn some pots.
"In the old days, I used to think, 'Well, these guys are all bad, they're going to pay me off,' so what's the point in bluffing? But to beat these guys, you have to earn it. You have to have some cajones to be like, 'Alright, I'm all in. If you call, I lose,' and feel OK with that. My relationship with bluffing has changed. It used to feel like a punch in the gut when I lost those chips. Like I screwed up, but now it's just like, 'No, it was a good bluff. He called, but so what?' I've gotten to that place now with bluffing."
Final Table Action
PokerGO Tour Leaderboard Ali Imsirovic entered the final table with the chip lead with Negreanu in the middle of the pack. Imsirovic already won two out of the first six events this festival where each time he entered the final table with the chip lead.
Last night was different for the Bosnian poker phenom as he quickly lost the chip lead before falling in fifth place for $122,500 when his tens were no match to Negreanu's rockets.
Sergi Reixach was the next to go on a bad beat in fourth place for $192,500. Negreanu jammed with eights on a seven-high flop and was called by Reixach with cowboys. An eight spiked the turn to give Negreanu a set and he eliminated Reixach after a blank came on the river.
Shortly after, Alex Foxen got it in good with ace-jack against Negreanu's queen-seven suited. But a seven on the board paired up Negreanu and Foxen was ousted in third place for $280,000.
Negreanu Comes from Behind Against Coleman
Despite eliminating the first three opponents at the official final table, Negreanu was slightly behind David Coleman when heads-up play began.
Negreanu took the lead and held onto it during most of the one-on-one battle. While there were some hiccups along the way for Negreanu including a hand where he doubled Coleman on a flip where treys beat ace-jack, Negreanu had nearly double the chips of his opponent when the final hand took place.
Coleman jammed the button with fives for 19 big blinds and Negreanu called with king-ten. It appeared that Coleman would double after Negreanu bricked the flop and the turn. However, a ten came raining down on the river to pair up Negreanu to give him his first victory in eight years while Coleman was awarded $455,000 for his runner-up performance.
"I feel like I've competed well all week," Negreanu said to PokerGO. "I had a bubble, I had two min-cashes, and then I had this one. I feel like I've been in there. I have the utmost respect for my opponents and how good they are. I do believe it's the best learning ground, too – watching what the top players do, the Ali Imsirovic's, the Jake Schindler's, and Alex Foxen – there are so many great players here. I have the luxury of being able to afford to play with them and feel like I'm doing pretty well against them, but it's the best test of where you're at. If you really, really, want to say that you're the best tournament player in the world or you're among them, then you need to compete against them and they're here in droves. This is the spot. Here at the PokerGO Studio."
2021 PokerGO Cup Standings
PokerGO Tour Leaderboard captain Ali Imsirovic has also been on top of the PokerGO Cup Leaderboard for four straight days after winning both Event #2 and Event #4. He had a chance to pad his lead in Event #7 but Daniel Negreanu is in the thick of things for the PokerGO Cup title as he is on the final table in the final event of the festival in the PokerGO Cup Event #8: $100,000 No-Limit Hold'em with five players remaining.
Negreanu needs a fourth-place finish or better to pass Imsirovic in points and a third-place finish to seal the deal. If Negreanu doesn't finish in third or better, it is still possible that Imsirovic won't win the title as Sam Soverel can see his name in lights if he wins Event #8 and Negreanu finishes in fourth or fifth place.
| Rank | Player | Country | Earnings | Points |
| --- | --- | --- | --- | --- |
| 1 | Ali Imsirovic | Bosnia and Herzegovina | $545,500 | 497 |
| 2 | David Coleman | United States | $710,000 | 470 |
| 3 | Daniel Negreanu | Canada | $766,200 | 468 |
| 4 | Alex Foxen | United States | $533,200 | 421 |
| 5 | Jason Koon | United States | $446,000 | 316 |
| 6 | Dylan Linde | United States | $255,000 | 255 |
| 7 | Sergi Reixach | Spain | $320,700 | 244 |
| 8 | Jake Schindler | United States | $324,000 | 194 |
| 9 | Daniel Weinand | Canada | $181,900 | 182 |
| 10 | Sam Soverel | United States | $168,200 | 168 |
2021 PokerGO Schedule and Results
| Date | Event | Entries | Prize Pool | Winner | Country | Prize |
| --- | --- | --- | --- | --- | --- | --- |
| July 6-7 | Event #1: $10,000 No-Limit Hold'em | 66 | $660,000 | Alex Foxen | United States | $178,200 |
| July 7-8 | Event #2: $10,000 No-Limit Hold'em | 61 | $610,000 | Ali Imsirovic | Bosnia and Herzegovina | $183,000 |
| July 8-9 | Event #3: $10,000 No-Limit Hold'em | 53 | $530,000 | Dylan Linde | United States | $169,600 |
| July 9-10 | Event #4: $15,000 No-Limit Hold'em | 50 | $750,000 | Ali Imsirovic | Bosnia and Herzegovina | $240,000 |
| July 10-11 | Event #5: $25,000 No-Limit Hold'em | 36 | $900,000 | Jake Schindler | United States | $324,000 |
| July 11-12 | Event #6: $25,000 No-Limit Hold'em | 36 | $900,000 | Jason Koon | United States | $324,000 |
| July 12-13 | Event #7: $50,000 No-Limit Hold'em | 35 | $1,750,000 | Daniel Negreanu | Canada | $700,000 |
| July 13-14 | Event #8: $100,000 No-Limit Hold'em | 23 | $2,300,000 | | | $1,058,000 |
*Images courtesy of PokerGO
Event #7: $50,000 No-Limit Hold'em
Day 2 Started