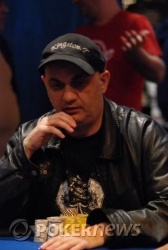 Sam Khouiss is freely imparting his advice and wisdom upon all of his opponent's at the table. He spares no one.

After one of his masterful insights, Carl Booth said to him, "You must be the Oracle of Crown, people come to you for advice".

"Yeah! Because I know everything," said Khouiss.

After a moment's pause Khouiss added, "The Oracle, I like that, call me the Oracle from now".