HK$103,000 High Roller
Day: 3
HK$103,000 High Roller
Day 3 Completed
The 2017 PokerStars Championship Macau festival at the PokerStars LIVE Macau poker room in the City of Dreams complex saw eight hopefuls out of a 180-entry strong field return for the third and final day of the HK$103,000 (~US$13,260) High Roller. A total of 138 unique players and 42 re-entries created a prize pool of HK$17,460,000 (~US$2,248,160).
After just over five hours, a winner was crowned and it was 38-year old Sosia Jiang from New Zealand who walked home with the trophy and a payday of HK$3,870,000 (~US$503,100), the far biggest cash of her career thus far. Chinese fortune cat Maximus was watching over the chips of Jiang for the entire duration of the tournament and it indeed turned out to bring plenty of fortune and bravery.
Jiang lived in Hong Kong for several years and started playing poker recreationally before moving back to New Zealand. One month ago, Jiang visited China and joined the action of the Macau Poker Cup, in which another woman came to High Roller glory as well: Sixiao "Juicy" Li won the HK$80,000 Baby Dragon High Roller.
In heads-up, Jiang defeated start-of-the-day chip leader Raghav Bansal, who shook hands with a "You played like a boss," on his lips. Bansal almost doubled his earnings thus far and will jump into third place on the all-time money list of India as a result. Troy Quenneville had to settle for third place while the High Roller regulars Nick Petrangelo (4th), Dan Smith (6th) and Sergey Lebedev (7th) all came up short.
Have a look at what Jiang had to tell PokerNews' Sarah Herring.
Final Result HK$103,000 High Roller
| Place | Player | Country | Prize (HKD) | Prize (USD) |
| --- | --- | --- | --- | --- |
| 1 | Sosia Jiang | New Zealand | 3,870,000 | 503,100 |
| 2 | Raghav Bansal | India | 2,610,000 | 339,300 |
| 3 | Troy Quenneville | Canada | 1,800,000 | 234,000 |
| 4 | Nick Petrangelo | USA | 1,465,000 | 190,450 |
| 5 | Ben Lai | Hong Kong | 1,170,000 | 152,100 |
| 6 | Dan Smith | USA | 895,000 | 116,350 |
| 7 | Sergey Lebedev | Russia | 652,000 | 84,760 |
| 8 | Xixiang Luo | China | 470,000 | 61,100 |
"If I am going to run good, I better do it in a High Roller tournament," Jiang joked once the last hand was done and dusted and she indeed started the day with the second-shortest stack, then scored a vital double up with queen-jack against the pocket tens of Dan Smith. Jiang flopped top pair and a straight draw, then turned an additional flush draw when the chips went in the middle of the table. Smith called with pocket tens for middle set and another spade on the river secured the double.
Xixiang Luo, who already won two Side Events during the festival previously, became the first casualty of the day. After a raise by Dan Smith and a call by Troy Quenneville, Luo moved all in with pocket nines out of the big blind. Smith folded, but Quenneville called with ace-jack and immediately spiked an ace in the window.
Sosia Jiang then scored another double up before Sergey Lebedev three-bet and ultimately five-bet shoved with pocket queens only to see Jiang snap-call with pocket aces. There was no surprise on a king-high board and Lebedev had to settle for 7th place.
Dan Smith was left short after losing several pots in quick succession and three-bet shoved with king-queen suited. Sosia Jiang called with pocket sevens and held up to send the American poker pro to the rail in 6th place.
Ben Lai had lost almost all of his chips just previously when he tried to push Raghav Bansal off two pair on a flush draw board and then called all in for just over two big blinds. Initial raiser Sosia Jiang and Bansal in the big blind checked it down and Lai's jack-eight suited couldn't get there against the ace-king suited of Jiang.
Nick Petrangelo, who already finished second in two High Roller tournaments during the festival in Macau, was hoping for the third time to be the charm, but ultimately the American had to settle for 4th place this time around. After doubling his short stack not long ago, he four-bet shoved with ace-five suited and Sosia Jiang found pocket aces for the second time to eliminate an opponent on the final table.
Down to three, Sosia Jiang dominated the action at the tables and sent second-biggest stack Troy Quenneville to the rail. After a limped pot in a battle of the blinds, Jiang bet small on an ace-high flop with two spades before betting big on the turn when a ten appeared. Quenneville called and then faced the shove for well more than the size of the pot on the river that completed a flush draw. The Canadian couldn't find the fold with king-jack of hearts for the straight and Jiang flipped over ace-ten of spades for the nut flush.
Sosia Jiang had a commanding 8-1 lead when heads-up started, and Raghav Bansal got short once, doubled, grinded back some more chips before the Indian got short again. Bansal then three-bet all in for just over 22 big blinds with pocket deuces and Jiang called with queen-ten, a queen showed up on the river and the champion was crowned.
That marks the end of the PokerNews live reporting from the HK$103,000 High Roller tournament, but you can check out the thrilling heads-up battle in the PokerStars Championship Macau Main Event between Elliot Smith and Tianyuan Tang.
The pictures are courtesy of Rene Velli and Rational Intellectual Holdings Ltd.
Level 24 : 20,000/40,000, 5,000 ante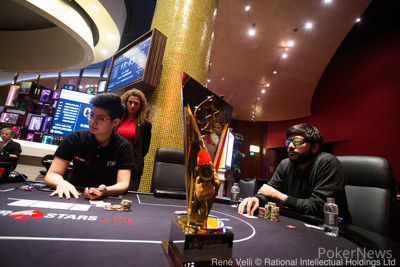 Raghav Bansal's hopes of a comeback are now up in smoke and we have a champion with New Zealand's Sosia Jiang emerging triumphant.
In the final hand, Bansal limped the button and Jiang made it 120,000 to go from the big blind. Bansal quickly pulled the trigger and moved all for his last 900,000 and Jiang looked eager to finish things and made the call.
Raghav Bansal:

Sosia Jiang:
Bansal found himself racing for his tournament life with the ducks and the
looked to be a good one, with the Indian player keeping the lead. The
turn changed nothing and Bansal looked primed for a double-up before disaster struck and the
landed on the river to crush Bansal's dreams and grant Jiang the trophy, the title, and the HK$3,870,000 first prize.
Bansal will not be too unhappy with his career best score, however, taking home the equivalent of US$339,300 for his deep run.
"You played like a boss," said a gracious Bansal as came over to shake Jiang's hand.
"Thank you," replied Jiang as she basked in the glory of her largest ever career tournament score.
All that excitement concludes our High Roller coverage for the series, though those looking for more action can check out the PokerStars Championship Macau Final Table, which is still going strong.
There will be a full write up to come so stick around as we walk you through all the tournament thrills and spills.
Sosie Jiang raised to 100,000 and Raghav Bansal called to see a flop
. Bansal checked and Jiang bet 150,000, which Bansal called.
After the
turn, Bansal check-called another 375,000 and checked the
on the river. Jiang now made it 550,000 to go and Bansal checked, but quickly mucked when Jiang showed
for a flush. This restored the initial lead from the start of the heads-up duel.
After losing a few pots by limping and then folding to raises, Raghav Bansal got back on track and took chips off Sosia Jiang.
Jiang raised to 100,000 and Bansal three-bet to 310,000, which Jiang called. On the
flop, Bansal continued for 240,000 and Jiang called. The
turn and
river were checked through and Bansal's
won the pot.
Level 24 : 20,000/40,000, 5,000 ante
Raghav is not giving up and has started to claw back into contention and has just won the last five hands in a row.
In the first Bansal limped from the button and Jiang checked her option with the flop falling
. Jiang led for 40,000 but folded immediately when Bansal raised it up to 105,000 to win the pot and climb to 950,000.
Bansal took down the second hand pre-flop with a raise to 140,00 after Jiang limped the button and also won the third hand pre-flop after limping the button before moving all-in over the top of Jiang's 120,000 raise.
Jiang made it 100,000 to go from the button on the fourth hand but folded quickly when Bansal made it 290,000 to go to climb up to over 1 million for the first time in the heads-up battle.
Bansal made it five from five after limping the button and then calling Jiang's 120,000 bet to bring both players to a flop of
. Jiang led out for 85,000, Bansal made it 215,000 and Jiang called to bring both players to the
turn.
This brought checks from both players and brought in the
river. There was no more betting and while Jiang turned over
this was not enough to beat Bansal's
top pair and the Indian player stacked up to 1.5 million.
Sosia Jiang won the two hands of the previous level and one of them went to the river. Raghav Bansal limped in and Jiang checked. On the
flop, Jiang check-called a bet worth 30,000 before the
turn went check, check. On the
river, Jiang bet 75,000 and won the pot.
The new level started the same way. While Bansal limped often, it was Jiang who twice raised to 100,000. Bansal folded the first time and defended the second time, then checked a flop of
. Jiang continued for 80,000 and Bansal folded.
Level: 24
Blinds: 20,000/40,000
Ante: 5,000
While Sosia Jiang had cut down her opponent's stack, it was Raghav Bansal that then doubled back to slightly more he started with in the heads-up duel.
It was a limped pot to the flop of
and Jiang checked, Bansal bet 35,000 and was called. On the
turn both checked before Jiang shoved the
river. Bansal called and showed
for the seven-high straight, Jiang had the
for a turned six-straight.