HK$82,400 PLO High Roller
Level Info
| | |
| --- | --- |
| Level | 21 |
| Blinds | 10,000 / 20,000 |
| Ante | 0 |
Players Info
HK$82,400 PLO High Roller
Day 2 Completed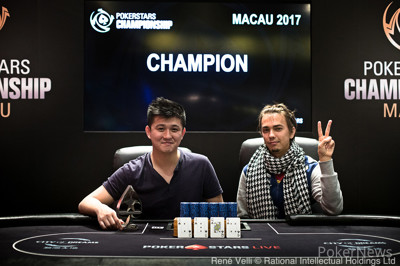 The next High Roller Champion has been crowned at the 2017 PokerStars Championship Macau festival at the PokerStars Live Macau poker room at City of Dreams. Only 13 players out of a 36-entry strong field returned for Day 2 of the HK$82,400 (~$10,605) Pot-Limit Omaha High Roller event and Sam Greenwood was leading the field. However, it was Ka Kwan "Kaju85" Lau who emerged victorious in heads up against Maksim Shuts to claim the title, trophy, and payout of HK$950,000 (~122,277).
Lau, a poker pro from Spain who was born in Hong Kong and moved to Spain when he was four years old, considers Omaha as one of his favorite games and showcased his skills at the tables, while almost all finalists encountered a roller coaster of emotions with plenty of all in showdowns before a winner was crowned.
The best live score of Lau resulted from a 4th place in the EPT10 Prague Main Event, and he also finished 20th in the 2016 World Series of Poker Main Event. The Spaniard then triumphed in the EPT13 Malta €10,300 Pot-Limit Omaha High Roller back in November last year, and his live tournament winnings are now close to $1 million.
Final Result Pot-Limit Omaha High Roller
| Place | Player | Country | Prize (HKD) | Prize (USD) |
| --- | --- | --- | --- | --- |
| 1 | Ka Kwan Lau | Spain | 950,000 | 122,277 |
| 2 | Maksim Shuts | Belarus | 656,500 | 84,500 |
| 3 | Felipe Ramos | Brazil | 419,000 | 53,930 |
| 4 | Daniel Geeng | USA | 321,000 | 41,317 |
| 5 | Fabian Geisel | Germany | 251,000 | 32,307 |
| 6 | Hok Lee | Hong Kong | 196,100 | 25,240 |
The day started with a triple up for Maksim Shuts, who returned for level 13 with just under five big blinds, while Shuo Li joined the rail only minutes into Day 2. Isaac Haxton and David Wang then bowed out at almost the same time on different tables and there were only 10 hopefuls remaining. Martin Kozlov lost the fight with his short stack and that set up the unofficial final table with the following seat assignments.
| Seat | Player | Country | Chip Count | Big Blinds |
| --- | --- | --- | --- | --- |
| 1 | Felipe Ramos | Brazil | 225,000 | 75 |
| 2 | Joseph Kushner | USA | 127,000 | 42 |
| 3 | Maksim Shuts | Belarus | 126,000 | 42 |
| 4 | Ka Kwan Lau | Spain | 250,000 | 83 |
| 5 | Sam Greenwood | Canada | 381,000 | 127 |
| 6 | Chun Yuan Wang | China | 44,000 | 14 |
| 7 | Daniel Geeng | USA | 260,000 | 86 |
| 8 | Hok Lee | Hong Kong | 128,000 | 42 |
| 9 | Fabian Geisel | Germany | 225,000 | 75 |
Only a few minutes passed and Chun Yuan Wang got half of his stack in via three-bet preflop, then shoved a paired ten-high board with two diamonds. Sam Greenwood called with a double-suited ten and the nut flush draw of Wang never arrived. What followed was an incredible festival of all ins, double ups and more than three hours without elimination.
Ultimately, it was Joseph Kushner who gad to settle for 8th place, two off the money, when his short stack vanished with queen-ten-nine-eight against the ace-jack-ten-seven of Ka Kwan Lau. Almost two hours later, it was Sam Greenwood who ended up as the bubble-boy after being the dominating chip leader for most of the day. A series of lost showdowns saw the stack of the Canadian down to four big blinds, which he first doubled through Ka Kwan Lau only to bust the very next hand. Greenwood got it in preflop with pocket aces and Lau had jack-nine-seven-six double suited, the Spaniard turned an unbeatable straight and the money bubble burst.
After taking five hours to get from eight to six, the tournament would be over a mere hour later. Hok Lee got his stack in preflop with a single-suited ace and Fabian Geisel looked him up with ace-king-nine-five. Geisel flopped two pair and Lee was gone in 6th place.
The fortune for Fabian Geisel lasted all but six minutes, as his flopped set of sixes were no match against the flopped set of eights of Ka Kwan Lau, and suddenly there were just four hopefuls remaining.
Daniel Geen was then eliminated in 4th place after his double-suited queens ran into the double-suited kings of Ka Kwan Lau, and the latter took a massive lead over his other two opponents.
Until then, PokerStars Team Pro Felipe Ramos had nursed a short stack and laddered up several spots before getting most of his chips in preflop. Ramos flopped top pair with a king, and Ka Kwan Lau called off the few remaining chips with bottom pair, then turned two pair to send Ramos to the rail.
Ka Kwan Lau, who started Day 2 as second-biggest stack, held a 2-1 lead over Maksim Shuts, who himself returned with less than five big blinds when the action resumed at lunch time. Both players discussed a deal but couldn't agree on the numbers, and less than 10 minutes later it was all over. In a big pot and repot hand, the flop came king-high with a flush draw and Shuts shoved with pocket aces and the nut flush draw. Lau only had middle pair and a three-high flush draw, but spiked a blank three on the river to improve to two pair.
That was it from the Pot-Limit Omaha High Roller, while the second edition of the Single-Day High Roller is fast approaching their respective final table. One further high-stakes tournament remains for the festival here in Macau and that is the HK$103,000 Shot Clock High Roller with single re-entry. The event kicks off at 12 p.m. local time and will play down to a winner within the next three days, the PokerNews live reporting team will be on the floor to provide updates.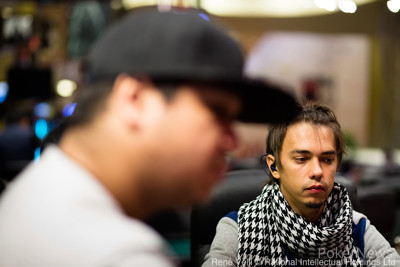 After less than ten minutes and half a dozen hands of heads-up, a winner was crowned and the fireworks started with a pot-sized raise by Ka Kwan Lau and a pot-sized reraise by Maksim Shuts. Lau called and the flop fell
. With more than 350,000 in the middle, Shuts bet the pot with few chips behind, and Lau moved all in, covering his opponent. Shuts snap-called and the cards were tabled.
Maksim Shuts:

Ka Kwan Lau:
Shuts had gotten it in with the best of it, holding pocket aces and the nut flush draw. Lau was drawing very thin, but saw the board complete with the
turn and the
river. The final community card gave the Spaniard two pair and Shuts was eliminated in 2nd place for HK$656,500 (~$84,500). Considering that Shuts started the day as shortest stack with less than five big blinds, that is one hell of a comeback.
Lau takes home the trophy and a payday of HK$950,000, which equals approximately $122,277. A recap of today's action will be available shortly.
Maksin Shuts raised to 60,000 and Ka Kwan Lau called. On the
flop, Lau checked and folded to a bet worth 60,000 by Shuts.
Two hands later, the same action repeated preflop, and the flop came
. Lau this time however check-called a bet of 60,000 before checking again the
turn. Shuts made it 120,000 to go and Lau folded.
Ka Kwan Lau and Maksin Shuts briefly discussed an ICM deal and considered leaving HK$20,000 as well as the trophy on the side, but Shuts eventually ended the discussion with a smile and "Okay, I first double and then we discuss a deal again."
There are around 22 minutes left on the level and the cards are back in the air.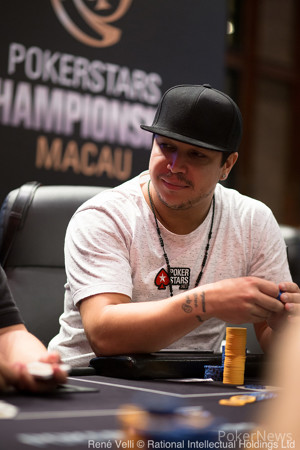 After having to forfeit his big blind twice, Felipe Ramos was down to just five big blinds and raised to 70,000 from the button. Maksim Shuts folded in the small blind and Ka Kwan Lau checked his cards. "I won't fold," Ramos said and then added "I have 34,000 behind."
Lau just called with the words "let's see a flop", which came
. Lau bet enough to set the PokerStars Team Pro in and Ramos called.
Felipe Ramos:

Ka Kwan Lau:
The
turn improved Lau to two pair, and a blank
river sent Ramos to the rail in 3rd place for a payday of HK$419,000 (~$53,930). Both remaining players then headed into a quick five-minute break and Lau holds an almost 2-1 lead over Shuts for the upcoming heads-up.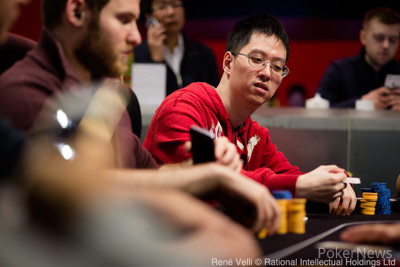 Soon after doubling through Maksim Shuts, Daniel Geeng faced another button raise to 50,000 by the Belorussian and announced a pot-sized reraise. Shuts moved all in and Geeng laughed with a "no no no," then called for around 200,000.
Daniel Geeng:

Maksim Shuts:
"Oh my god, he is even blocking the queen," Geeng added before the flop came
. "I am so dead," the American continued, but he picked up a glimpse of miracle with the
turn, drawing to the last three in the deck for quads. However, a blank
river completed the board and Geeng had to settle for 4th place and a payday of HK$321,000 (~$41,317).
The remaining three players, and especially short stack Felipe Ramos, have HK$419,000 locked up, which equals approximately $53,930.
After scooping a small pot against Ka Kwan Lau, Maksim Shuts raised to 50,000 from the button and Daniel Geeng checked his cards. He then said "bingo" with a smile on the face, towards the table and his friends on the rail, before moving all in. Shuts called and the cards were tabled.
Daniel Geeng:

Maksim Shuts:
On the
flop, Geeng said "that's good, so I need to dodge a ten or a six?" before the
turn and
river blanked. Geeng doubled for 104,000 and moved from five to almost 11 big blinds.
Level:

21
Blinds:

10,000/20,000
Ante:

0
Ka Kwan Lau took a big pot off Maksim Shuts early into four-handed play and the latter took revenge on Daniel Geeng, firing a pot-sized bet of 78,000 on the
flop. Geeng folded with about as much behind.
Then, Lau raised to 55,000 first to act and Shuts three-bet to 142,000 from the big blind. Lau called and the flop came
. Shuts bet the pot and Lau folded. "He wants to win every pot," Shuts said and Lau joked "I know, I am a fish," and tried to hide his face behind the hoodie with a big grin on the face.