Blondel Tests Tsuji

Level 19 : 5,000/10,000, 1,000 ante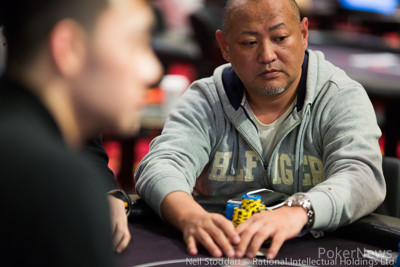 Thibaut Blondel was in middle position and looked down at cards he wanted to play, so he raised to 22,000. Yasuyuki Tsuji was up for the challenge and made the call from the button. The dealer spread a flop of
.
Blondel continued for 22,000 again and Tsuji called again. The turn came
and Blondel elected to check this round. Tsuji counted out a bet and made it 30,000. Blondel wanted to see how much Tsuji had behind. Once he saw that he had about 240,000 left, Blondel plopped down four stacks of yellows — 400,000 and plenty enough to put Tsuji all in.
Tsuji went in the tank and, after a couple of minutes, another player at the table called clock. The time ticked down. Once he hit the 30-second mark and he was told how much time he had left, he threw his cards in the muck. Blondel turned over
and gleefully stacked the chips.