Main Event
Day 4 Completed
Level 23 : 12,000/24,000, 4,000 ante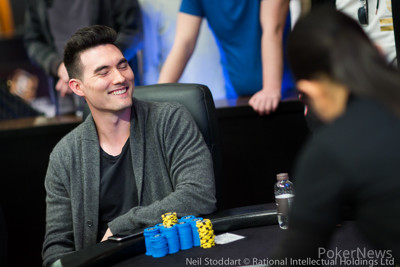 Just one big blind separates Aymon Hata and Dong Guo atop the leaderboard after Day 4 of the PokerStars Championship Macau Main Event. A 37 player field returned at noon on Friday and a little less than seven hours later, that size has been reduced to just 16 hopefuls.
Hata claimed the lead from majority Day 4 chip leader Guo on the final hand of the night.Julius Malzanini open-shoved blind versus blind with queen-five and Hata called from the big blind with pocket sevens. Malzanini was unable to improve and busted in 17th place, halting play.
The pot gave Hata a final count of 2,188,000. Guo, who took the lead early and maintained it for most of the day, finished with 2,160,000. Thibault Blondel (1,388,000), Wenlong Jin (1,296,000), and Yan Li (1,248,000) round out the top five stacks.
Several notables still remain in the hunt including Daniel Laidlaw (1,077,000), Canadian Spin n' Go qualifier Avraham Oziel (873,000), Elliot Smith (583,000), Fabrice Soulier (472,000), and Winfred Yu (385,000) who will return on Day 5 as the shortest stack.
Everyone still in contention has now locked up at least HK$221,000 but all eyes will be squarely focused on the HK$3,130,000 first-place prize.
The 2016 GPI Player of the Year David Peters was the first player to fall on Day 4. Peters attempted a semi-bluff shove on the turn against Dong Guo who unfortunately for the American pro, had turned a full house. Peters bowed out in 37th place for HK$101,000 and Guo sprung into the lead.
Other familiar faces to see their Main Event run come to an end were Kiryl Radzivonau (34th - HK$101,000), Vitaly Tevis (29th - (HK$130,500), Day 1b chip leader Joachim Bold (24th - HK$130,500), and Day 2 chip leader Pakinai Lisawad (21st - HK$170,000).
The final 16 players will return at noon on Saturday for Day 5. PokerNews' live reporting team will be back on the tournament floor, providing live updates of all the action. Keep your browser locked on this page to stay up to date as the tournament progresses.
Level 23 : 12,000/24,000, 4,000 ante
Player
Chips
Progress

Aymon Hata

2,188,000

Dong Guo

2,160,000

-140,000

Thibaut Blondel

1,388,000

668,000

Wenlong Jin

1,296,000

246,000

Yan Li

1,248,000

48,000

Tianyuan Tang

1,241,000

391,000

Daniel Laidlaw

1,077,000

-173,000

Jianbo Jiang

1,057,000

-343,000

Avraham Oziel

873,000

-327,000

Artem Metalidi

740,000

-646,000

Elliot Smith

583,000

68,000

Feng Wen Chen

491,000

91,000

Yen Chen

481,000

-69,000

Fabrice Soulier

472,000

-58,000

Xuan Tan

439,000

-211,000

Winfred Yu

385,000

-65,000
Level 23 : 12,000/24,000, 4,000 ante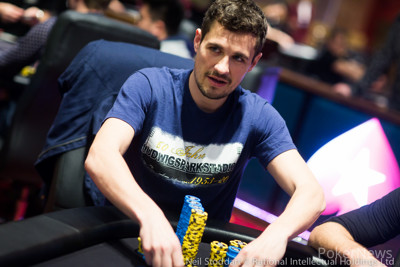 After action folded all the way to the blinds, Julius Malzanini open-jammed all-in for his last 330,000. Aymon Hata quickly called from the big blind and their hands were tabled.
Julius Malzanini:

Aymon Hata:
The board ran out
and Malzanini failed to improve, busting in 17th place for HK$170,000.
With that, the remaining 16 players are bagging their stacks for the night.
Level 23 : 12,000/24,000, 4,000 ante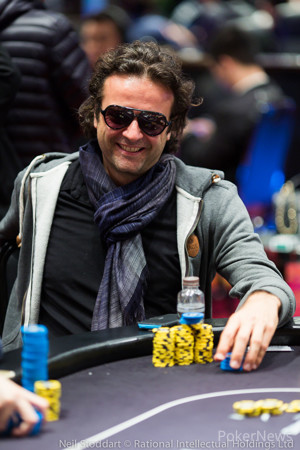 Thibaut Blondel opened to 51,000 from under-the-gun and action folded around to Fabrice Soulier on the button. Soulier pushed his stack forward, putting himself at risk, and Blondel made the call.
Blondel:

Soulier:
The dealer patted the table and delivered a
board and Soulier's two pair was good.

Level 23 : 12,000/24,000, 4,000 ante
With action folded around to the players in the blinds, Aymon Hata and Feng Wen Chen got all the chips in the middle with Chen at risk again.
Hata:

Chen:
Chen was in great shape with the dominating ace, and still looked good on the
flop, but the
on the turn looked like they were destined for a chop. When the
hit the river, Chen celebrated making another pair and winning the double-up.
Level 23 : 12,000/24,000, 4,000 ante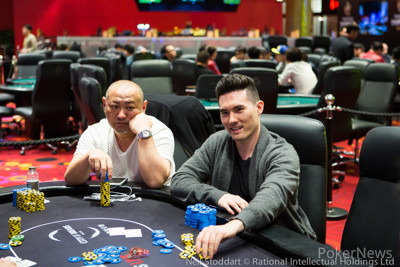 Julius Malzanini opened to 51,000 from under-the-gun only to be three-bet one seat over by Aymon Hata. Hata bumped it up to 108,000 but Yan Li wasn't having any of that. Li four-bet jammed, having both players covered.
Malzanini went into the tank for a moment before reluctantly letting it go. Hata grabbed a handful of chips and set them down in front of him, making a call for his tournament life.
Li:

Hata:
Hata smashed the
flop, taking a big lead with two pair. Li needed a jack or running cards to pause the clock on Day 4 but the turn —
and river —
were no help and Hata survived, vaulting up the chip counts.
Level 23 : 12,000/24,000, 4,000 ante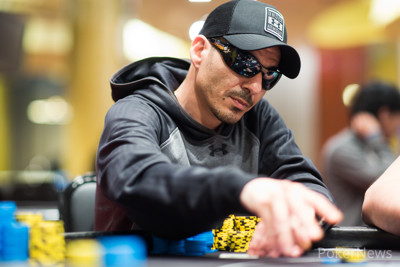 Fabrice Soulier opened to 55,000 from the button and got a call from Avraham Oziel in the small blind. A
flop was laid in front of them and Oziel took the betting lead, firing 60,000. Soulier called.
The
touched down on the turn and Oziel checked. Soulier counted out a bet of 117,000 and slid it forward. Oziel instantly announced all in and stood up from the table.
Soulier raised his hands, seemingly shocked by the turn of events. Unsure what to do, Soulier took a few moments before eventually giving up and sliding his cards towards the dealer.
Oziel picked up his cards and said, "I never bluff," tabling
for a flopped set. The Canadian who qualified through a $10 Spin & Go on PokerStars has now joined the others with a seven-figure stack.
Level 23 : 12,000/24,000, 4,000 ante
Player
Chips
Progress

Dong Guo

2,300,000

700,000

Yan Li

1,514,000

264,000

Jianbo Jiang

1,400,000

80,000

Artem Metalidi

1,386,000

36,000

Thibaut Blondel

1,300,000

100,000

Daniel Laidlaw

1,250,000

1,115,000

Wenlong Jin

1,050,000

-4,000

Aymon Hata

930,000

80,000

Tianyuan Tang

850,000

-450,000

Avraham Oziel

800,000

-100,000

Xuan Tan

650,000

-100,000

Fabrice Soulier

600,000

67,000

Julius Malzanini

560,000

-40,000

Yen Chen

550,000

120,000

Elliot Smith

515,000

-185,000

Winfred Yu

450,000

-20,000

Feng Wen Chen

335,000

-65,000
Level: 23
Blinds: 12,000/24,000
Ante: 4,000