€2,200 High Roller
Days: 2
€2,200 High Roller
Day 2 Completed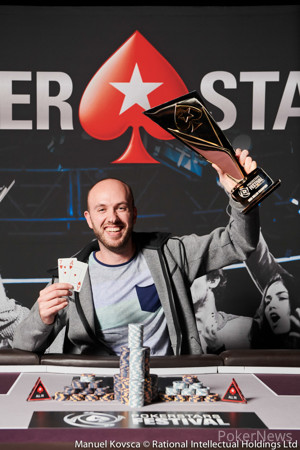 The 2017 PokerStars Festival Hamburg €2,200 High Roller event has crowned a champion and it was local regular Andre Haneberg who lifted the shiny trophy for the winner shots in the early morning hours after defeating De Han Kim in heads-up. Both players twice discussed a possible deal, before the start of the heads up when Kim had a commanding lead, and when Haneberg was way ahead, without coming to a conclusion.
Ultimately, it was Haneberg that scorewd his biggest result so far and took home €46,380 for his efforts while Kim had to settle for €32,210. Hanefeld is a faimilar face in Hamburg's Casino Schenefeld and finished 17th in the Eureka 6 €1,100 Main Event at this very location. Earlier this year, the 30-year-old also took home €39,000 after finishing runner-up in the partypoker MILLION Germany Rozvadov €2,200 High Roller and now claimed the winner spotlight.
"It's incredible and a fantastic feeling, I played really well and I was never in trouble today," the 30 year-old from Oldenburg said in the winner interview, "I'll use the winnings for my family and to continue playing poker," Haneberg added and will be back in action for Day 1b of the Main Event after catching up on some sleep.
Three former European Poker Tour Main Event champions returned for Day 2 of the event, however only Frederik Jensen made it to the money and eventually had to settle for 8th place. Thang Duc Nguyen busted before the money and EPT4 Warsaw champion Michael Schulze ended up as the bubble boy.
The official eight-handed final table saw five Germans and two Danes to battle for the title and that also included Toni Vardjavand (7th place, for €8,290) and Martin Wendt (3rd place, for 21,300). Wendt narrowly missed out on crossing $1 million in earnings on the live poker circuit and collected his prize with a smile on the face while mentioning that he also has a German passport and his father is in fact from Hamburg.
Final Result €2,200 High Roller
| Place | Winner | Country | Prize (EUR) |
| --- | --- | --- | --- |
| 1 | Andre Haneberg | Germany | €46,380 |
| 2 | De Han Kim | Germany | €32,210 |
| 3 | Martin Wendt | Denmark | €21,300 |
| 4 | Jamila von Perger | Germany | €16,670 |
| 5 | [Removed:179] | Germany | €13,440 |
| 6 | Adnan Dizdarevic | Denmark | €10,480 |
| 7 | Toni Vardjavand | Germany | €8,290 |
| 8 | Frederik Jensen | Denmark | €6,460 |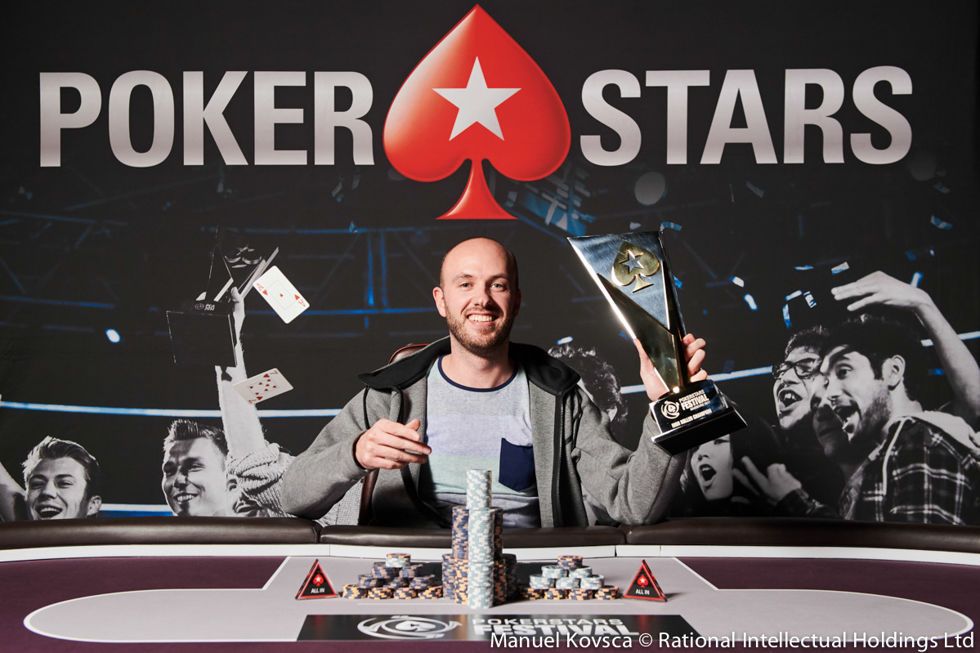 Action of Day 2
Only 28 players out of a 90-entry strong field returned to Casino Schenefeld in the hopes of securing a portion of the €174,600 prize pool. The first seat open came at a quick once play resumed and Rishi Bhasin was among those to bow out in the first few levels. He spiked top pair and flush draw with nine-six suited only to see Grzegorz Derkowski turn over deuces for a set and improve to quads on the turn. Erkan Sonmez, Roberto Manfredi and Fredrik Andersson were among those to miss out on the last two tables as well.
Thang Duc Nguyen barely won any pot the entire day and his hopes came to an end when he called the shove of fellow former EPT Champion Frederik Jensen with pocket sixes. The Dane turned over pocket nines and Nguyen failed to get there. Pocket sixes also played a cruel role in the elimination of Florian Bach, who turned a set only for Martin Wendt to snap-call his shove with pocket kings for the flopped superior set.
Aleksandar Tomovic put his hopes on queen-jack suited, however both Jakob Madsen and Michael Schulze had ace-queen and chopped up his short stack to enable hand-for-hand mode. It would be Schulze who was the last player to leave empty-handed, his queen-nine suited for flopped top pair stood no chance against the turned nut straight of De Han Kim to guarantee all remaining 13 players at least €3,490 for their efforts.
Vytis Paskevicius turned a full house with pocket tens and got his stack in, while Andre Haneberg with queen-jack had flopped trips queens. A second seven on the river improved Haneberg to the superior full house and Paskevicius was joined on the rail moments later by Jakob Madsen. Vitaly Karayvan was left short after doubling up [Removed:179] and called the shove of the German with ace-ten, Henning only had seven-nine suited but a flopped flush draw turned into top pair and trips nines on the river. Daniel Belov was eliminated a few moments later from the same table and that set up the unofficial final table.
Grzegorz Derkowski was the first short stack to be at risk, and his ace-eight ended up second best to the ace-king of [Removed:179] despite flopping the nut flush draw. Frederik Jensen called the shove of Jamila von Perger with eight-trey suited in a battle of the blinds and flopped an eight, but von Perger's king-nine turned the higher pair to eliminate the Dane.
While dominating the early stages of Day 2, Toni Vardjavand had to settle for 7th place eventually. After dropping into the middle of the pack, he four-bet shoved with pocket tens and Andre Haneberg quickly called with pocket jacks to remain ahead on a blank queen-high board. Adnan Didzarevic followed in sixth place when his ace-eight suited found no help to better the pocket nines of Jamila von Perger, while [Removed:179] failed to get there with jack-eight versus De Han Kim's ace-four.
Down to the last four the stacks were almost even at some point before Kim started to pull into a commanding lead. Jamila von Perger fell victim of his hot run. Her king-jack suited faced the ace-four of Kim, who blocked the hearts flush, and an ace on the flop left von Perger drawing dead on the turn. Martin Wendt followed soon after when flopping a pair with ten-eight only to see Kim turn the superior pair with ace-king suited when the all in and call for the tournament life of the Dane took place.
Kim and Haneberg briefly discussed about a potential deal but came to no conclusion and within just a few hands, the situation changed entirely as Haneberg went from underdog to commanding chip leader. Both chopped with a baby ace once while the final hand saw Haneberg shove with ace-seven suited and Kim call with king-jack suited. An ace on the flop was all it took and Haneberg was crowned champion.
The PokerNews live reporting team will continue to provide updates from the festival with the ongoing starting days of the €1,100 Main Event until a champion is crowned on Sunday November 26th 2017.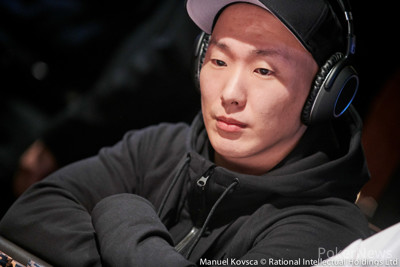 Andre Haneberg moved all in and Kim De Han called all in with a stack of around 700,000.
De Han Kim:

Andre Haneberg:
Both gathered around the table to watch the showdown unfold and the board ran out
, sending Kim to the rail in 2nd place for €32,210. Haneberg, a regular in Hamburg, is crowned the High Roller champion and takes home €46,380.
A recap of today's action is to follow.
Andre Haneberg raised to 80,000 and Kim De Han moved all in, Haneberg called.
Kim De Han:

Andre Haneberg:
The board ran out
and the chopped it up. De Han chipped up slightly over the next hands, but still has a lot of work ahead.
The tides have turned quite quickly and suddenly Andre Haneberg has a commanding lead after getting through with a bluff and showing it.
Both players invested 100,000 preflop and Kim De Han bet the
flop for 125,000, which Haneberg called. On the
turn, De Han checked and called a bet of 243,000 before checking again the
turn. Haneberg fired a bet of 412,000 and De Han eventually folded to get shown
.
Right after, both players asked for the clock to be stopped to look into possible deal numbers again. That was briefly discussed before the heads up started, but back then De Han had a commanding lead and is now the underdog.
Level: 24
Blinds: 15,000/30,000
Ante: 5,000
On the
flop, Andre Haneberg bet 32,000 and Kim De Han check-raised to 75,000, which Haneberg called. The
appeared on the turn and De Han bet 110,000, which Haneberg called. The
river was checked and De Han turned over
, which Haneberg had beat with
.
In the last hand of the level, Haneberg limped in and De Han raised to 80,000, Haneberg called. On a flop of
, De Han continued for 60,000 and Haneberg called before the
turn brought a check by De Han. Haneberg made it 132,000 to go and was called, then checked the
river.
Haneberg bet 236,000 and De Han said "you hit two pair, eh?" before calling it off. Haneberg rolled over
for two pair and jumped into the lead.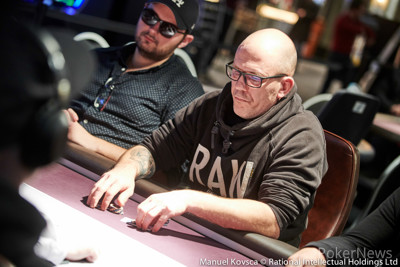 A limped pot headed to the flop of
, and Kim De Han check-called a bet of 50,000 out the small blind by Martin Wendt in the big blind. The
appear on the turn, De Han moved all in and Wendt called it off for around 220,000.
Kim de Han:

Martin Wendt:
The
on the river was a blank and Wendt was eliminated in 3rd place for €21,300.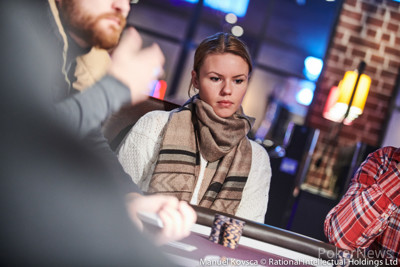 Andre Haneberg raised on the button and Jamila von Perger moved all in out of the big blind. "How much?" Haneberg asked and called soon after it was determined to be for 337,000.
Jamila von Perger:

Andre Haneberg:
Hearts were no option for von Perger and she was left drawing dead on the turn of a board
to bow out in 4th place for €16,670.
Jamila von Perger and Martin Wendt moved all in a few times without being called and the Dane got a slight edge over von Perger chip wise after claiming the blinds and antes twice in a row.