Vardjavand Leads; Jensen and Derkowski Among Big Stacks After Day 1 of the High Roller in Hamburg

Level 12 : 1,000-2,000, 300 ante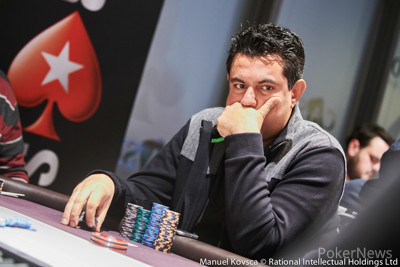 The most expensive tournament of the 2017 PokerStars Festival at Casino Schenefeld in Hamburg came with a buy-in of €2,200 and a cap of 80 players and that number of unique participants was reached during the registration period. Once the cards went back in the air after the dinner break, another 10 hopefuls had fired the optional single re-entry to boost the field to 90 entries in total.
After 12 levels of 40 minutes each, only 28 players bagged up and remain in the hunt for their share of the €174,600 prize pool. The top 13 spots will earn at least €3,490 for their efforts, while the winner can look forward to a payday of €46,380. Best-positioned to take down the title and PokerStars Festival High Roller trophy is well-known Hamburg-based poker player Toni Vardjavand with massive 273,900, more than nine times the starting stack.
Vardjavand is followed by fellow local player Andre Haneberg with 221,900, while Sven Leu completes the overnight podium with 182,900. Furthermore, three former European Poker Tour Main Event champions follow next with EPT3 Baden winner Thang Duc Nguyen (180,300), EPT8 Madrid champion Frederik Jensen (178,200) and EPT4 Warsaw winner Michael Schulze (78,200) all in contention.
Other notables among the Day 1 survivors are Grzegorz Derkowski (144,700), Daniel Belov (98,200), [Removed:65] (71,200), Martin Wendt (54,300) and Aleksandar Tomovic (49,900). Florian Bach was down to a mere 300 chips with the ante already at 100 before staging a massive comeback and reaching Day 2 with 67,900.
The field in Germany's second biggest city was a mixture of German players and nearby countries, especially Denmark had plenty of participants in contention with such big names as Peter Jaksland, Mick Heder and Gisle Olsen made the trip to Hamburg but all failed to bag up. Other notables that took part and busted throughout Day 1 were the Russians [Removed:19] and Andrey Andreev, as well as the Italians Francesco Delfoco, Angelo Benedetto and Salvatore Camarda.
Daniel Montagnolli entered a few levels late and quickly rose to the top of the leader board, becoming the first player with six digits after sending Sokolovskiy to the rail with a big hero call on a paired ten-high board holding ten-eight for tens and sixes. Sokolovskiy was caught bluffing with king-seven for a busted straight draw, and fellow countryman Andreev busted for a second time on that very same table shortly after.
What followed was a roller coaster ride for Montagnolli, who eventually busted with pocket nines against the queen-jack of Toni Vardjavand, who got there with a move on a ten-high flop. Vardjavand never looked back after that and eventually claimed a comfortable lead for the final day of the tournament.
The remaining 28 players will return to Casino Schenefeld on November 22nd 2017 as of 5 p.m. local time with level 13 and blinds of 1,200/2,400 and a running ante of 400. Whether or not the event will indeed play down to a champion late at night or require an additional day remains to be seen. The first of four starting days of the 2017 PokerStars Festival Hamburg €1,100 Main Event also gets underway at 1 p.m. local time and the PokerNews live reporting team will provide updates from the floor for both tournaments.
€2,200 High Roller Day 2 Seat Draw
| Table | Seat | Player | Country | Chip Count | Big Blinds |
| --- | --- | --- | --- | --- | --- |
| 1 | 1 | Toni Vardjavand | Germany | 273,900 | 114 |
| 1 | 2 | Sven Leu | Germany | 182,900 | 76 |
| 1 | 4 | Jakob Madsen | Denmark | 136,900 | 57 |
| 1 | 5 | Kim De Han | Germany | 94,600 | 39 |
| 1 | 6 | Thang Duc Nguyen | Germany | 180,300 | 75 |
| 1 | 7 | Oleg Volosin | Estonia | 43,600 | 18 |
| 1 | 8 | Fredrik Andersson | Sweden | 34,900 | 15 |
| | | | | | |
| 2 | 2 | Negjdet Avdylaj | Macedonia | 37,800 | 16 |
| 2 | 3 | Andre Haneberg | Germany | 221,900 | 92 |
| 2 | 4 | Christian Freimuller | Germany | 61,600 | 26 |
| 2 | 5 | Adnan Dizdarevic | Germany | 35,100 | 15 |
| 2 | 6 | [Removed:179] | Germany | 56,500 | 24 |
| 2 | 7 | Daniel Belov | Estonia | 98,200 | 41 |
| 2 | 8 | Aleksandar Tomovic | Serbia | 49,900 | 21 |
| | | | | | |
| 3 | 1 | Erkan Sonmez | Germany | 48,200 | 20 |
| 3 | 2 | Jamila von Perger | Germany | 71,600 | 30 |
| 3 | 3 | Vytis Paskevicius | Lithuania | 130,000 | 54 |
| 3 | 5 | Michael Schulze | Germany | 78,200 | 33 |
| 3 | 6 | Vitaly Karayvan | Russia | 74,600 | 31 |
| 3 | 7 | [Removed:65] | Germany | 71,200 | 30 |
| 3 | 8 | Said Hossein Madani | Germany | 42,000 | 18 |
| | | | | | |
| 4 | 1 | Florian Bach | Germany | 67,900 | 28 |
| 4 | 2 | Martin Wendt | Denmark | 54,300 | 23 |
| 4 | 3 | Jonas Wohlgemuth | Germany | 49,800 | 21 |
| 4 | 4 | Frederik Jensen | Denmark | 178,200 | 74 |
| 4 | 5 | Roberto Manfredi | Italy | 78,000 | 33 |
| 4 | 6 | Grzegorz Derkowski | Germany | 144,700 | 60 |
| 4 | 8 | Rishi Bhasin | Germany | 91,700 | 38 |