The 2017 PokerStars Festival Manila at the City of Dreams entertainment complex has come to an end with the first-ever PokerStars Festival Manila ₱55,000 (~$1,092) Main Event champion being crowned at the PokerStars LIVE poker room. After three starting days and the penultimate tournament day, only 14 players out of a 594-entry strong field remained. The largest international tournament in the history of the Philippines with a buy-in of PHP30,000 or more easily surpassed the ₱20 million (~$397,230) guarantee.
With the lion's share of the ₱28,809,000 prize pool (~$572,190) still up for grabs, all finalists had ₱285,000 (~$5,661) locked up for their efforts and Michael Falcon was leading the survivors. The 55 year-old Dane also made Day 2 of the PokerStars Cup as well and multi-tabled both tournaments at the same time, reaching both final tables in spectacular fashion. Falcon finished 6th in the Cup and was sent to the rail in 3rd place in the Main Event to cash for more than ₱2.6 million combined.
Uday Bansal held a slight lead over Antti Halme when the tournament was down to the last two hopefuls, and both players briefly discussed a deal without initially coming to a conclusion. However, when they returned to the seats, both agreed to ICM numbers and left ₱300,000 (~$5,953) as well as the trophy up for grabs. It took less than an hour to crown a champion, and it was Bansal who came out on top.
Bansal from Delhi/India considers himself to be an amateur at the tables. The 30-year-old is the co-founder of a company called SkyBulls which boasts financial advising by artificial intelligence. Bansal previously attended London Business School where he earned a Master's Degree in business administration and management. He's been playing poker for the last 7 years and to this date his biggest poker accomplishment is coming running up in the India Poker Championship for $15,942 in 2015.
"Sure, Antti has more experience playing than me, playing heads-up, but I think in heads-up there's a lot of variance. So I wanted to do a deal based on ICM. But he felt that he is a better player. And he is, heads-up, to be fair. But we ended up coming to an agreement and it's all good," Bansal mentioned when asked about the deal he struck with Halme.
"It's crazy!" Bansal said about the poker boom in India. "I started playing about seven years ago, and about five years ago I was living in Vegas for two or three months playing poker and there was not that much happening in India. And now there poker rooms in most of the cities. There are big tournaments happening. We have the GOA [India Poker Championships] running which gets about 250 to 300 runners. So it's pretty healthy and it's growing steadily. So PokerStars should come there soon. My dream was to play in Bahamas. Couple of years ago I came, I think I was the bubble in a $10 qualifier, and after sever or eight levels I bubbled out. So I think I'm going to play that and Barcelona as well."
Halme, a 27 year-old full-time poker player from Tampere/Finland, made the trip over to Manila alongside fellow countryman Aki Virtanen, who also cashed in the Main Event and came 8th in the PokerStars Cup. "I'm pretty happy," Halme said about his finish. "The whole day when I came here I was a bit nervous, but the way it turned out, it was really good. I had a pretty good stack in the beginning, and I took some hits in the final two tables and I was in a tough spot between two big stacks, so getting to heads up was really good." Both Finns will be heading to Barcelona for the upcoming PokerStars Championship.
Final Result 2017 PokerStars Festival Manila Main Event
| Place | Player | Country | Prize (PHP) | Prize (USD) |
| --- | --- | --- | --- | --- |
| 1 | Uday Bansal | India | 4,676,000* | 92,793* |
| 2 | Antti Halme | Finland | 4,273,000* | 84,797* |
| 3 | Michael Falcon | Denmark | 2,456,000 | 48,780 |
| 4 | Mike Takayama | Philippines | 1,900,000 | 37,737 |
| 5 | Jaehyun Lim | South Korea | 1,500,000 | 29,792 |
| 6 | Sam Razavi | United Kingdom | 1,170,000 | 23,238 |
| 7 | Kenneth Buck | Australia | 870,000 | 17,280 |
| 8 | Hoa Thinh Nguyen | Vietnam | 596,000 | 11,837 |
| 9 | Tien Than Nguyen | Vietnam | 470,000 | 9,335 |
*reflects ICM deal of the last two players
Early Action on the Final Day
The final day had barely started when Corbin White became the first casualty. The American poker pro got his short stack in with ace-jack and Michael Falcon called with ace-queen. A king-high flop gave both players a gutshot, but ultimately the kicker played to eliminate White. Next to join the rail was Raphael Gall. The German moved in for 15 big blinds from the button with jack-ten and Uday Bansal looked him up with pocket nines to stay ahead after an ace-high board.
Yo Seb Rhee, who had already finished 4th in the ₱215,000 High Roller Shot Clock during the festival, had to settle for 12th place and the Japanese busted in a big pot against Uday Bansal. Rhee was in the small blind and called a raise by Hoa Thinh Nguyen before Bansal three-bet from the big blind. Nguyen got out of the way, but Rhee four-bet and eventually called the five-bet shove by Bansal with ace-jack. Bansal's move with king-seven paid off after spiking a king on the flop and that vaulted the Indian into the top spot.
Duc Nguyen ran with pocket sevens into the pocket tens of Hoa Thinh Nguyen and there was no upset on a queen-high board. The final table bubble saw several players get short, but instead it was Germany's Andre Peters that was sent to the rail in cruel fashion. Peters three-bet shoved with pocket queens and Michael Falcon eventually called with pocket sixes to spike one of his two outs on the river and set up the following nine-handed final table.
| Seat | Player | Country | Chip Count | Big Blinds |
| --- | --- | --- | --- | --- |
| 1 | Antti Halme | Finland | 1,995,000 | 50 |
| 2 | Michael Falcon | Denmark | 6,135,000 | 153 |
| 3 | Kenneth Buck | Australia | 495,000 | 12 |
| 4 | Mike Takayama | Philippines | 605,000 | 15 |
| 5 | Hoa Thinh Nguyen | Vietnam | 850,000 | 21 |
| 6 | Sam Razavi | United Kingdom | 1,265,000 | 32 |
| 7 | Tien Than Nguyen | Vietnam | 380,000 | 10 |
| 8 | Jaehyun Lim | South Korea | 740,000 | 19 |
| 9 | Uday Bansal | India | 5,315,000 | 133 |
Final Table Action
Down to just seven big blinds, Tien Than Nguyen moved all in with king-jack suited and picked up a call by Uday Bansal with pocket sevens. Neither jack, king or diamonds showed up on an ace-high board and Nguyen became the first casualty. Fellow countryman Hoa Thinh Nguyen followed shortly after, losing a flip with pocket tens against the king-queen of Michael Falcon when a queen came right away on the flop.
Kenneth Buck, a 61-year-old former Australian Air Force member that now lives here in Manila, was blinded out and forced all in from the big blind with ace-three. Michael Falcon held ace-four in the big blind and a possible split pot was crushed with a four on the river.
Sam Razavi, from Brighton/England who now calls Asia his home, finished runner-up in the APPT Manila Main Event last year for $73,552, has become a poker stalwart in the region with live tournament earnings of over $1.5 million. Razavi's bid to finish one place better than the previous year came to an end when he three-bet shoved with ace-eight and received an instant call by Antti Halme. There was no help on the board and Razavi had to settle for 6th place.
Down to the last five, Korea's Jaehyun Lim was the short stack and three-bet all in with queen-jack suited. Mike Takayama called with ace-king suited and flopped top two pair. Instead of a ten for the straight to help Lim, another king hit on the river and Takayama scooped the pot with a full house. Takayama, the last local player in the field and 4th place finisher of the 2016 APPT Manila, would be the next to fall. He four-bet all in with ace-eight and Antti Halme quickly called with pocket jacks to see the board run out queen-high.
Michael Falcon dominated Day 1b, the vast majority of Day 2 and the early stages of Day 3 before losing big chunks of his stack. The Dane made a move on a nine-high flop against both Antti Halme and Uday Bansal, and the latter called with queen-high for top pair to see Falcon turn over seven-three for a gutshot only. Both turn and river were blanks and the heads-up for the title and trophy was set.
After unfruitful first deal discussions, both players came to an agreement and the battle one-versus-one lasted less than an hour. Antti Halme lost a big chunk of his stack when rivering two pair with seven-five suited only to see Uday Bansal called with ace-six suited for the better two pair. Eventually, Halme found himself at risk with ace-ten and Bansal had the dominating ace-jack. It was all over after a jack came on the turn and the Indian rail celebrated.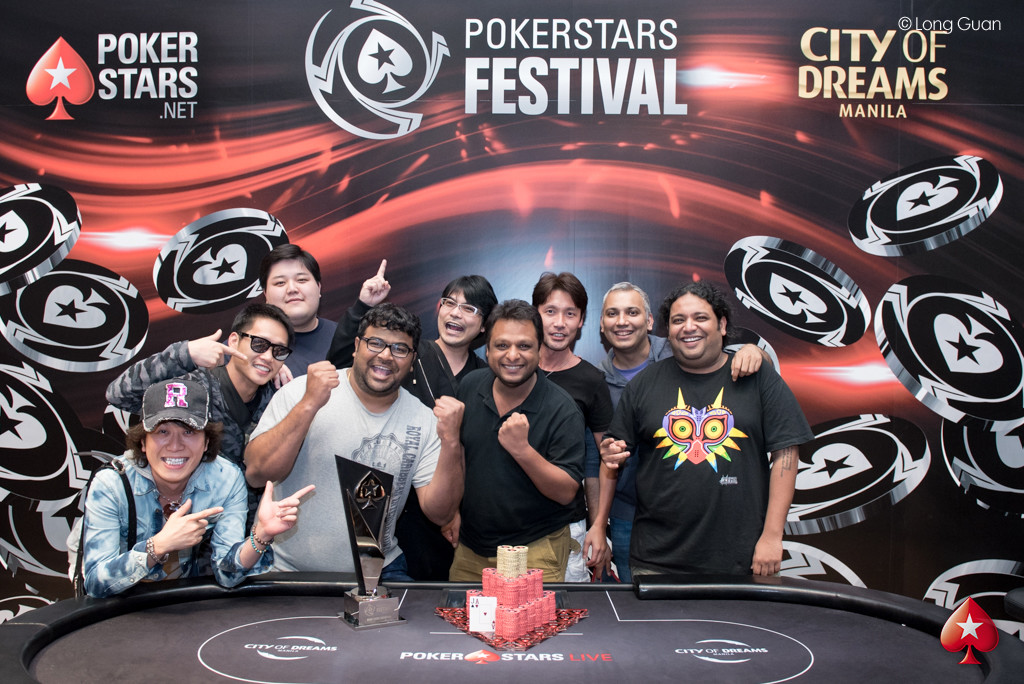 That brings an end to the PokerNews live reporting here from Manila, and the next live event is just around the corner.