"festen x" Takes Chip Lead
Level 50 : 1,000,000/2,000,000, 250,000 ante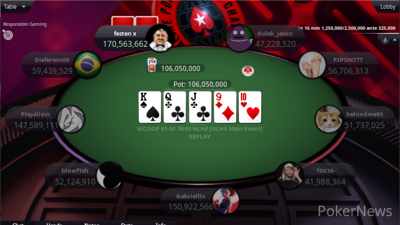 "Gabriellln" raised to 4,400,000 from early position and only "festen x" called from the cutoff.
The
flop saw "Gabriellln" continue for 6,000,000 and "festen x" called bringing the
turn.
"Gabriellln" slowed down and check-called the 10,000,000 bet from "festen x". The
river put a straight on the board and "Gabriellln" fired out a healthy 30,000,000.
"festen x" waisted no time raising all in for 94,513,662 and "Gabriellln" quickly mucked.
Player
Chips
Progress

festen x

170,563,662

51,150,000

Gabriellln

150,922,566

-51,900,000

Play4livin

147,589,111

-8,500,000

Dieferson09

59,439,529

4,750,000

PIPON777

56,706,313

-9,400,000

blowf1sh

52,124,910

12,900,000

behindme93

51,737,025

1,750,000

dulek_jason

47,228,520

-4,500,000

T0X16-

41,988,364

3,750,000