$565 Main Event
Day 3 Completed
Level 30 : 60,000/120,000, 15,000 ante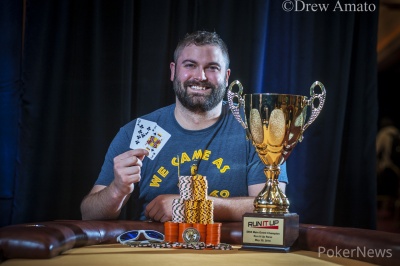 Blake Vincent came in with nearly half of the chips in play at the final table of the 2016 Run It Up Reno $565 Main Event, so anything less than first place would have undoubtedly been a disappointment. There were a few moments where things looked a bit grim for him, but he pulled through and took down the 391-entry event for $46,410.
When the final day began, though, all eyes were on Jason Somerville, Run It Up patriarch and tournament host. He came into the day with just over seven big blinds, but he got moving immediately, busting Eric Shiarla in eighth place when Shiarla shipped on the button with the
and Somerville picked up the
in the big blind. He hit two pair to bust Shiarla.
Many of Somerville's hard-won chips went to Vincent though, as Somerville made a nine-high straight when Vincent rivered the nut straight, and Somerville paid off a sizable river raise. The board had ran out
, and Somerville mucked the
face-up after Vincent showed him the
.
Gary Kochalka was next to fall, though he ran it back up after being down to just over one ante. He got the last of it in with the
and failed to improve against the fives of Loren Cloninger. Brian Ebert came in with the second-biggest stack by far, but was simply unable to get anything going and he ended up going down in sixth shortly thereafter.
It looked like Somerville's run was at an end when he got sixes in and found himself at risk against Jeff Newman, who woke up with kings behind him, but a six on the flop kept Somerville in it. Newman was left short and busted in fifth.
Vincent was the victim of a horrible bad beat when Jordan Spurlin jammed his last 7.5 big blinds with the
and managed to hit trip nines against Vincent's
. Vincent hit his low point as he was down to 13 big blinds, but he followed that up with a big double against Somerville on a
flop. Somerville had raised Vincent's limp with the
but Vincent had the
for trips.
Somerville was left short and jammed blind versus blind with the
, getting a call from Spurlin's
. The board ran out
, and Somerville took his leave to applause from the crowd.
Cloninger opened on the button three-handed with kings, and Spurlin shoved with a pair of fours in the hole. Cloninger flopped a king to effectively end things early, and heads-up play commenced with Vincent narrowly in the lead.
The match ended up being a one-sided affair, as Cloninger was unable to mount much resistance. Vincent ended things in Level 30 (60,000/120,000/15,000) when Cloninger limped and Vincent raised to 320,000. Cloninger called and the
flopped. Vincent bet 350,000, and Cloninger shoved for about 1.4 million more. Vincent called with the
, and Cloninger had the
.
The king-nine that caused Vincent anguish earlier was his ticket to victory this time, as he banged off a
on the turn to seal the win.
Level 30 : 60,000/120,000, 15,000 ante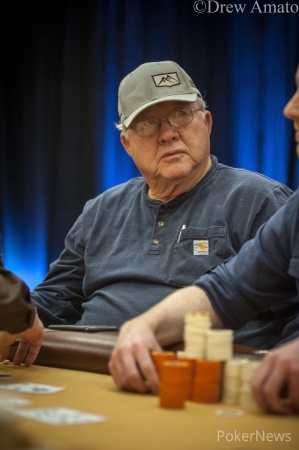 Loren Cloninger limped in, and Blake Vincent made it 320,000 to go. Cloninger called. The flop came down
, and Vincent bet out 350,000. Cloninger thought about 30 seconds and announced all in. Vincent asked for the 350,000 to be pulled in, and the count was 1,395,000 more. Vincent called.
Cloninger:

Vincent:
Neither player had the ace, and Vincent led with nines. The dealer burned and turned a
, giving Vincent unbeatable trips. He stood up and pumped his fist as the meaningless
arrived on the river.
Level 30 : 60,000/120,000, 15,000 ante
Loren Cloninger limped the button and Blake Vincent checked his option.
The flop fell
and Vincent led out for 125,000 with Cloninger calling as the
rolled off on the turn.
Vincent bet 325,000 and Cloninger called as the
put trips on the river.
Vincent bet 450,000 and Cloninger called, only to muck at the sight of Vincent's
for a full house.
Level 30 : 60,000/120,000, 15,000 ante
Blake Vincent has gotten slightly the better of the early exchanges this level, though the players chopped the two biggest pots they've played with identical one-pair hands.
Level: 30
Blinds: 60,000/120,000
Ante: 15,000
Level 29 : 50,000/100,000, 15,000 ante
Loren Cloninger and Blake Vincent are now on a 15-minute break.
Level 29 : 50,000/100,000, 15,000 ante
Blake Vincent opened to 225,000 on the button and Loren Cloninger called in the big blind before checking a
flop.
Vincent continued for 225,000 and Cloninger called before checking the
on the turn. Vincent fired again; this time for 425,000, and yet again, Cloninger called.
The river landed the
and Cloninger checked for a third time before Vincent bet out 700,000.
A visibly distressed Cloninger eventually kicked his cards to the muck and Vincent was pushed the pot - but not before tabling his
face-up for a bluff.
Level 29 : 50,000/100,000, 15,000 ante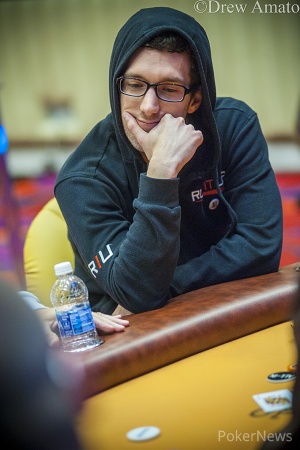 Loren Cloninger opened to 225,000 on the button and snap-called when Jordan Spurlin raised all in for 1 million or so in the big blind.
Cloninger:

Spurlin:
The sweat was a short one was
hit the felt to give Cloninger a set. Spurlin's best hope was a chop, but the
finished him on the turn, and a meaningless
hit the river.
Level 29 : 50,000/100,000, 15,000 ante
Loren Cloninger opened to 225,000 from the small blind and Blake Vincent called in the big blind.
The flop fell
and Cloninger bet out 325,000 with Vincent calling before the
and
went check, check.
Vincent tabled his
and scooped the pot from Cloninger.