$700 Main Event
Day 2 Completed

Level 29 : Blinds 100,000/200,000, 200,000 ante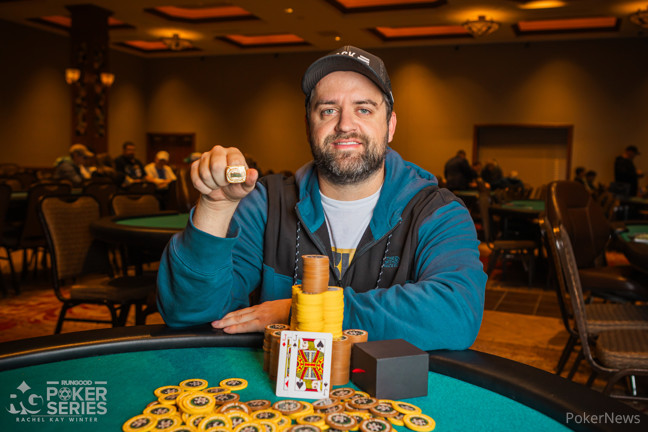 The RunGood Poker Series $700 Council Bluffs has come to a close. From a starting field of 546, to 67 players at the beginning of Day 2, to just one after seven hours of play.
It was two years ago where Cody Bartlett ended up finishing runner up to Nate Steuer in the 2021 RGPS Council Bluffs Main Event for $24,167. After two years, he got to heads up a second time and ended up on the other side of the coin, beating Ted Forshey heads up for his first RGPS title and a career best score of $63,305.
"It feels amazing," the new champion said. "I ran really well, played well and good cards really help win poker tournaments." Bartlett mostly plays on weekends as his job allows him. He recently talked about his recent tournament endeavors. "I told myself not to punt, so I never did. This heads up match was actually flipped from the last RGPS Main I played. Last time I came in with the massive chip lead and lost, this time I came in as the short stack and ran pure to win."
"I was really excited to get over the $100,000," Bartlett said when talking about his lifetime earnings. "After I got third place, I was excited because of that fact. I'm just gonna save the money for the next trip I go on."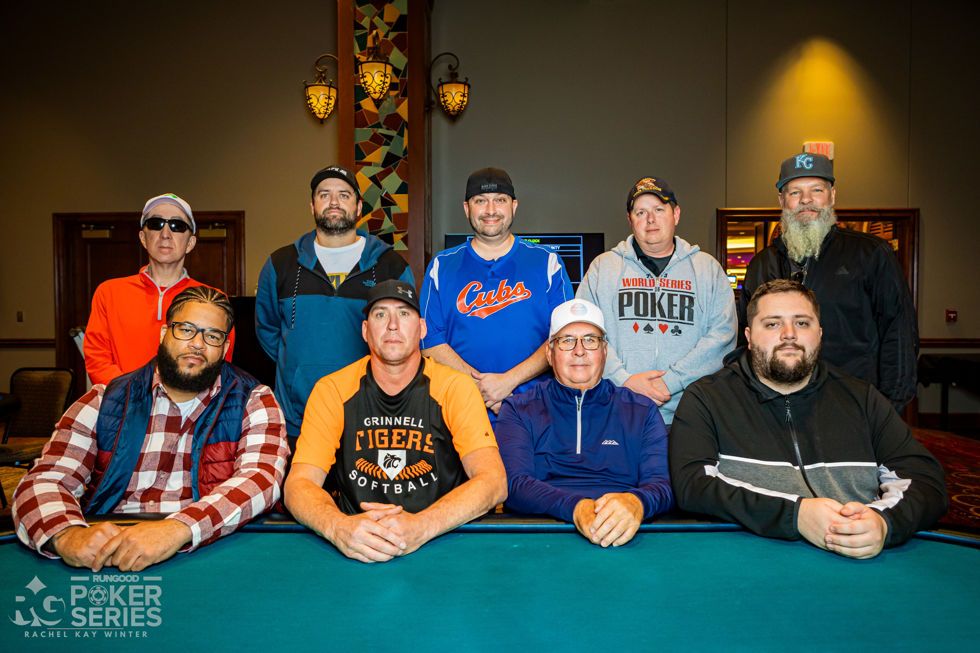 Final Table Results
| Rank | Name | Hometown | Payouts |
| --- | --- | --- | --- |
| 1 | Cody Bartlett | Grand Island, NE | $63,303 |
| 2 | Ted Forshey | Desoto, KS | $44,377 |
| 3 | Joel Brown | Omaha, NE | $28,537 |
| 4 | James Girouard | Sioux Falls, SD | $20,013 |
| 5 | Scott Buller | Lincoln, NE | $15,368 |
| 6 | David Gallimore | Albuquerque, NM | $12,701 |
| 7 | Robbie Kent | Omaha, NE | $10,565 |
| 8 | Jason Crews | Pleasant Hill, IA | $8,436 |
| 9 | Gabe Neighbors | Grinnel, IA | $6,329 |
Final Day Action
Action on the final day was fast and furious as many players fell earlier than they had hoped. Players like Terence Reid (66th-$917), David Hengen (63rd-$1,124), Ben Ludlow (55th-$1,124), Keerat Bawa (46th-$1,330), Angela Jordison (34th-$1,815), as well as RGPS main event champions Blair Hinkle (25th-$2,136), Derrick Plumage (22nd-$2,486), Andre Allen (20th-$2,978), and defending champion Joshua Kopp (12th-$4,210) all had their runs ended as the tournament whittled down to the final table.
The final player to be eliminated prior to the final table was Ashley "PokerFaceAsh" Frank who moved in her final chips in with ace-eight suited while Cody Bartlett looked her up with ace-jack. A jack on the flop with no improvement on the turn, sealed the fate of RGPS ring winner and poker vlogger and she collected $5,285 for her tenth place finish as the last woman standing.
Final Table Action
It did not take too long for a player to depart from the final nine as the start of day chip leader Gabe Neighbors was all in and at risk holding ace-ten against David Gallimore who held pocket fours. The fours held up, fading a whole myriad of outs that Gallimore held and Neighbors' first RGPS cash was good for $6,329 and ninth place.
Midwestern tournament regular Jason Crews would follow him shortly out the door as he moved in his final chips with king-ten suited, only for Bartlett to call him with ace-three offsuit. An interesting runout would occur as Bartlett flopped bottom pair, Crews would turn second pair to pull ahead, and Bartlett would river three threes to make the best hand and Crews took home $8,436 for his eighth place finish.
Robbie Kent would finish in seventh place shortly after that. He got involved in an all in pot against Ted Forshey where Forshey held ace-jack and Kent held ace-queen. The flop came out jack-high which would give Forshey a sizable pot and leave Kent as the shortest stack. A couple of hands later he moved in his final chips holding ace-seven and Forshey looked him up with ace-king. Once more Forshey won the hand and Kent took home $10,565 for his efforts.
Despite early fortune at the table, Gallimore would once more find himself as the shortest stack after losing a pot to Forshey for a significant amount of chips. He moved in his final chips with ten-nine off which was called by Bartlett in the big blind with king-jack. Bartlett flopped a straight and Gallimore could not fill up against him which saw Bartlett take another player out and Gallimore collect $12,701 for his sixth-place finish.
After winning the Omaha 8 tournament earlier this week, Scott Buller won his second RGPS ring and he capped off the week with a fifth-place finish in the main event. Buller ended up getting into a three-bet pot with queen-ten against Forshey who held pocket threes. The ten-high flop contained a three on it and all the money went in on the turn where Buller was drawing dead and Forshey took another massive pot while Buller collected $15,368 for his efforts.
James Girouard and Joel Brown became the shorter stack as four-handed play progressed, while Bartlett and Forshey rose higher up the counts. Girouard would be the first of the two to go as he moved in his final chips with nine-seven suited, only for Forshey to wake up with pocket queens and hold up to send him out in fourth place for $20,013.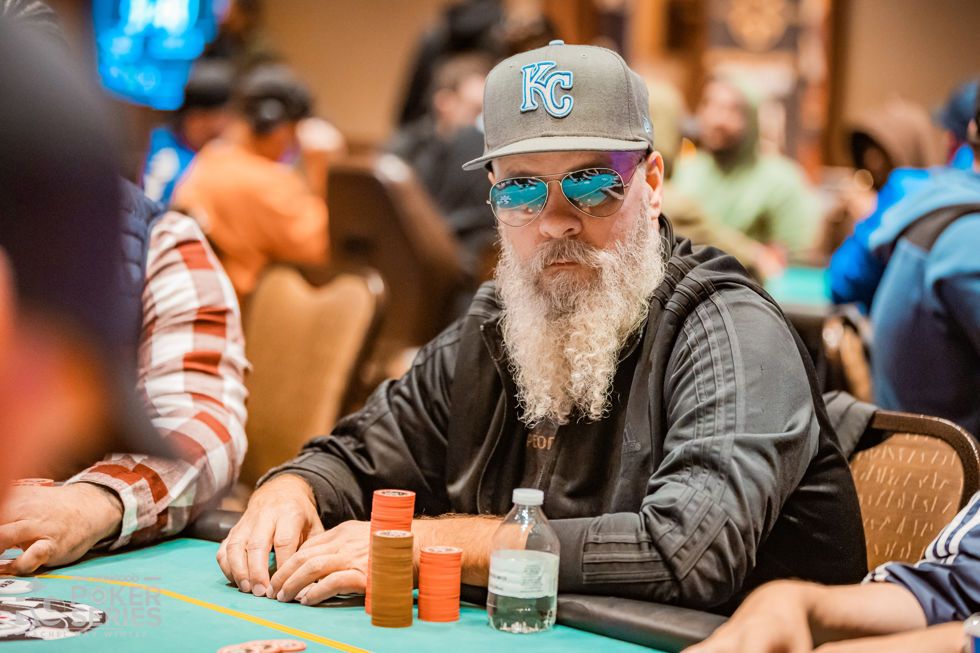 Eventually, it was Bartlett who fell to the short stack and he and Brown got involved in a small versus big blind confrontation with Bartlett holding ace-two suited and Brown holding king-six off. The ace-high held up for Bartlett who doubled leaving Brown with only a few chips. The next hand saw Forshey and Bartlett chop up Brown's remaining chips as he held queen-nine while the others both held ace-seven. The heads-up began with Forshey holding a commanding lead while Brown took home $28,537 for his third-place finish.
Although the heads-up match began with Forshey in the lead, the pots went over Bartlett's way until they had a roughly even match. The final hand occurred when Forshey on the button with jack-four suited and Bartlett three-bet holding jacks. Forshey moved all in for the rest and Bartlett called to hold up and the two combatants shook hands as Forshey took home a career-best $44,377 for his runner-up finish.
Thank you for reading along with us here on PokerNews. Stay tuned for all updates on your favorite poker tours all around the country.

Level 29 : Blinds 100,000/200,000, 200,000 ante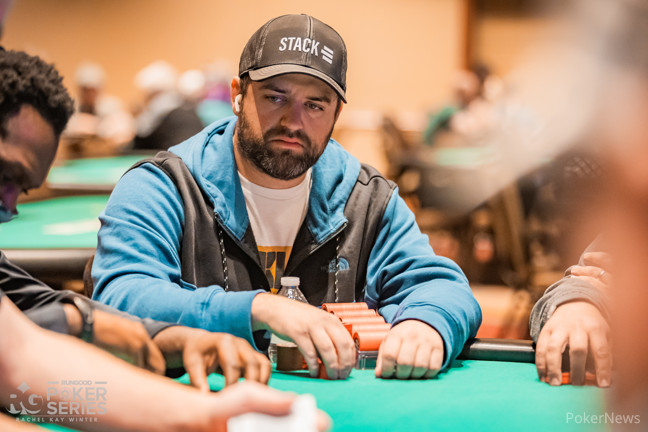 Cody Bartlett has won his career best live score and first RGPS Main Event
Stay tuned for a full tournament recap, later to come.

Level 29 : Blinds 100,000/200,000, 200,000 ante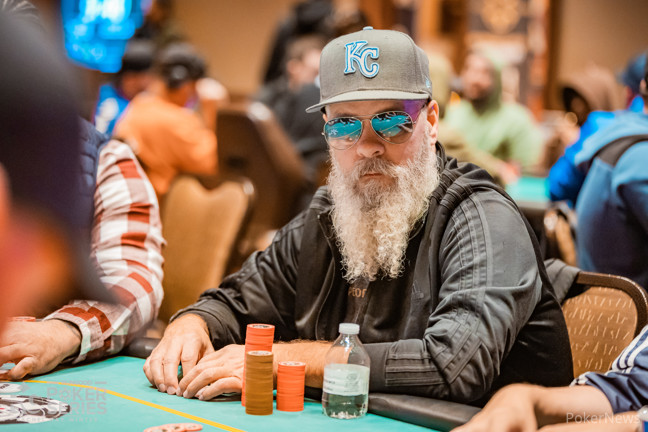 Ted Forshey raised to 500,000 on the button and in the big blind, Cody Bartlett raised to 1,300,000. Forshey responded by moving all in for 5,900,000 which Bartlett quickly called.
Ted Forshey: J♣4♣
Cody Bartlett: J♠J♦
The flop of K♠5♦3♣ saw some backdoors for Forshey, all of which disappeared on the 3♥ turn making the river inconsequential with a 9♦. Forshey and Bartlett shook hands and Forshey exited the tournament.
Level: 29
Blinds: 100,000/200,000
Ante: 200,000

Level 28 : Blinds 75,000/150,000, 150,000 ante
After a bit of sparring in pots, Cody Bartlett and Ted Forshey found themselves on a river with a sizable pot brewing.
The board read J♥8♠6♦8♦5♥ and Bartlett checked to the river where Forshey bet 1,400,000 which was for most of Bartlett's chips.
Bartlett went into the tank but decided on calling and Forshey nodded in acceptance of it being a good call.
Forshey tabled 5♦2♥ for eights and fives while Barlett showed J♣4♣ for jacks up which was good for the pot.

Level 28 : Blinds 75,000/150,000, 150,000 ante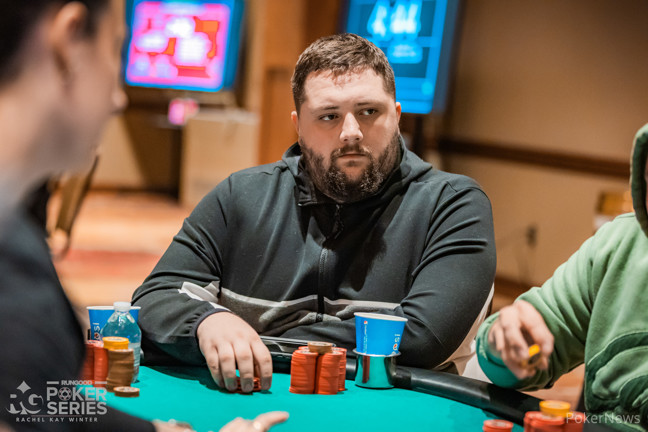 Cody Bartlett moved all in from the small blind for 1,750,000 and in the big blind, Joel Brown called to put Barlett at risk.
Cody Bartlett: A♦2♦
Joel Brown: K♥6♣
The board ran out 9♦8♦8♠4♣3♣ and the ace-high held up for Bartlett for him to double at the expense of Brown.
The follwing hand, Bartlett raised to 300,000 which saw Brown move all in from the small blind for 225,000 total and Ted Forshey called in the big blind.
All players checked down the A♠J♥2♥K♦4♣ runout and all hands were turned over.
Joel Brown: Q♥9♣
Cody Bartlett: A♦7♠
Ted Forshey: A♣7♥
Bartlett and Forshey chopped the pot all the way down leaving Brown to exit the tournament in third place, leaving just two players to battle for the title.

Level 28 : Blinds 75,000/150,000, 150,000 ante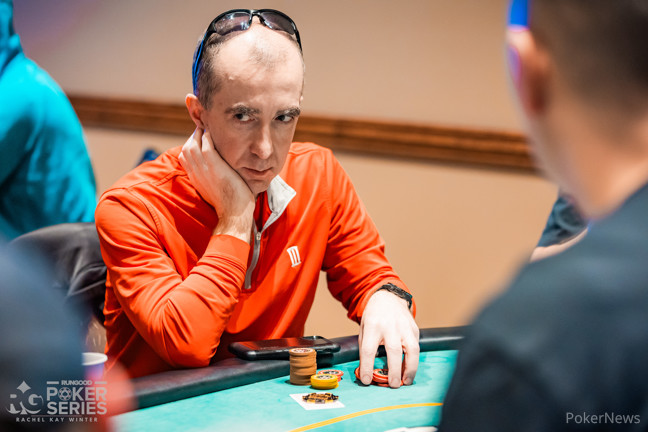 James Girouard raised to 500,000 in the cutoff which saw Ted Forshey three bet to 1,000,000 on the button which had Girouard call off for 700,000 total to be at risk.
James Girouard: 9♣7♣
Ted Forshey: Q♠Q♦
The board ran out 9♠3♦4♦10♠A♣ and the queens held up as the best hand for Forshey to extend his chip lead while Girouard exited the tournament area.
Level: 28
Blinds: 75,000/150,000
Ante: 150,000

Level 27 : Blinds 75,000/125,000, 125,000 ante
The players have gone on a 10-minute break.