$600 Main Event
Day 2 Completed

Level 27 : Blinds 75,000/125,000, 125,000 ante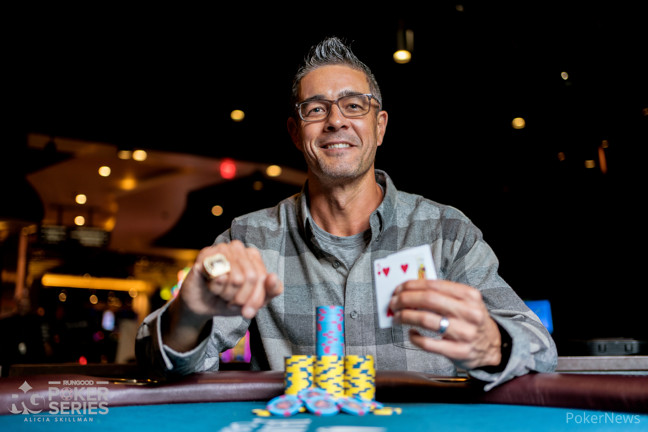 San Diego's Derrick Yamada took down the RunGood Poker Series (RGPS) Jamul $600 Main Event late Sunday evening after nearly 12 hours of play on Day 2 to earn a payday of $31,565 after a heads-up chop deal with Steve Hoang. The deal also included the RGPS ring as well as a seat and travel package to the Dream Seat Invitational in Thunder Valley next week.
The Main Event, which offered three starting flights, attracted 299 entrants to generate a prize pool of $155,480. Only 39 of those players made it to Day 2, all of whom were guaranteed a min-cash of $855.
Yamada and Hoang decided to do a deal after both players took turns being a massive favorite, and ultimately ended when Yamada held the upper hand with a 3:1 chip lead.
"...Yeah, I mean, it was a great deal for me, he offered a great chop money-wise and we both knew we were just going to be sticking it in pre-flop," Yamada explained, who originally refused to do a deal.
Final Table Results
| Place | Player | Payout |
| --- | --- | --- |
| 1 | Derrick Yamada | $31,565* |
| 2 | Steve Hoang | $25,690* |
| 3 | Johnny Groat | $15,325 |
| 4 | Maurice Thomas | $9,665 |
| 5 | Jasmin Grabic | $7,455 |
| 6 | Brendan Wiley | $6,175 |
| 7 | Randy Shamo | $5,185 |
| 8 | Anastasia Knapp | $4,260 |
| 9 | Richard "Coach" Furfaro | $3,395 |
*indicates chop deal
Hot Streak
Yamada, who is a local recreational player, adds this latest score to his growing poker resume and extends his hot run this year. He had several cashes at the WSOP over the summer and also scored a big first-place finish for $72,777 at another local tournament back in May.
"My wife only lets me keep playing as long as I win," he had joked earlier in the day, but there may be some truth to this as he seems to keep the streak alive.
Yamada was the star of the show all day as he came in as the overall Day 1 chip leader and kept the train rolling by busting out several players and amassing a giant stack early on. The action started out fast and furious as the 39 original field was quickly cut down to the final table in only a few hours. One of the names unfortunate to hit the rail was Caitlin Comeskey who was the last RunGood Ambassador in the running but unfortunately was eliminated by Stan Dixon who also went on a hot run.
Final Table Action
Once the final table was reached, however, the action slowed to a crawl and there were no bustouts for quite a while as the players tightened up. It took a crazy cooler to send out the first casualty when Richard "Coach" Furfaro got it all in with the nut straight on the turn but Randy Shamo hit a runner-runner flush to eliminate him.
Next to go was Anastasia Knapp who moved all in with pocket fives but ran into the pocket aces of Maurice Thompson to send her out in 8th place. In seventh place came Randy Shamo who fell to Hoang as he started his meteoric rise.
Immediately after busting Shamo, Hoang won a massive pot with ace-jack versus Yamada's ace-king to make him the dominant chip leader, causing a big change in table dynamics.
After some more slow-paced play, Brendan Wiley made his way to the exit in sixth when his pocket sevens couldn't hold up to Hoang's ace-three when he spiked an ace on the flop. After holding the lead for a while, Hoang then handed it off to Johnny Groat when he doubled up twice through him. This didn't last too long, however, as Hoang knocked out Jasmin Grabic in 5th place with pocket queens to retake the chip lead.
In fourth place came Maurice Thomas, who was down to only a few big blinds at one point but managed to make a deep run that was ultimately ended when his ace-four ran into the superior ace-jack of Hoang.
Last to exit in regulation play was Groat who was left short after losing a huge pot to Yamada and got it all in preflop against both opponents. The action checked through to the river until Yamada bet to isolate but then tabled the nut straight to send Groat out in third place.
Heads-Up Roller Coaster
After Groat made his exit, Yamada and Hoang entered heads-up play with the former holding a 3:1 chip lead over the latter. This quickly changed, however, as Hoang won a huge flip early on with pocket nines by flopping a set against the ace-jack of Yamada.
Shortly after that, Hoang took a massive lead when Yamada called his all-in on a board of deuce-three-ten with both players holding a ten. Hoang had Yamada outkicked with a seven versus a five and after the runout, he was awarded the huge pot to take a big lead.
After a few hands, it seemed like Yamada was out of the running until he one hand when he hit a miraculous gutshot straight on the river to double-up. He then followed that up with another huge double with ace-king versus the queen-four of Hoang.
Soon after, Hoang offered the chop deal and Yamada readily agreed to end the tournament by taking the title and the perks along with it.
Congratulations to both players on their win!
That concludes the coverage of the RGPS Jamul Main Event but be sure to keep up with everything poker here on PokerNews.
And remember, San Diego, stay classy.

Level 27 : Blinds 75,000/125,000, 125,000 ante
After some discussion, Steve Hoang and Derrick Yamada have agreed to a chop deal that will give Hoang 2nd place money plus an additional $2,000 while Yamada will receive the remainder along with the title.
1st- Derrick Yamada: $31,565
2nd- Steve Hoang: $25,690
Stay tuned as a winner's interview and a full recap will be released shortly!

Level 27 : Blinds 75,000/125,000, 125,000 ante
After doubling up the previous hand by hitting a gutshot straight on the river, Yamada and Steve Hoang got it all in once again for a big pot.
Derrick Yamada: A♣K♥
Steve Hoang: Q♠4♦
The runout of 2♣5♠10♣6♥6♦ gave Yamada the win with his ace-high to get a huge double-up, rocketing him into the chip lead.

Level 27 : Blinds 75,000/125,000, 125,000 ante
Derrick Yamada and Steve Hoang are now on a quick 10-minute break and will return to their heads-up battle shortly.

Level 27 : Blinds 75,000/125,000, 125,000 ante
On a heads-up flop of 2♠3♣10♣, Derrick Yamada led out for 375,000 but then was shoved on by Steve Hoang for 3,900,000 total.
After visiting the tank for a solid few minutes, Yamada slid out his stack to call the huge bet.
Steve Hoang: 10♥7♦
Derrick Yamada: 10♠5♣
"Keep it low!" Hoang declared, wanting to avoid a potential chop.
The cards seemed to listen to him as it came Q♠6♠ for his seven-kicker to play and he was awarded the massive potto take a big lead.

Level 27 : Blinds 75,000/125,000, 125,000 ante
After just a few hands of heads-up play, Steve Hoang and Derrick Yamada got all the chips in the middle preflop, with Hoang at risk.
Steve Hoang: 9♣9♦
Derrick Yamada: A♠J♣
Hoang would need to hold here to stay alive, but he sure could breathe a lot easier when the flop came out 9♠8♣5♣ to give him top set of nines. The turn 8♠ locked up the win for Hoang with a full house while the river was the meaningless 2♦. He was then pushed the pot for a big double-up which brought them close to even stack sizes.
Level: 27
Blinds: 75,000/125,000
Ante: 125,000

Level 26 : 50,000/100,000, 100,000 ante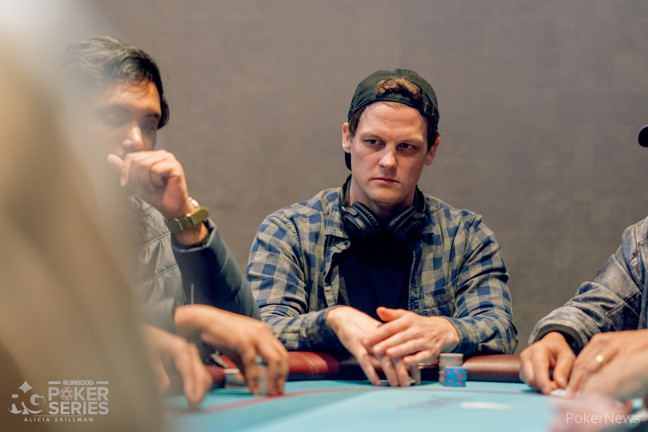 After being left short, Johnny Groat moved all in preflop and was called by both Derrick Yamada and Steve Hoang to put him at risk.
Yamada and Hoang checked all the way through to the river 9♣8♠4♥3♣7♠, where Yamada then led out for 400,000 and Hoang promptly folded.
Yamada then flipped over the stone-cold nuts with J♦10♦ while Groat rolled over Q♣2♣ to send him out in 3rd place for a healthy score of $15,325.

Level 26 : 50,000/100,000, 100,000 ante
On a heads-up completed board of 8♣9♣4♥J♥10♠, there were close to a million chips in the middle when Johnny Groat checked over to Derrick Yamadawho then promptly moved all in for 1,200,000.
Groat then went deep into the tank to consider his options, and after around a minute, he set out a stack to make the call.
He was then shown 7♥9♥ by Yamada for a rivered straight while he disheartedly flipped over 8♠9♠ for two pair that was no longer good.
He shook his head as the huge pot was pushed Yamada's way to move him into second place while he was now the short stack.
Player
Chips
Progress

Steve Hoang

4,070,000

-330,000

Derrick Yamada

3,500,000

1,700,000

Johnny Groat

1,400,000

-1,550,000