SCOOP-02-H: $2,100 NLHE [8-Max, PKO, Thursday Thrill SE], $1M Gtd
Days: 2
SCOOP-02-H: $2,100 NLHE [8-Max, PKO, Thursday Thrill SE], $1M Gtd
Day 2 Completed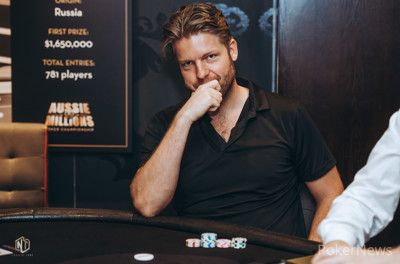 A first-time champion has been crowned in the 2020 PokerStars Spring Championship of Online Poker (SCOOP) Event-02-H: $2,100 NLHE and it was arguably the biggest name of the final table that prevailed in a topsy-turvy affair to beat a field of 575 entries and claim the biggest slice of the $1,150,000 prize pool.
By the time the heads-up stage was reached in the early morning hours in Europe, a Dutch victory was already locked up as Jorryt "TheCleaner11" van Hoof battled with "0m3rta" for the title. The history of the late stages of this Special Edition of the Thursday Thrill showed as the progressive bounty of van Hoof was nearly five times as much as the one of "0m3rta".
Low-and-behold, the Dutchman perfectly resembled his nickname and was one of the most-aggressive contenders to send several opponents to the rail, which not only increased his earnings but also put a bigger target on the own head. An incredible roller-coaster ride sent van Hoof several times into the lead, to the bottom of the counts and even as low as four big blinds with as many players remaining.
Once all was done and dusted, van Hoof cooled down for a few minutes and then headed for an interview with the Dutch PokerNews Rail and remained available to answer a few questions.
When asked whether he had already experienced such a final table ride, van Hoof had the following to say.
"That's a good question. I am not sure, I know reflecting back on the final table my chips went for a roller coaster ride. I did not feel like that was happening though. I guess that's because I was so focussed on playing each next hand."
The year so far had been very successful in poker and life events for the Dutchman as he got engaged and then earned a ring for himself at the 2020 Aussie Millions in January. There seems to be no stopping for him right now as the transition to online poker already earned further merits.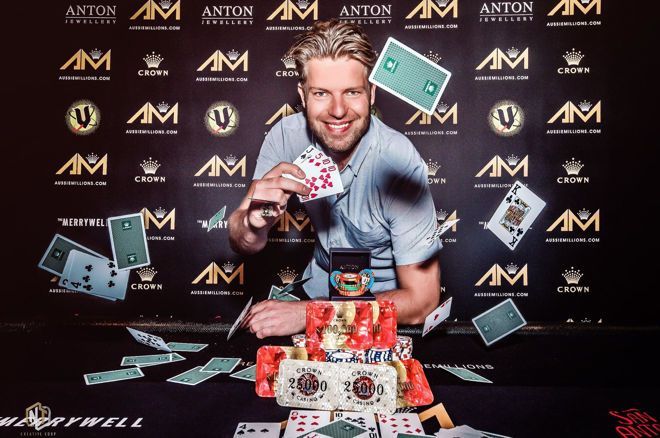 "Not much to do nowadays with quarantine going on. I feel so lucky as a poker player being able to stay at home and have a lot of fun playing these tournaments. I wish everyone who is in a tougher situation all the best."
While he was not aware of the SCOOP leaderboard for the entire festival, van Hoof also promised to be sticking around for more high stakes action in the weeks to come:
"I probably won't aim for it [the SCOOP leaderboard] consciously. I try to play the higher buyin events over different sites. I have the intention of playing every night though, so let's hope I can continue my good run!"
The final table also featured Markku "markovitsus" Koplimaa, who eventually finished in 7th place while Bertie "bigstealer" Bayley narrowly missed out and had to settle for 10th place.
Final Result of 2020 SCOOP Event #02-H: $2,100 NLHE:
| Place | Player | Country | Bounty Prize (in USD) | Cash Prize (in USD) |
| --- | --- | --- | --- | --- |
| 1 | Jorryt "TheCleaner11" van Hoof | Netherlands | $87,720.69 | $88,383.68 |
| 2 | "0m3rta" | Netherlands | $9,195.31 | $88,383.36 |
| 3 | "Play4livin" | Peru | $13,964.84 | $55,810.36 |
| 4 | "ale kmkz" | Brazil | $29,685.55 | $41,384.36 |
| 5 | "Cottonbud07" | United Kingdom | $16,871.09 | $30,687.23 |
| 6 | "VzB_Poker" | Brazil | $9,890.63 | $22,755.10 |
| 7 | "danechka1991" | Russia | $1,500.00 | $16,873.31 |
| 8 | Markku "markovitsus" Koplimaa | Estonia | $11,750.00 | $12,511.82 |
| 9 | jareth3542" | United Kingdom | $4,500.00 | $9,796.67 |
Besides eventual champion van Hoof and runner-up "0m3rta", another Dutchman was in contention among the 43 Day 1 survivors who returned to their seats. And hours before the action of the final day recommended, Jans "Graftekkel" Arends took to Twitter for a subtle view on poker related strategy.
Arends was certainly among the most-active players in the early stages as the field was rapidly cut into half, and he knocked out Daniil "Dancer King" Kiselev early on. Other notables such as Ivan "Negriin" Luca, Christopher "lissi stinkt" Frank, Tatiana "Mysters_Y" Barausova and Marton "noirduck" Czuczor didn't make it to the first break either.
And as the field continued to shrink, Arends also ran out of steam and Pete "psxfrcndhe" Chen followed him to the rail moments later. From there on out, van Hoof went on an extraordinary ride full of ups and downs to prevail in remarkable fashion and earn his first SCOOP title.
A few hands after which turned out to be a pivotal moment in this heads-up duel, it was all over.
"0m3rta" had the button and limped in, then jammed for fewer than 26 big blinds when facing a raise by Jorryt "TheCleaner" van Hoof, who made the call in a heartbeat.
"0m3rta":

Jorryt "TheCleaner11" van Hoof:
Kings remained supreme on the
flop,
turn and
river, and more than eight hours after the final day kicked off a champion had been crowned. For "0m3rta", the runner-up finish came with a cash prize of $88,383.36 on top of the earned bounties.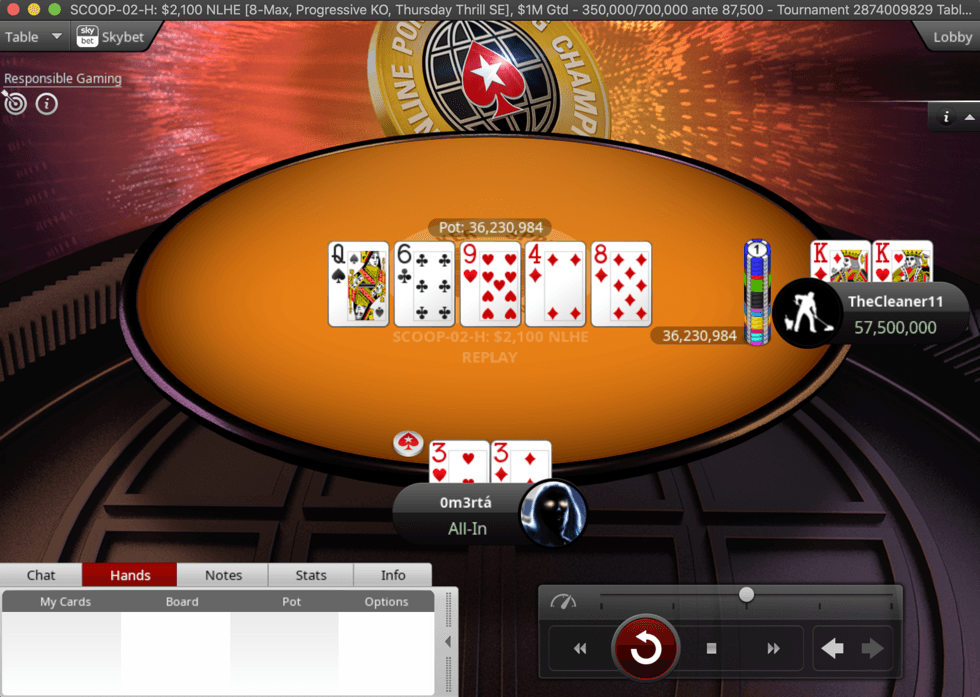 That's a wrap for now but a full recap of today's action is to follow.
Player
Chips
Progress

Jorryt "TheCleaner11" van Hoof

57,500,000

19,340,492

0m3rta

Busted
A careful approach in the first 10 minutes after the break changed little in the standings but the next bigger pot vauled "Jorryt "TheCleaner11" van Hoof back into the lead. He limped in and "0m3rta" checked his option to the
flop.
What followed was a check-call for 875,000 and "0m3rta" then check-raised the
turn from 2,695,000 to 7,313,950, which van Hoof called. After the
river, "0m3rta" reluctantly check-called a bet for one-third of the pot and mucked to the
of van Hoof.
Player
Chips
Progress

Jorryt "TheCleaner11" van Hoof

38,159,508

19,270,657

0m3rta

19,340,492

-19,270,657
While Jorryt "TheCleaner11" van Hoof won a pot off "0m3rta" when his
had flopped second pair on the
board, he paid off his countryman soon after to drop at a growing chip disadvantage.
Van Hoof opened to 2,625,000 on the button and was called by "0m3rta" as they headed to the
flop. A check-call worth 1.4 million followed and "0m3rta" then led the
turn and
for 4,359,250 and 8,980,055 respectively. "0m3rta" tabled
for trips kings to take a three-to-one lead.
Small pots followed and the duo headed into a 5-minute break.
Player
Chips
Progress

0m3rta

38,611,149

5,718,373

Jorryt "TheCleaner11" van Hoof

18,888,851

-5,718,373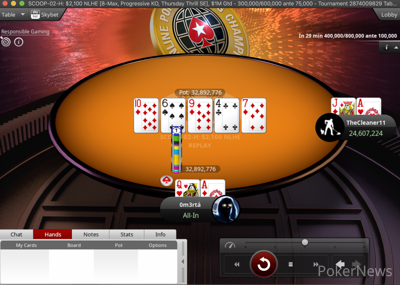 A preflop raising war saw "0m3rta" at risk but he had the best of it with
versus
.
Some running outs were possible for Jorryt "TheCleaner11" van Hoof on the
flop but the
on turn and river postponed the decision in this event for now.
Player
Chips
Progress

0m3rta

32,892,776

18,396,388

Jorryt "TheCleaner11" van Hoof

24,607,224

-18,396,388
Level: 41
Blinds: 350,000/700,000
Ante: 87,500
After he was left with crumbs just moments ago, "Play4livin" jammed the button for the rest of it and Jorryt "TheCleaner11" van Hoof called out of the small blind.
"Play4livin":

Jorryt "TheCleaner11" van Hoof:
Another comeback seemed on the horizon until the
turn but the
river improved van Hoof to superior two pair and set up an all-Dutch heads-up for the SCOOP title. "Play4livin has to settle for third place and takes home $55,810.36.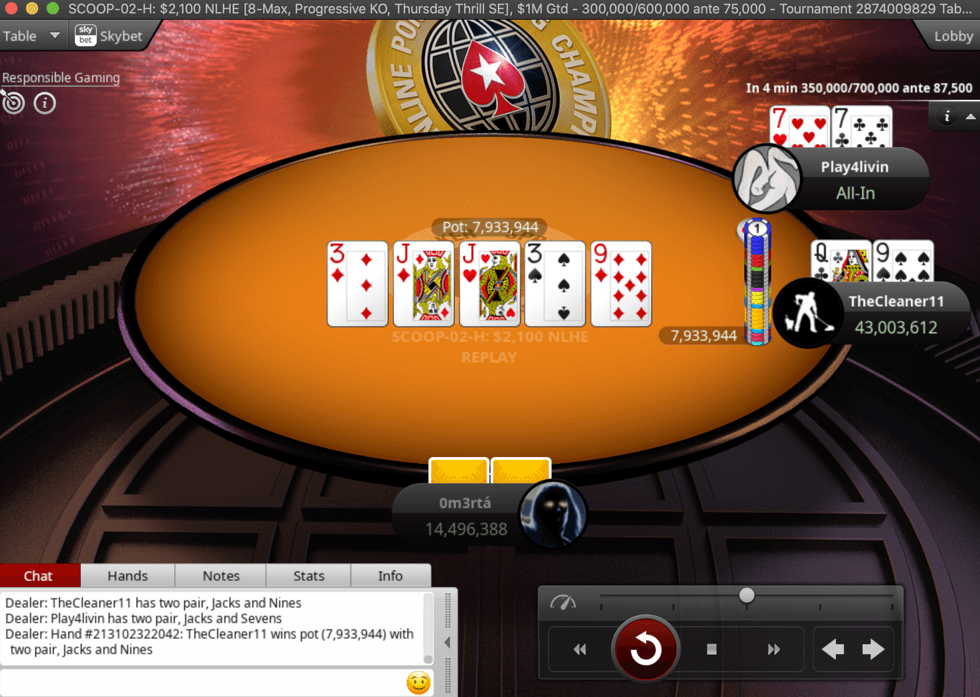 Player
Chips
Progress

Jorryt "TheCleaner11" van Hoof

43,003,612

4,754,472

0m3rta

14,496,388

-750,000

Play4livin

Busted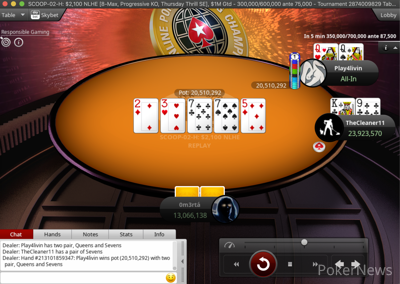 Yet another roller coaster of emotions has turned the final three upside down as "Play4livin" first doubles through Jorryt "TheCleaner11" van Hoof, takes the lead and then loses almost all of his chips to the Dutchman.
First things first, van Hoof's attempt to score the knockout with
versus
is not crowned by success as the
board provides no help.
Just when "Play4livin" had pulled into the top spot for the first time shortly thereafter, he defends the big blind against a min-raise by van Hoof and check-calls a 900,000-bet on the
flop. After the
turn, "Play4livin" check-jams into a bet of 3 million and reveals the
for a combo draw. Van Hoof tables the
for a set and the
river vaults the Dutchman into another massive lead.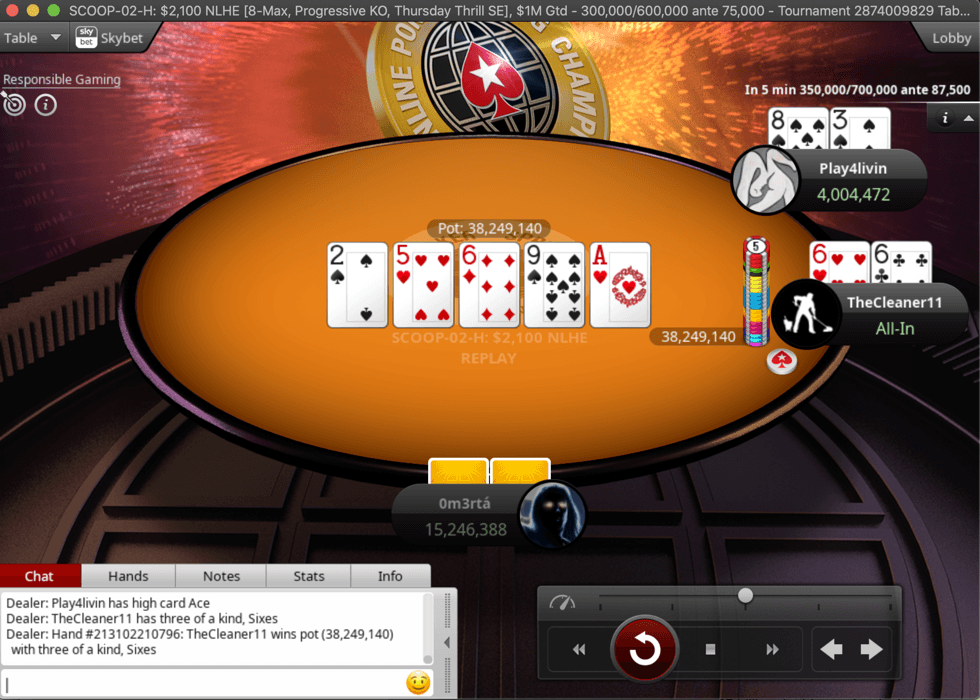 Player
Chips
Progress

Jorryt "TheCleaner11" van Hoof

38,249,140

0m3rta

15,246,388

Play4livin

4,004,472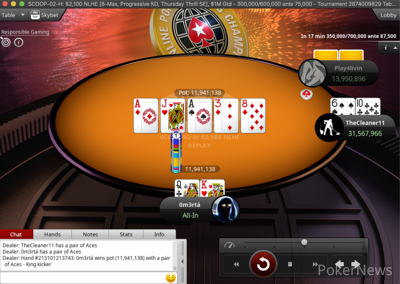 And just like that it was everybody's game again as "Play4livin" scored two double ups against Jorryt "TheCleaner11" van Hoof, who then also doubled "0m3rta".
Just before the blinds went up, "Play4livin" was at risk with
in the big blind and van Hoof could not get the job done with
on the button as the board came
.
"Play4livin" then jammed the small blind with
and van Hoof reluctantly called with the
from the big blind. The board ran out clean, showing
.
A third all-in showdown in quick succession saw van Hoof open-jam the small blind with
and "0m3rta" called in the big blind with
. Once again the superior hand preflop prevailed on a
runout.
Player
Chips
Progress

Jorryt "TheCleaner11" van Hoof

31,567,966

-11,063,741

Play4livin

13,990,896

8,630,672

0m3rta

11,941,138

2,433,069