A first-time champion has been crowned in the 2020 PokerStars Spring Championship of Online Poker (SCOOP) Event-02-H: $2,100 NLHE and it was arguably the biggest name of the final table that prevailed in a topsy-turvy affair to beat a field of 575 entries and claim the biggest slice of the $1,150,000 prize pool.
By the time the heads-up stage was reached in the early morning hours in Europe, a Dutch victory was already locked up as Jorryt "TheCleaner11" van Hoof battled with "0m3rta" for the title. The history of the late stages of this Special Edition of the Thursday Thrill showed as the progressive bounty of van Hoof was nearly five times as much as the one of "0m3rta".
Low-and-behold, the Dutchman perfectly resembled his nickname and was one of the most-aggressive contenders to send several opponents to the rail, which not only increased his earnings but also put a bigger target on the own head. An incredible roller-coaster ride sent van Hoof several times into the lead, to the bottom of the counts and even as low as four big blinds with as many players remaining.
Once all was done and dusted, van Hoof cooled down for a few minutes and then headed for an interview with the Dutch PokerNews Rail and remained available to answer a few questions.
When asked whether he had already experienced such a final table ride, van Hoof had the following to say.
"That's a good question. I am not sure, I know reflecting back on the final table my chips went for a roller coaster ride. I did not feel like that was happening though. I guess that's because I was so focussed on playing each next hand."
The year so far had been very successful in poker and life events for the Dutchman as he got engaged and then earned a ring for himself at the 2020 Aussie Millions in January. There seems to be no stopping for him right now as the transition to online poker already earned further merits.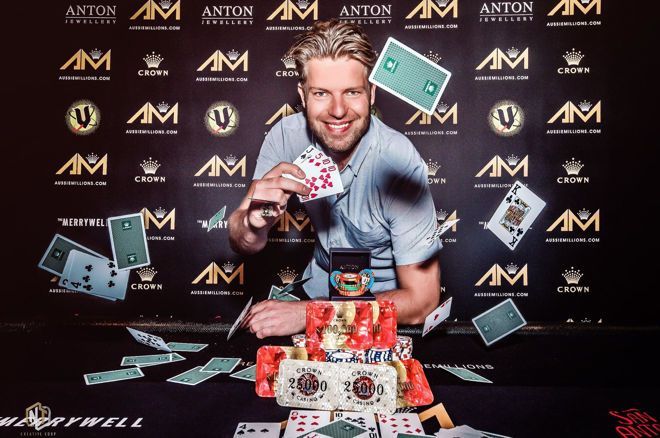 "Not much to do nowadays with quarantine going on. I feel so lucky as a poker player being able to stay at home and have a lot of fun playing these tournaments. I wish everyone who is in a tougher situation all the best."
While he was not aware of the SCOOP leaderboard for the entire festival, van Hoof also promised to be sticking around for more high stakes action in the weeks to come:
"I probably won't aim for it [the SCOOP leaderboard] consciously. I try to play the higher buyin events over different sites. I have the intention of playing every night though, so let's hope I can continue my good run!"
The final table also featured Markku "markovitsus" Koplimaa, who eventually finished in 7th place while Bertie "bigstealer" Bayley narrowly missed out and had to settle for 10th place.
Final Result of 2020 SCOOP Event #02-H: $2,100 NLHE:
| Place | Player | Country | Bounty Prize (in USD) | Cash Prize (in USD) |
| --- | --- | --- | --- | --- |
| 1 | Jorryt "TheCleaner11" van Hoof | Netherlands | $87,720.69 | $88,383.68 |
| 2 | "0m3rta" | Netherlands | $9,195.31 | $88,383.36 |
| 3 | "Play4livin" | Peru | $13,964.84 | $55,810.36 |
| 4 | "ale kmkz" | Brazil | $29,685.55 | $41,384.36 |
| 5 | "Cottonbud07" | United Kingdom | $16,871.09 | $30,687.23 |
| 6 | "VzB_Poker" | Brazil | $9,890.63 | $22,755.10 |
| 7 | "danechka1991" | Russia | $1,500.00 | $16,873.31 |
| 8 | Markku "markovitsus" Koplimaa | Estonia | $11,750.00 | $12,511.82 |
| 9 | jareth3542" | United Kingdom | $4,500.00 | $9,796.67 |
Besides eventual champion van Hoof and runner-up "0m3rta", another Dutchman was in contention among the 43 Day 1 survivors who returned to their seats. And hours before the action of the final day recommended, Jans "Graftekkel" Arends took to Twitter for a subtle view on poker related strategy.
Arends was certainly among the most-active players in the early stages as the field was rapidly cut into half, and he knocked out Daniil "Dancer King" Kiselev early on. Other notables such as Ivan "Negriin" Luca, Christopher "lissi stinkt" Frank, Tatiana "Mysters_Y" Barausova and Marton "noirduck" Czuczor didn't make it to the first break either.
And as the field continued to shrink, Arends also ran out of steam and Pete "psxfrcndhe" Chen followed him to the rail moments later. From there on out, van Hoof went on an extraordinary ride full of ups and downs to prevail in remarkable fashion and earn his first SCOOP title.