The next high stakes progressive knockout tournament of the PokerStars 2020 Spring Championship of Online Poker is one step closer to crowning a champion as a field of 578 entries has been whittled down to the last 32 survivors on Day 1 of SCOOP-43-H: $2,100 NLHE PKO.
All remaining contenders have ensured their slice of the $1,156,000 prize pool already, be it in the form of bounty prizes by knocking out opponents or as part of the separate cash prize pool. Only one finalist will have to settle for $2,898.09 as the next pay jump follows right away and the winner takes home $88,844.76 as cash prize. However, the rising progressive bounties will certainly play a pivotal role for the remainder of the tournament.
Leading the charge after nine hours of play is online legend "girafganger7", who has already cashed for more than $9.6 million on the virtual MTT tables. Nearly $7.4 million of that has come under his moniker on PokerStars, however, a SCOOP title is missing on his resume so far. The Belgian came close to victory during the 2017 SCOOP when he came second to Gordon "[email protected]" Vayo in Event #1-H ($1,050 NLHE) but scored the biggest prize of the five-way deal.
"girafganger7" finished Day 1 with 5,903,984 in chips, and he is followed by Gary "quiditbear" Hasson (5,245,498) and Jareth "jareth3542" East (4,548,537), "DEX888" (3,882,161) and "SinKarma" (2,716,236) complete the top five spots overnight.
Some notables that made it through to battle for a SCOOP title include Rui "RuiNF" Ferreira (1,921,915), Pimmss (1,641,744), Thiago "KKremate" Crema (1,489,228), Morten "-MortenVM-" Mortensen (1,153,017), 2020 SCOOP two-time champion Ilya "Leqenden" Anatsky (745,454) and Eder "edercampana" Campana (340,282).
"Passiveaggro", who topped a field of 1,157 entries in SCOOP-10-H: $1,050 NLHE PKO, was among the 39 players that took home a portion of the cash prize pool and fell victim of the late surge by "girafganger7" when he failed to catch any help with ace-seven suited versus jacks.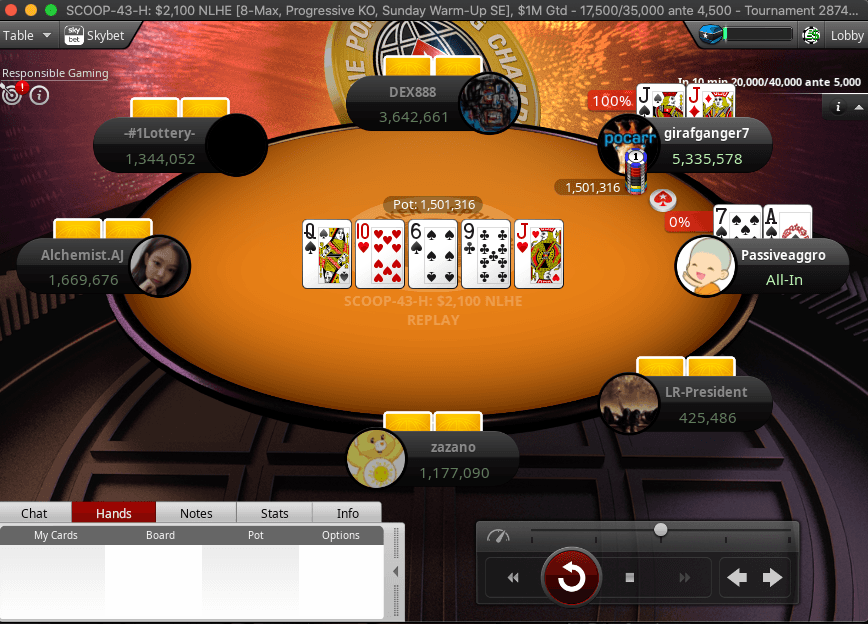 Other notables that cashed but failed to make it to the final day were Yuri "theNERDguy" Martins, Vlad "dariepoker" Darie, Diego "Die Ventura" Ventura, Michael "M_Acevedo" Acevedo, Michael "munchenHB" Telker, Jorryt "TheCleaner11" van Hoof, Charlie "Epiphany77" Carrel, Timofey "hello_totti" Kuznetsov and Gianluca "Tankanza" Speranza.
Kuznetsov and Speranza were knocked out in the same hand shortly after the bubble had burst shortly after "19Pistike93" failed to hold up with ace-king against the jack-ten suited of "Pimmss" to lock up a min-cash of $2,269.17. Conor "1_conor_b_1" Beresford came up short of that as his kings were cracked by Hasson's ace-queen.
Many others only had their bounty prizes to show for as the big names of online poker arrived and left in rapid fashion during the registration period such as Talal "raidalot" Shakerchi, Scott "Aggro Santos" Margereson, Adrian "Amadi_017" Mateos, Niklas "Lena900" Astedt, Patrick "pads1161" Leonard, Simon "C. Darwin2" Mattsson and Konstantin "krakukra" Maslak.
Two PokerStars ambassadors took part and the day started with a disaster for Ramon "RamonColillas" Colillas when he ran with kings into aces after just five minutes. The Spaniard re-entered but bowed out around two dozen spots away from the money. Lex "L. Veldhuis" Veldhuis had similar fortune when he turned trips with six-five suited and crashed out against a full house.
Besides "girafganger7", second in chips Hasson also knocked out several opponents late on when his draws either hit or he improved to trips to rack up a bounty of $13,968.75 so far. It is the second-biggest bounty prize up for grabs behind "DEX888"'s $14,468.75.
The action will recommence with very few minutes left at blinds of 17,500/35,000 and a running ante of 4,500 before immediately increasing to 20,000/40,000 with a 5,000 ante. Day 2 will kick off on Monday, May 11th, 2020, at 1.05 p.m. Eastern Standard Time and the PokerNews team will provide all the key hands from start to finish.