SCOOP-43-H: $2,100 NLHE [8-Max, PKO, Sunday Warm-Up SE], $1M Gtd
Day: 2
SCOOP-43-H: $2,100 NLHE [8-Max, PKO, Sunday Warm-Up SE], $1M Gtd
Day 2 Completed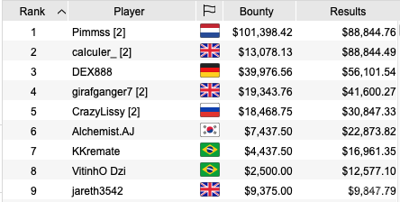 Until today, nine Dutch players had won a title during the PokerStars 2020 Spring Championship of Online Poker and three of those victories came in high stakes progressive knockout tournaments. A fourth Dutch winner emerged in SCOOP-43-H: $2,100 NLHE PKO as "Pimmss" defeated Sylvain "caIcuIer_" Loosli in heads-up to score a payday of $190,243. More than half of that came from bounty prizes as "Pimmss" was responsible for several late bustouts and kept his own to boost the bankroll significantly.
"Pimmss" is no stranger to the PKO tables on PokerStars as he won two events during the PokerStars High Rollers festival in December 2019. First he claimed the honors in High Rollers 02: $1,050 NLHE 8-Max PKO for $56,901.33 + $57,015.59 and followed that up with a victory in High Rollers 12: $530 NLHE 8-Max for $41,674.50.
The tournament featured 431 unique players and 147 re-entries on top of that created a field of 578 entries, which resulted in a prize pool of $1,156,000 for this Special Edition of the Sunday Warm-Up. Only the top 71 spots secured a portion of the cash prize pool and 32 survivors returned for the final day after nine hours of play the previous evening. "girafganger7" was leading the pack and the online legend with more than $7.4 million in cashes on PokerStars reached the final table but eventually had to settle for 4th place.
Final Result SCOOP-43-H: $2,100 NLHE PKO
| Place | Winner | Country | Bounty Prize | Cash Prize | Total Payout |
| --- | --- | --- | --- | --- | --- |
| 1 | "Pimmss" | Netherlands | $101,398 | $88,845 | $190,243 |
| 2 | Sylvain "caIcuIer_" Loosli | France | $13,078 | $88,844 | $101,923 |
| 3 | "DEX888" | Germany | $39,977 | $56,102 | $96,078 |
| 4 | "girafganger7" | United Kingdom | $19,344 | $41,600 | $60,944 |
| 5 | "CrazyLissy" | Russia | $18,469 | $30,847 | $49,316 |
| 6 | "Alchemist.AJ" | South Korea | $7,438 | $22,874 | $30,311 |
| 7 | Thiago "KKremate" Crema | Brazil | $4,438 | $16,961 | $21,399 |
| 8 | Vitor "VitinhO Dzi" Dzivielevski | Brazil | $2,500 | $12,577 | $15,077 |
| 9 | Jareth "jareth3542" East | United Kingdom | $9,375 | $9,848 | $19,223 |
Slow Start; Frantic Middle Stage on the Final Day
One Dutch player and two Portuguese that are based in the Netherlands were among the 32 survivors of the previous day and the final kicked off with a small surprise. Unlike previous high stakes PKO tournaments, half an hour passed without elimination. But once Eder "edercampana" Campana had missed out on a pay jump, the action really kicked off and Rui "RuiNF" Ferreira was eliminated in a three-way all-in shortly after.
Getting from 27 hopefuls down to the last 17 contenders barely took more than 15 minutes in total and Morten "-MortenVM-" Mortensen was among those quick fire casualties. Short-handed action prior to the final two tables took a while and "Pimmss" doubled up twice to get back in contention from a rather short stack.
Sylvain "caIcuIer_" Loosli followed a very similar path as he was very short, then doubled three times. Suddenly, the Frenchman who is currently based in the UK went on a heater and knocked out "temoni18", "ChristianBR4", and Ilya "Leqenden" Anatsky in a row. "Pimmss" and Loosli took their turns to eliminate "Razer2311" and "BC1989RF", and Gary "quiditbear" Hasson could not return from a very short stack to bust shy of the final table.
Only moments later the final nine were combined to one table as "wisopekeno!" ran with queens into aces and Loosli racked up another bounty when his ace-king suited beat the ace-queen suited of "zazano". Still in the lead by then was "girafganger7" while Loosli sat in third and "Pimmss" was in the middle of the pack.
"Pimmss" Rises to the Top and Clinches Victory
Jareth "jareth3542" East lasted all but a few hands on the final table and "girafganger7" went on a roller coaster ride, bled chips only to get them back by sending the Brazilians Vitor "VitinhO Dzi" Dzivielevski and Thiago "KKremate" Crema to the rail in 8th and 7th place respectively.
"Pimmss" took over the top spot after his flopped set sent "Alchemist.AJ" with top two pair to the rail and the Dutchman also took care of "CrazyLissy" right after when ten-eight suited got there versus king-jack suited. Two double ups followed as Loosli and "DEX888" returned from a short stack, and it was "girafganger7" that came up short in a flip with fours against the ace-jack suited of "DEX888" to finish fourth.
Loosli took over the lead with a double through "DEX888", who dropped further behind and was knocked out by "Pimmss" to set up the duel for the SCOOP title. Ultimately, Loosli lost the vast majority of his stack on a bluff which he later described as follows on Twitter:
"2nd for 101k$, Somewhat questionable bluff in the penultimate hand of heads-up but happy with my performance!"
It was all over the very next hand as "Pimmss" rivered a flush with ace-four suited versus ace-eight. For Loosli it would have been the second SCOOP title after he topped a huge field of 7,580 entries in a $215 NL Hold'em for $178,368.64 back in 2015. Instead, it was yet another victory for the Dutch players as "Pimmsss" earned a first SCOOP title of his own.
That's a wrap for today but stay tuned for further PokerNews updates for the remainder of the festival.
And just like that a winner has been crowned! In a matter of two hands, the lead of Sylvain "caIcuIer_" Loosli vanished into thin air and he had to settle for second place while "Pimmss" continues the hot streak of Dutch players in PKO events of the 2020 SCOOP.
A button raise by "Pimmss" to 1,000,000 was three-bet to 4,000,000 by Loosli and he picked up a call to then lead the
flop for 2,681,250, which "Pimmss" called. The
on the turn was checked through and Loosli check-shoved the
on the river when facing a bet of 8,750,000.
"Pimmss" called with
for a flush and Loosli was caught bluffing with
for a busted gutshot.
Down to three blinds, Loosli was all-in the next hand.
Sylvain "caIcuIer_" Loosli:

"Pimmss":
Both hit top pair on the
flop and "Pimmss" picked up flush outs on the
turn. Sure enough, the
appeared on the river to seal the victory for the Dutchman.
Loosli receives $13,078.13 in bounties and a cash prize worth $88,844.49 but misses out on his second SCOOP title. He conceded it with a "gg" in chat and "Pimmss" replied with an "gg mate".
A recap of today's action is to follow!
Player
Chips
Progress

Pimmss

57,800,000

29,919,858

Sylvain "caIcuIer_" Loosli

Busted
Sylvain "caIcuIer_" Loosli raised to 1,000,000 and picked up a call by "Pimmss" in the big blind. The
flop went check, check, and "Pimmss" check-called 1,300,000 on the
turn. The
river was checked by the Dutchman once more and Loosli's bet of 3,500,000 did the trick to avoid a showdown.
"Pimmss" struck back with a four-bet jam when Loosli had invested 4,000,000 and folded.
Loosli won the next hands without showdown and scooped a larger pot in showdown to take over the lead.
A button min-raise by "Pimmss" was called and the Frenchman check-called 637,500 on the
flop. No action took place on the
turn and Loosli check-called the
river for 2,448,000 with
for a pair of sixes. That ended up as the winning hand, as "Pimmss" had bluffed with
.
Player
Chips
Progress

Sylvain "caIcuIer_" Loosli

29,919,858

4,461,750

Pimmss

27,880,142

-4,461,750
The lull continued for another couple of hands and once the blinds went up, Germany's "DEX888" dropped to around 18 big blinds. He raised the button to 1,110,000 and "Pimmss" three-bet the small blind to 3,500,000. A quick jam and a call led to the following showdown.
"DEX888":

"Pimmss":
Nothing changed on the
flop but "Pimmss" gained the lead on the
turn, the
river then bricked off to send "DEX888" to the rail in 3rd place. A consolation prize of $39,976.56 and cash prize of $56,101.54 will ease the pain.
Player
Chips
Progress

Pimmss

32,341,892

10,865,998

Sylvain "caIcuIer_" Loosli

25,458,108

2,658,000

DEX888

Busted
Level: 39
Blinds: 250,000/500,000
Ante: 62,500
"DEX888" limped the small blind and "Pimmss" checked behind the big blind to then bet all further streets on a
board. The first two bets of 400,000 and 600,000 were check-called by "DEX888", who check-folded the river when he faced a bet of 2,124,000.
Besides that, many small pots took place without any major movement to the chip counts.
"DEX888" won the next pot and "Pimmss" then raised the button to 840,000, which was called by Sylvain "caIcuIer_" Loosli in the small blind and "DEX888" in the big blind. Loosli check-called 860,000 by Pimmss" on a
flop and check-folded the
turn to a larger bet worth 4,400,000.
Player
Chips
Progress

Sylvain "caIcuIer_" Loosli

22,800,108

-5,417,500

Pimmss

21,475,894

3,090,000

DEX888

13,523,998

2,327,500
The action commenced with a button raise to 888,000 by "DEX888" and Sylvain "caIcuIer_" Loosli made the call in the big blind to see a flop of
. A check by the Frenchman was then followed by a bet worth 637,800 and Loosli came along to the
turn on which he led for 1,122,528, now it was "DEX888" that called.
Loosli also bet the
river for 4,400,000 and received the call he was looking for, turning over the
for the king-high flush to cement his top spot.
Player
Chips
Progress

Sylvain "caIcuIer_" Loosli

28,217,608

16,498,668

Pimmss

18,385,894

-700,000

DEX888

11,196,498

-6,598,328
Sylvain "caIcuIer_" Loosli raised it up to 1,040,000 out of the small blind and instantly called the shove of "DEX888" in the big blind for the last 10,384,640.
Sylvain "caIcuIer_" Loosli:

"DEX888":
Loosli had the best of it preflop and once the board ran out
to take over the lead.
Player
Chips
Progress

Pimmss

19,085,894

1,229,300

DEX888

17,794,826

-10,429,640

Sylvain "caIcuIer_" Loosli

11,718,940
Level: 38
Blinds: 200,000/400,000
Ante: 50,000