Event Info
| | |
| --- | --- |
| Prize Pool | $160,113 |
| Players | 636 |
Level Info
| | |
| --- | --- |
| Level | 32 |
| Blinds | 100,000 / 200,000 |
| Ante | 25,000 |
$300 No Limit Hold'em
Day 2 Completed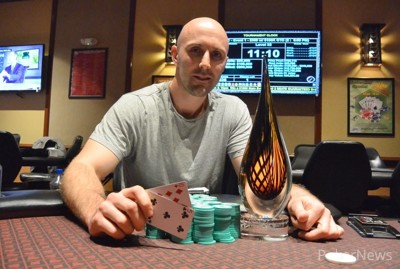 A 30-year-old window installer from Niagara Falls, Canada won $36,024 and the Seneca Fall Poker Classic Opening Event inside the Niagara Falls Poker Room at the Seneca Niagara Resort & Casino this evening.
Matt Brunskole came into the day among the leaders and persevered through more than 13-hours of poker to capture the title.
The tournament drew 636 entries over four starting flights, creating a $160,113 prize pool. The final day started with 107 players remaining and after breaking through the money bubble early on, things moved quickly down to a top eleven.
There was a bit of a stall eleven-handed, but after local standout Alex Visbisky busted, the final table of ten was set with Leo Kaplin leading.
The first four players to fall, including perennial Seneca contender Blake Napierala, fell out fast. However, things stalled again five-handed. The blinds escalated to the point where the stacks were shallow and the lead kept changing hands until another local legend, Jason Nablo, took fourth.
They tossed a few chips around three-handed as well, but suddenly Lue Huang ran a weak ace into Brunskole's dominating one. A hand or two later, Kaplin flopped the world and missed against Brunskole's pair to give Brunskole a quick win after a long day.
PokerNews' coverage of the Seneca Fall Poker Classic continues tomorrow with the $10,000 Guaranteed $150 No Limit Hold'em event beginning at 5 p.m. local time in Western New York. See you then.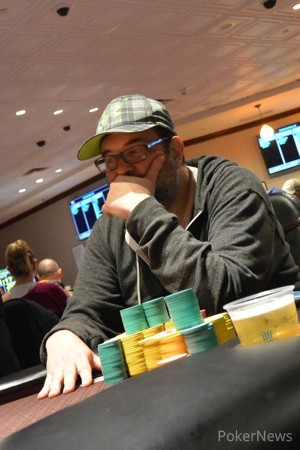 Heads-up play lasted only a hand or two.
Kaplin got it in with the
on a
flop. Brunskole called with the
pair. Kaplin had too many outs to count, but the
turn and
river were no help at all.
Kaplin took second and the title and trophy went to Brunskole. A recap of the event will follow.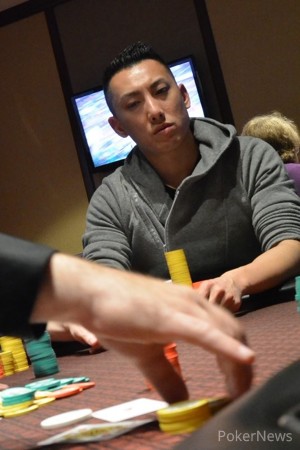 Lue Huang open shipped the small blind for four million and Matt Brunskole called in the big. Brunskole had
and had Huang covered by a million.
Huang was in trouble with the
and whiffed to say goodbye third.
Level:

32
Blinds:

100,000/200,000
Ante:

25,000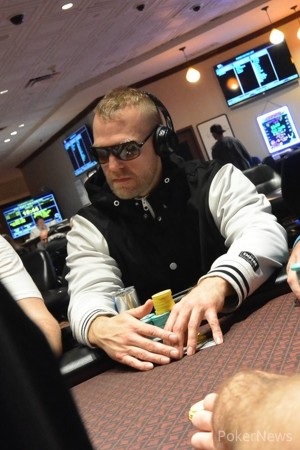 Chips kept flying around until Lue Huang had some again and raised it to 355,000. Jason Nablo shoved a little under two million with the
.
Oops, Huang had the
and snap-called with even more behind. The board ran out
and the local legend was no more, although the $10K score should soften the blow.
Down to three now it's Huang chasing Leo Kaplin for the lead and Matt Brunskole bringing up the rear right now.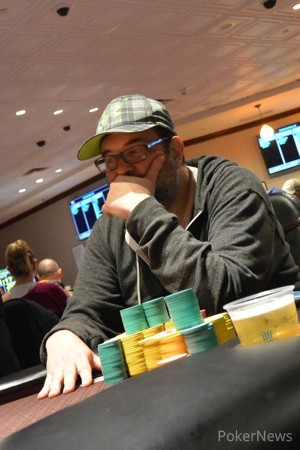 There's only 75 big blinds on the whole table and with stacks this shallow things change fast.
Leo Kaplin is now the overwhelming chip leader and Lue Huang is short.
Kaplin just keeps beating Huang out of million-chip pots and now Huang has even less than that.
Below you can see how the final four looks halfway through Level 31:
| | | | | | |
| --- | --- | --- | --- | --- | --- |
| Leo Kaplin | | | | 6,000,000 | 3,200,000 |
| Jason Nablo | | | | 3,000,000 | -200,000 |
| Matt Brunskole | | | | 2,500,000 | 400,000 |
| Lue Huang | | | | 700,000 | -3,000,000 |
Level:

31
Blinds:

80,000/160,000
Ante:

10,000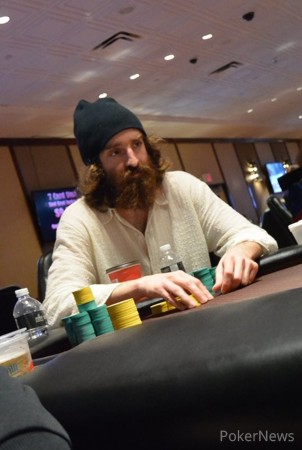 Jason Nablo made it 275,000 and Matt Marcinkiewicz spoke up.
"Maybe a million?" he asked, pushing his stack in.
Nablo thought about it and called with the
. Marcinkiewicz was racing for his tournament life with the
and Nablo got there right away on a
flop. The
turn only improved Nablo and Marcinkiewicz said goodbye when the
river was not a ten.
Bye bye Beardo, bye bye.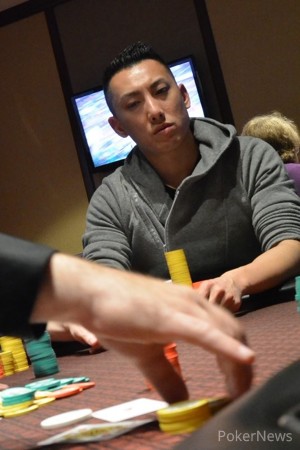 They passed chips around for a while before Lue Huang booked a big score through Matt Brunskole.
He defended his blind to a Brunskole raise and after flopping two pair, jacks and fours, Huang check-called a Brunskole continuation bet. It went check-check on the
turn, but Lue led for almost 800,000 on the brick-like river. Brunskole called and mucked.
Here's how the stacks look now with Lue on top.
| | | | | | |
| --- | --- | --- | --- | --- | --- |
| Lue Huang | | | | 3,700,000 | 1,800,000 |
| Leo Kaplin | | | | 2,800,000 | 1,100,000 |
| Matt Brunskole | | | | 2,100,000 | -1,600,000 |
| Jason Nablo | | | | 2,100,000 | -700,000 |
| Matt Marcinkiewicz | | | | 1,300,000 | -600,000 |