Level Info
| | |
| --- | --- |
| Level | 29 |
| Blinds | 50,000 / 100,000 |
| Ante | 10,000 |
Players Info
| | |
| --- | --- |
| Players Left | |
| Entries | 520 |
| Prize Pool | $50,000 |
$200 No-Limit Hold'em
Day 2 Completed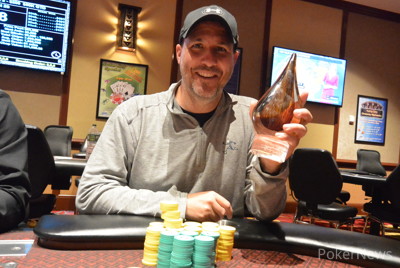 Canada's Jeffrey Roth took down the 2017 Seneca Niagara Falls Summer Slam $200 No-Limit Hold'em reentry event at the Seneca Niagara Resort & Casino Sunday night.
The 44-year-old Kitchener, Ontario school teacher was short stacked when the lion's share of the prize pool was chopped up eight-handed. As a result, he took less money in the deal. However, he fought back to take the lead four-handed, and when it came time to chop again, he made a deal ensuring he would walk away the event's champion and its biggest money winner as well.
Four starting flights in the event drew 520 entries Friday and Saturday, smashing the $50,000 guarantee and creating an $83,981 prizepool.
The flights sent 77 survivors into the final day Sunday, and they reached the 54-player money bubble rather quickly. The action rose with the blinds, and by the time they reached the ten-handed final table, talk of a chop became quite serious.
The stacks were shallow and the opportunity to take decent guaranteed money over flipping coins for a chance at only a few thousand more seemed too good to pass up. Ultimately, it was for the group that remained eight-handed. They gave chip leader Mark Roberts $6,000, the two shorter stacks $4,500 and five players $5,000 each. All in all it was not a bad take from a $200 buy-in event.
They did leave some $16,000 to play for, and after twice making plans on how to distribute that, they ended up four-handed and chopped it up almost evenly. Of course, Roth took little extra to make up for what he'd given away before, and because he had built such a big lead.
Roth certainly played like a champ at the final table, and now that it's over, he'll go down in the books as a deserving one.
That ends PokerNews' coverage of the $200 Rentry, but the Seneca Summer Slam tournament series continues Monday with the first of six starting flights in a $25,000 Guaranteed $125 Reentry Event beginning at 10 a.m. local time. Join us then for a slice of the action from Niagara Falls, NY.
The four remaining players agreed to chop up the rest of the prize money and hand chip leader Jeffrey Roth the title and trophy.
He'll also get a total of $8,992. Blake Napierala and David Battaglia will each earn $8,900 and Ted Blaszczak gets $8,400.
Stay tuned for a recap of the entire event.
Chips have been flying around at a frenetic pace lately.
But most of them have landed in Jeffrey Roth's growing pile. The other three are about even and apparently no one wants to be the next out.
Here are the counts:
| | | | | | |
| --- | --- | --- | --- | --- | --- |
| Jeffrey Roth | | | | 4,000,000 | 2,500,000 |
| Ted Blaszczak | | | | 1,300,000 | 800,000 |
| Blake Napierala | | | | 1,100,000 | -2,000,000 |
| David Battaglia | | | | 1,000,000 | -800,000 |
Level:

29
Blinds:

50,000/100,000
Ante:

10,000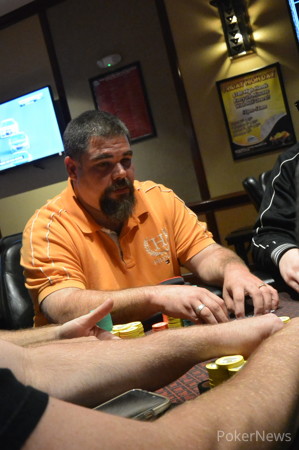 Mark Roberts dwindled down to 400,000 and shoved Broadway cards.
Ted Blaszczak called with an ace in the big blind and held on a board of blanks.
Roberts will take home the $6,000 he got in the chop.
In the meantime, Kevin Hetzer got in in with
versus David Battaglia's dominating
. Hetzer missed and went out fifth for the $5,000 he took in the chop and Tilt-A-Thon 2017 continues four handed.
However, they have changed the save. They'll now pay the winner an additional $7,600 and give second $4,600, third $2,600 and fourth $1,200.
Level:

28
Blinds:

40,000/80,000
Ante:

5,000
David Battaglia shoved in for 450,000 and Chris Harker came over the top all in for almost one million.
Blake Napierala mistakenly looked down at the same card twice and it was an ace, so he called all in for around one million as well. It turned out Napierala had
.
Battaglia had jacks and Harker
. Ultimately, Napierala hit an eight, Battaglia tripled up and Harker was left crippled, having to pay off Napierala on the side. Somehow, Napierala's mistake didn't cost him a single chip. Charmed life.
The very next hand, Peter Bodnar ($5,000) and Harker ($5,000) ran rags into Napierala's big slick. He hit a king and they are down to six.
Level:

27
Blinds:

30,000/60,000
Ante:

5,000
The players have agreed to a chop. However, they will continue playing, and are saving an additional $8,000 for the winner, $5,000 for second, and $3,000 for third.
In the meantime, the following is how the lion's share of the remaining prize pool will be split up:
Mark Roberts: $6,000
Kevin Hetzer: $5,000
Chris Harker: $5,000
Blake Napierala: $5,000
Peter Bodnar: $5,000
David Battaglia: $5,000
Ted Blaszczak: $4,500
Jeffrey Roth: $4,500
Stay tuned to find out who finishes where.