Event #15: $1,000 NLH Turbo
Event Info
| | |
| --- | --- |
| Buy-in | $1,000 |
| Prize Pool | $100,000 |
| Players | 119 |
| Players Left | 119 |
| Average Chip Stack | 30,000 |
| Total Chips | 3,570,000 |
Level Info
| | |
| --- | --- |
| Level | 25 |
| Blinds | 60,000 / 120,000 |
| Ante | 120,000 |
Players Info - Day 1
| | |
| --- | --- |
| Players Left | 1 |
| Entries | 119 |
Event #15: $1,000 NLH Turbo
Day 1 Completed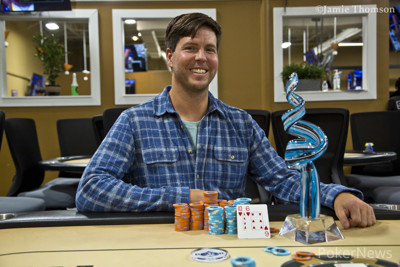 Event #15: $1,000 NLH Turbo $100,000 Guaranteed has come to an end after nine hours of play. 119 players bought into this final event of The Lodge Championship Series, and we played all the way down to two before a deal was made.
The event champion was Maxwell Young of North Palm Beach, Florida, who outlasted the entire field and won $25,497* for first place money and the unique event trophy.
Young has over $2,000,000 in live tournament winnings and his experience was on display as he made all the right moves at the final table. Young plans to be in Vegas this summer to carry this momentum into more tournament success.
When the final table was revealed, there were two names that shone clearly as those to keep an eye on. Young, who took first place, and Nick Pupillo, who finished in second place for $25,398*. Pupillo has nearly $4,000,000 in tournament winnings himself, and the chess match of heads-up play was entertaining to watch. Back and forth heads-up play went for multiple levels, even though at the end there were less than 30 big blinds in play. When the players were discussing a deal in level 22, they each had even stacks. "Stacks are shallow, we don't really feel like either of us has an edge," said Young.
The players agreed to chop the first and second place prizes evenly, then played it out for an extra $99, the trophy, and bragging rights. In the end, Young did come out on top and earned the first-place honor.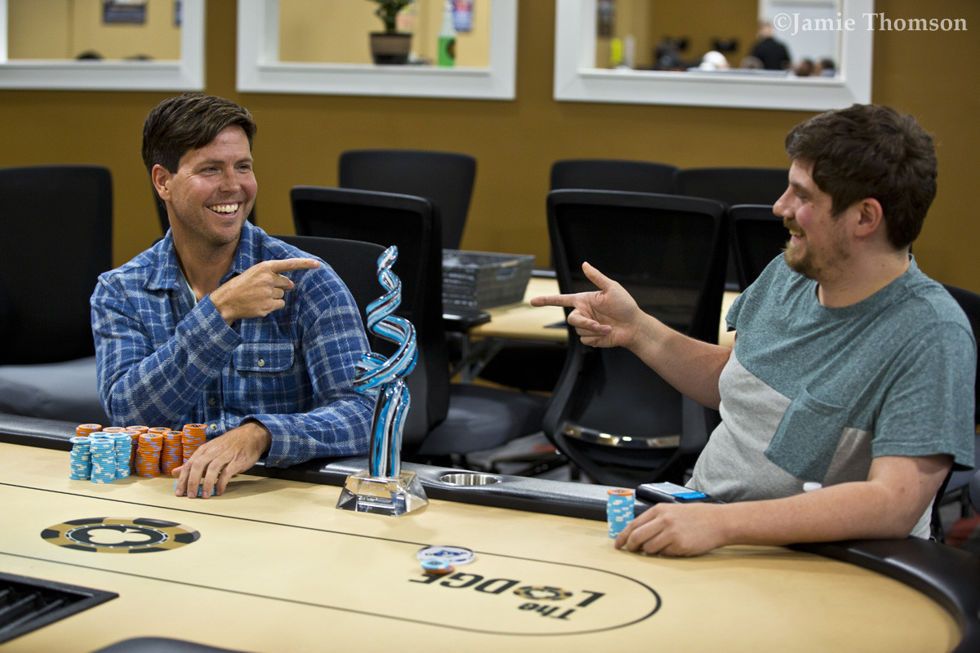 Final Table Results
| | | | |
| --- | --- | --- | --- |
| Place | Player | Hometown | Prize |
| 1 | Maxwell Young | North Palm Beach, FL | $25,497* |
| 2 | Nick Pupillo | Gilbert, AZ | $25,398* |
| 3 | Blake Barousse | Lafayette, LA | $13,718 |
| 4 | Alejandro Madrigal | Umatilla, OR | $9,948 |
| 5 | William Nunley | Conshohocken, PA | $7,330 |
| 6 | Daniel Marin | Bastrop, TX | $5,655 |
| 7 | Kevin Garosshen | Las Vegas, NV | $4,398 |
| 8 | Patrick Friday | Webster, NV | $3,456 |
Final Day Action
Action went quick in the turbo structure and players found themselves relatively shallow as they entered the final table. Pupillo had two late hands that propelled him into a position to be one of the last men standing. He doubled through Kevin Garosshen in level 20 when he woke up with queens against Garosshen's jacks. Then, he doubled through Garosshen once more in level 21 when he had pocket kings when Garosshen isolated another player's all in with his king-queen.
Two exciting entrants were Daniel "Dirty" Marin and Soheb Porbandarwala. They both registered late and came into the tournament with six big blinds. They ran up stacks quickly and made their way into impressive cashes.
William Nunley was the chip leader in level 16 when he flopped a set against none other than Pupillo. Nunley saw Pupillo turn the flush, but he made quads on the river to carry him into his final table appearance.
Young and Pupillo played for about three full levels heads up to close out the night. This time, it was Young that came out on top. The final event of The Lodge Championship Series will forever belong to Maxwell Young.
That does it for our coverage today. The Main Event returns tomorrow with what promises to be an exciting Day 3. We'll see you then right here at PokerNews.
After a grueling heads-up battle, play is over for the night. A full recap of the series' final event will be posted soon.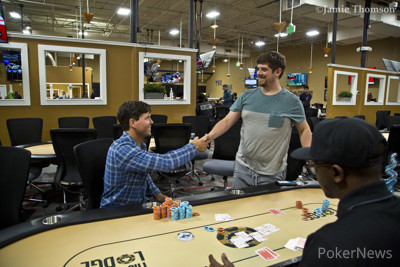 Maxwell Young raised all in from the button and had Nicholas Pupillo covered.
Pupillo looked down. "I don't have that many chips," and he called off the nearly 800,000 that equaled about seven big blinds.
Young showed the
while Pupillo had
.
The flop came out
and Pupillo looked to once again double up and even out the stacks. The
brought plenty of outs to Young to end the event. The river landed the
to seal the deal and slide every chip in play over to Young.
The players made a deal and Pupillo took home $25,398 for second place.
| | | | | | |
| --- | --- | --- | --- | --- | --- |
| Maxwell Young | | | | 3,570,000 | 1,850,000 |
| Nick Pupillo | | | | Busted | |
Level:

25
Blinds:

60,000/120,000
Ante:

120,000
As both players play for the trophy, $99, and bragging rights, stacks go back and forth. Neither player will budge as each of them has about 15 big blinds.
Level:

24
Blinds:

50,000/100,000
Ante:

100,000
With about even chip stacks, Maxwell Young and Nicholas Pupillo have agreed to a deal.
They will chop the first and second prizes evenly. They will play it out from here with even stacks with an extra $100 and the beautiful trophy going to the winner.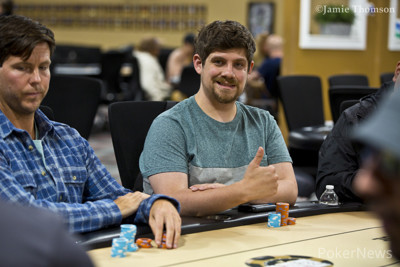 Maxwell Young and Nicholas Pupillo both got the chips all in the middle and Young was in great shape.
Young flipped the
and Pupillo flipped the
. The deck had other plans than to finish the tourney.
The flop came
to put Pupillo in the lead. Another
gave him a full house on the turn.
The
river, though, put a full house on the board and chopped the anticlimactic pot.
| | | | | | |
| --- | --- | --- | --- | --- | --- |
| Maxwell Young | | | | 2,200,000 | -700,000 |
| Nick Pupillo | | | | 1,357,000 | 287,000 |
Level:

23
Blinds:

40,000/80,000
Ante:

80,000