Welcome to Day 2 of Mid-States Poker Tour Ho-Chunk Gaming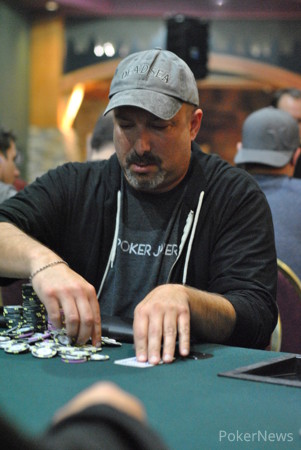 After two grueling day of play, 61 players have risen to the top to contend for the championship and a first prize of more than $90,000 here at Mid-States Poker Tour Ho-Chunk Gaming.
Leading the way is Don Coy, who rode a late Day 1a heater to a stack of 282,500, but Rob Wazwaz (254,500), Jason Mirza (253,000), Benjamin Berlowski (240,000), and Drake Bronk (239,500) aren't far behind. Other strong contenders include Matt Alexander (223,500), Ken Pates (192,500), Mike Deis (172,000), Lance Harris (158,000), Matt Kirby (149,500), and Jason Sell (134,000), who is trying to make it two straight titles at Ho-Chunk.
Play will resume at 10:30 a.m. sharp with Level 15 (1,500/3,000/500) and continue until a final table is reached. At that point, there will be a dinner break before the tournament reconvenes and plays down to a champion. Don't go anywhere until we see who emerges to claim the title.
Player
Chips
Progress

Don Coy

282,500

Rob Wazwaz

254,500

Jason Mirza

253,000

Benjamin Berlowski

240,000

Drake Bronk

239,500

Matthew Alexander

223,500

Zach Tabak

215,500

Ken Payne

213,000

Ken Pates

192,500

Sam De Silva

184,000

Mark Soik

173,500

Jon Lane

172,000

Mike Deis

172,000

Monty Schmidt

159,500

Nicholas Pupillo

159,000

Lance Harris

158,000

Todd Breyfogle

158,000

Alex Horodysky

155,000

Jason Meyer

152,000

Matt Kirby

149,500

Erich Ponath

148,500

Andrew Rubinberg

143,000

Michael Ross

139,500

Jason Sell

134,000

Sam Hanson

124,500

Cody Brinn

105,000

Thane Fliginger

105,000

Joe Matheson

104,000

Kevin Fiedler

96,000

Mike Antonelli

93,000

Kris Ehlen

90,500

Tom Orr

90,000

Mike Mustafa

88,000

Frank Cerminara

83,500

Shawn Quinn

83,500

Zac Zastava

82,000

Tony Lazar

79,000

Alex Barill

77,500

Nick Kost

75,500

Justin Filtz

75,000

Kirby Rogers

74,000

Shane Nelson

73,500

Jeff Petronack

65,000

Tom Peterson

58,500

Dan Goepel

56,000

Jack Torcolese

55,000

Kraig Benson

54,500

Dave Grandin

54,000

Jason Zarlenga

53,000

Paul Saharsky

53,000

Todd Moan

52,500

Brian Zupancich

50,000

Anselmo Villareal

49,500

Dennis Stevermer

49,500

Rich Flier

43,000

Jeff Tonglet

39,500

George Dietz

38,500

Jun Kim

37,000

Linda Uitenbrock

34,000

Kyle Adams

32,000

Molly Mossey

16,500