Main Event
Day 1b Completed
Level 14 : 1,200-2,400, 400 ante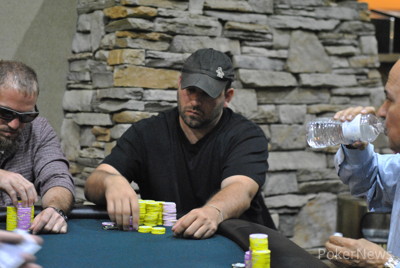 Benjamin Berlowski bagged 240,000 to end Day 1b of Mid-States Poker Tour Ho-Chunk Gaming, enough to notch the chip lead by a nose over Drake Bronk, who finished with 239,500. Bronk won the biggest event in tour history when he topped a field of 854 to take home $163,870 at the MSPT Mid-Season Championship at the Venetian in June.
Today's field numbered an impressive 202 entrants, boosting the total to 359, and 37 of the day's runners made it through. Tour pro Matt Alexander (223,500), Ken Payne (213,000), last week's champion Ken Pates (192,500), MSPT Player of the Year leader Mike Deis (172,000), Matt Kirby (149,000), Jason Sell (134,000), Tony Lazar (79,000), and Jason Zarlenga (53,000) were among those punching Day 2 tickets. Sell won this event in March.
Berlowski's most crucial hand came late in the night, during Level 13 (1,000/2,000/300). After a
flop, he got all in for his last 48,800 with monster stack Kevin Fiedler.
Berlowski:

Fiedler:
Fiedler looked poised to add to his already-hefty stack, but running
ended those hopes by giving Berlowski aces up.
Bronk seemed to steadily climb throughout the 14 levels of play, not owing his stack to any one pot.
Sell, meanwhile, spent almost the whole day far below average. His chances of a successful title defense looked rather bleak as he toted a stack of 10,700 as late as Level 12 (800/1,600/200). Then, he shoved over a 3,600 open from Lazar, who made a reluctant call. Lazar was unable to hit with
against Sell's
as the community ran out
. The double up started a late climb for Sell that culminated in bagging an above-average stack.
A number of notables failed to match Sell's survival skills. They included Steve Belland, Chad Holloway, Terry Ring, Mike "Schneids" Schneider, Tom Midena, Kou Vang, Larry Ormson, John Hayes, Mark Kroon, Jonathan Olson, and Patrick Steele.
Vang got coolered in brutal fashion early in the day when he bet 900 on a
flop from middle position, but Jason Meyer bumped it to 2,200 on the button. Vang made the call, and the two checked the
turn. A
completed the board, and Vang checked. Meyer bet 3,000, and Vang raised to what looked like about 11,800. Meyer shoved all in, and Vang snapped.
Meyer showed
for jacks full. Vang disgustedly flicked
into the middle, showing a lower full house.
Vang reentered, but the second bullet went no better than the first, ending with a lost race to Peter Ruszkiewicz. The Minnesotan will likely have more work to do to catch Deis atop the player of the year counts, with Deis looking likely to add to his lead on Sunday.
Day 2 play commences at 10:30 a.m. local time, so be sure to come back and see a champion crowned.
Level 14 : 1,200-2,400, 400 ante
Player
Chips
Progress

Benjamin Berlowski

240,000

110,000

Drake Bronk

239,500

159,500

Matthew Alexander

223,500

43,500

Zach Tabak

215,500

500

Ken Payne

213,000

-7,000

Ken Pates

192,500

-4,500

Sam De Silva

184,000

119,000

Mike Deis

172,000

21,900

Jason Meyer

152,000

115,000

Matt Kirby

149,500

39,500

Erich Ponath

148,500

-29,500

Michael Ross

139,500

139,500

Jason Sell

134,000

108,400

Sam Hanson

124,500

124,500

Cody Brinn

105,000

105,000

Thane Fliginger

105,000

-5,000

Joe Matheson

104,000

104,000

Kevin Fiedler

96,000

26,000

Mike Antonelli

93,000

93,000

Mike Mustafa

88,000

61,400

Frank Cerminara

83,500

83,500

Tony Lazar

79,000

-7,500

Shane Nelson

73,500

1,500

Jeff Petronack

65,000

65,000

Tom Peterson

58,500

-46,000
Level 14 : 1,200-2,400, 400 ante
Play has ended for the night.
Level 14 : 1,200-2,400, 400 ante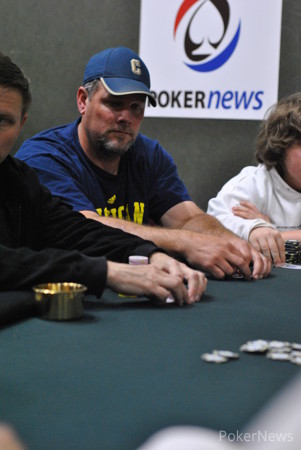 Zach Tabak opened for 5,000 under the gun and was called by Jun Kim. In the big blind, Patrick Steele moved in for 55,200. Tabak thought briefly before shoving over the top of that, folding out Kim.
Tabak:

Steele:
Steele found a few backdoor possibilities on the
flop, but a
turn ended things.
Level 14 : 1,200-2,400, 400 ante
One player was all in preflop and called by three opponents, which resulted in a
flop. Thane Fliginger shoved all in for 17,400, and he was called by Kevin Fiedler. Steve Verrett was last to act, and he jammed for 10,000 more. Fiedler called.
Fiedler:

Verrett:

Fliginger:

Fourth player:
Fliginger was ahead for the moment with kings, and a
turn meant he needed to fade an ace and a club. The
river was the brick he needed, and he dragged most of the pot, while Fiedler busted Verrett in the smaller of the two side pots.
Level 14 : 1,200-2,400, 400 ante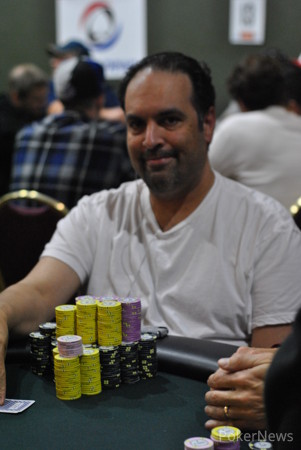 Mike Mustafa opened for 5,000 and then called the shove of Dennis Stevermer, on the button to his left, who had 38,800 total.
Mustafa:

Stevermer:
The
flop was a bad one for Stevermer, as it gave Mustafa a straight draw. The
turn and
river were bricks though, and a frustrated Mustafa pounded the table.
Level: 14
Blinds: 1,200/2,400
Ante: 400
Level 13 : 1,000-2,000, 300 ante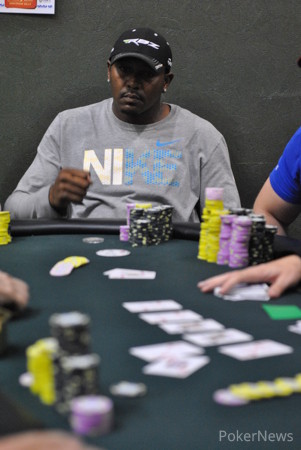 After the blinds checked a
flop, Ken Pates bet 6,000. Dan Goepel shoved for 19,600 in the cutoff, and the blinds quickly mucked. Pates called.
Pates:

Goepel:
The rags had outflopped the aces, and the
turn and
river didn't bring the paired board that Pates needed. Still, he's up considerably from when we last counted.