Main Event
Day 2 Completed
Level 21 : 40,000/80,000, 10,000 ante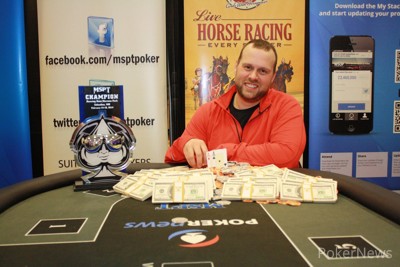 Mark Sandness captured the first-place prize of $90,913 here at Mid-States Poker Tour Running Aces Harness Park by defeating sponsored pro Blake Bohn in one of the shortest heads-up matches we've ever seen. Bohn will have to console himself with $49,741.
For Sandness, who said he is primarily a cash game player, the score is nearly double the biggest of his tournament career - a $46,910 first-place finish in the Great Minnesota Freeze Out last month. Sandness outlasted 353 other entrants to take down this tournament.
A total of 110 hopefuls entered Day 2, and play took off at a fast pace from the start, with about a third of the field shown the door in the first couple of hours. Derek Crooks, David Gonia, and Lance Harris were among the early victims, and Jeff Fielder, Rodger Johnson, Matt Kirby, John Hayes and Marc Powers followed soon after.
The bubble burst at about 3 p.m. with the elimination of Donald Winter, and bustos seemed to come even faster after that. Todd Breyfogle, Eddie Bryant, Ric Cacho and Adam Dahlin were among the players eliminated in the money as the field was whittled down to the final table bubble. During hand-for-hand play with 11 left, Mike "Schneids" Schneider and Jim Lawrence were eliminated during concurrent hands at different tables, and we were set with the final nine heading to the streamed final table.
Final table play lasted just four hours, as the rising blinds combined with a table of aggressive players like Blake Bohn and Peixin Liu pushed the pace of play. Jeff Petronack was the first to fall, followed by Gennady Shimerfarb. Day 1a leader Dustin Dirksen then busted Mike Pfautz, which was followed by the elimination of Jon Wurden in sixth.
Dirksen then ran his king-jack into the queens of Bohn to bust in fifth, while Liu fell in fourth when he tried and failed to get Sandness to fold a dominating hand. Three-handed play took awhile compared to the rest of the eliminations, but Day 1b chip leader Tyler Caspers eventually dropped out when he shoved and Bohn woke up with
to dominate his
. After that, heads-up play lasted just a few hands, as friends Bohn and Sandness weren't shy about getting their chips in the middle, ultimately resulting in Sandness winning in style with
.
Thanks for tuning in to the live coverage of the MSPT here at Running Aces Harness Park, and be sure to tune back in next week for the event in Baton Rouge.
Level 21 : 40,000/80,000, 10,000 ante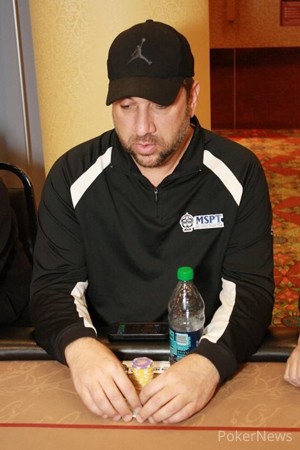 Blake Bohn and Mark Sandness got all in before the flop.
Sandness:

Bohn:
"Sorry, Mark," Bohn said, eliciting laughter from the crowd.
Bohn's prediction didn't come to be though, as the board ran out
, keeping Sandness' sixes best and doubling him to the chip lead.
In the next hand, Mark Sandness bet 200,000 in a raised pot after the
flopped. Bohn shoved, and Sandness called.
Sandness:

Bohn:
The dealer burned and turned the
, giving Sandness an unbeatable full house.
"You turned me dead," Bohn said accurately. Indeed, the
river was a mere footnote, and Sandness had Bohn covered.
Level 21 : 40,000/80,000, 10,000 ante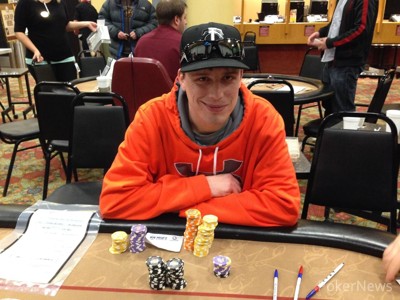 Tyler Caspers shoved all in on the button, and Blake Bohn shoved over that. Mark Sandness folded.
Bohn:

Caspers:
The dealer fanned out
to give Bohn top two and put Caspers in dire straits. The turn came a
, however, giving Caspers a straight draw.
"Oh no, you gave him outs," Bohn said. "Why would you give him outs?"
The river was a
though, and we are now heads up.
Level 21 : 40,000/80,000, 10,000 ante
With 14:41 remaining in the level, the tournament clock has been restarted.
Level 21 : 40,000/80,000, 10,000 ante
Players are taking a short unscheduled break since the server for the stream is currently down. Here are their counts:
Player
Chips
Progress

Blake Bohn

4,100,000

1,100,000

Mark Sandness

2,000,000

-200,000

Tyler Caspers

1,000,000

-1,000,000
Level 21 : 40,000/80,000, 10,000 ante
Mark Sandness opened for a raise on the button, and Tyler Caspers shoved 975,000 in the small blind. Blake Bohn moved in over the top of that, and Sandness folded.
Bohn:

Caspers:
The board ran out
, and Caspers doubled through.
Level 21 : 40,000/80,000, 10,000 ante
Blake Bohn and Mark Sandness saw the flop for the minimum out of the blinds, and Bohn checked the
flop. Sandness bet 80,000, and Bohn immediately slid 400,000 out. Sandness announced a call, and the turn was the
. Bohn shipped all in, and Sandness folded after some thought.
Bohn showed
for top set on the flop, and Sandness claimed he mucked sixes up.
Level: 21
Blinds: 40,000/80,000
Ante: 10,000
Level 20 : 30,000/60,000, 5,000 ante