Main Event
Day 1b Completed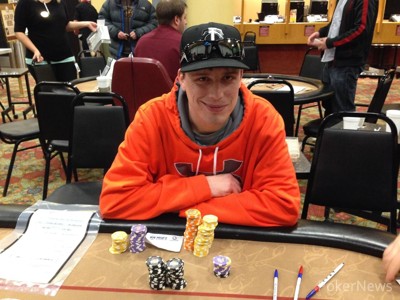 Day 1b is in the books here at Mid-States Poker Tour Running Aces Harness Park, and Tyler Caspers bagged 259,800 to lead the 74 survivors. He'll enter Day 2 as the overall leader, 5,000 ahead of Day 1a chart-topper Dustin Dirksen. Rounding out today's top 10 stacks: Derek Lesniak (166,700), Yevgeniy Minakrin (135,100), Peixin Liu (124,100), Adam Dahlin (121,300), Rick Rothausen (118,700), Mark Powers (116,400), Blaise Poupone (108,200), Ken Cary (107,900), and John Wurden (106,700).
The day got off to a mirthful start through the table banter and unorthodox play of Shane Nelson, but things got serious a little later. Accomplished players like Matt Alexander, Nesbitt Coburn, Jeff Bryan, Sam de Silva, Chad Holloway, Mark Fink, Steve Lillehaug, Brian Soja and Jason Seitz didn't make it through the day.
A few notables who did survive include Lance Harris (71,700), John Hayes (64,500), Jeff Fielder (59,900), Mike Schneider (51,700), David Gonia (35,600), Jason Sell (29,700), and Larry Ormson (13,100).
A total of 226 runners tried their hands today, boosting the prize pool well past the $200,000 guarantee without even factoring in yesterday's buy ins. Today's lucky 74 will combine with the 36 players who bagged up last night to create the Day 2 field, which convenes tomorrow at 10 a.m. local time to play down to a winner. Be sure to tune in to PokerNews as we document the exciting final day.
The remaining players are bagging their chips, and we'll have final chip counts shortly.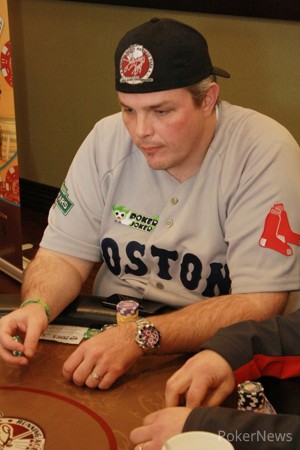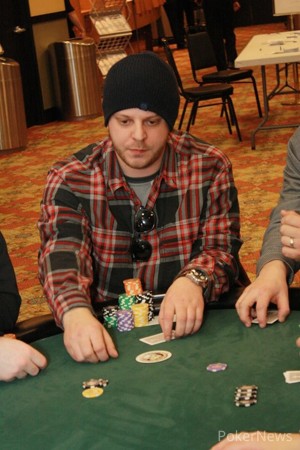 James Maxey opened for 4,000 in early position, and Beau Sizer shoved all in for about 22,000. Ken Payne called immediately from his left, and action folded back to Maxey, who shoved over the top for about 40,000 total. Again, Payne wasted no time before calling.
Payne:

Maxey:

Sizer:
Sizer was in horrible shape, dominated by both opponents, and Maxey was the favorite with one of Payne's outs dead. The board ran out
, preserving Maxey's lead.
Derek Crooks bet 5,400 from middle position after a flop of
, and Shane Nelson made the call from the hijack. Peixin Liu came along from the big blind, and everybody was quick to check the
turn. When a
hit the river, Liu fired out 11,000, and Crooks quickly folded. Nelson was more deliberate, expressing his disgust before folding his hand.
"Show the bluff," he said.
Liu obliged, turning over first the
then the
for a missed gutterball and overs.
Derek Lesniak bet 4,200 into Lance Harris in a blind battle after an
flop. Harris made the call, and a
came on the turn. Both players checked to see the
river, and Lesniak fired 8,600. Harris called without much delay, and Lesniak showed
for an airball. Harris tabled
for a pair of aces, and he scooped the pot.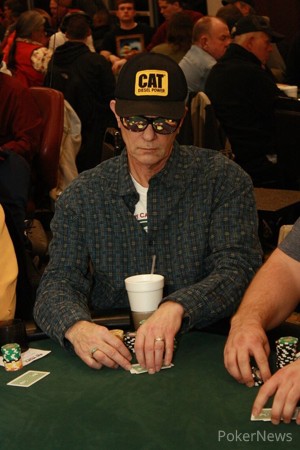 Players just returned from a 10-minute break, and the last level of the night started.
Level:

9
Blinds:

800/1,600
Ante:

200