Level Info
| | |
| --- | --- |
| Level | 32 |
| Blinds | 80,000 / 160,000 |
| Ante | 20,000 |
Players Info
Main Event
Day 2 Completed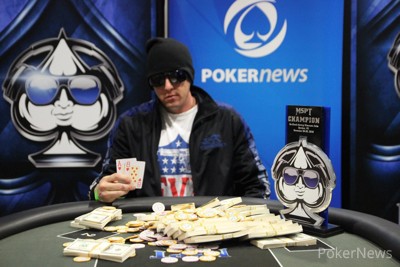 After winning his first Mid-States Poker Tour title back in 2013, John Hayes can now call himself a two-time tour champion after winning the MSPT Ho-Chunk Gaming Wisconsin Dells Main Event over the weekend. With this win, Hayes moved to sixth on the MSPT's all-time earnings list and joined the likes of Matt Kirby, Blake Bohn, Dan Sun, Peixin Liu, and Jason Zarlenga as players with two titles.
Throughout his MSPT career, Hayes has racked up nearly $200,000 in earnings, 11 cashes, and four final tables. His first victory came at MSPT Northern Lights Casino in 2013 when he topped a field of 160 entries to win $43,473. This newest title saw Hayes defeat a much larger field of 379 entries and earn $98,907 in prize money.
Hayes joined late on Day 1b, did well, and came into Day 2 with 219,500 in chips. After making his way to the final table, Hayes had to battle for another seven hours to get the job done. His other victory only took a little more than two hours, but he came into that one with the chip lead. In this one, he was third in chips coming into the final table with 941,000.
Hayes' heads-up opponent at Ho-Chunk Gaming Wisconsin Dells was Marius Toderici, who came into the final table with 430,000 in chips. He won a big pot early on that shot him into the chip lead and was able to ride his stack from there. On the big hand, Toderici got involved in a three-way pot against Greg Seif and Gerald Heckathorn. Toderici had aces and was all in. Seif and Heckathorn played the hand out, but it was Toderici's set of aces good in the end to give him the triple up.
Throughout the final table, Hayes was patient and picked his spots. Once he had the chip lead three-handed, it looked like it was all over for his competition. However, Toderici battled back and the lead changed hands several times.
In the end, there were a couple hands that sealed the deal for Hayes. In one, Toderici was on the flush draw and didn't get there. Then, Hayes was on a flush draw in two other hands, but he got there. The result of these put Toderici on the ropes and Hayes was able to finish him off shortly after, finally beating him by flopping an ace in a race against Toderici's pocket sevens.
Hayes got all in against the
of Toderici with his
. The flop gave Hayes an ace and the board finished
to give him the win. The marked the end of it all, with Hayes left standing a two-time champion and $98,907 richer. For Toderici, he walked away with $54,954 for second place.
With that, the second-to-last stop of the MSPT season has come to an end. There's still one more to go, and it will take place at the ever popular Canterbury Park in Shakopee, Minnesota. The entire festival will run in the beginning of next month, Dec. 4-13, and PokerNews will be on hand for the "Chainsaw Approved" $1,110 Main Event that will take place Dec. 11-13. That Main Event comes with a $200,000 guarantee and will be a banger of a finish to the MSPT's 2015 tour.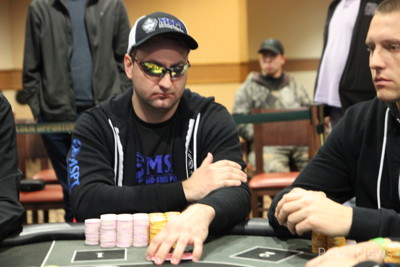 After an intense battle where each player had the other at risk multiple times, Marius Toderici couldn't battle back once more after two unfortunate run outs, he was left with a little more than two-million chips.
He raised preflop to 300,000 and John Hayes shoved all in. Toderici called and put his tournament life on the line again.
It was a race, Hayes held
and Toderici,
. The flop didn't make it much of a race, when it came
and the board ran out
and ended the epic heads up battle between Hayes and Toderici.
Toderici will take home $54,954.
This hand John Hayes doubled up when he made his flush draw, where Marius Toderici couldn't the last time he doubled up Hayes.
Hayes had
and Toderici had
. The players got it all in on the flop of
. The board ran out
and Hayes doubled up with a heart flush.
Over the last five hands Marius Toderici and John Hayes have limped.
Hayes limped and Toderici checked his option. On the flop Toderici checked, Hayes bet and took it down.
Toderici limped and Hayes checked his option. Both players checked the flop and Toderici took down the pot with a turn bet.
Hayes limped and Toderici checked his option. This time Toderici check-raised the flop and Hayes folded.
Toderici limped and Hayes shoved all in. Toderici called with , Hayes had two queens . The board gave Toderici a flush draw, but it wouldn't complete it and Hayes doubled.
Level:

32
Blinds:

80,000/160,000
Ante:

20,000
The level has ended and the two players are taking a short break.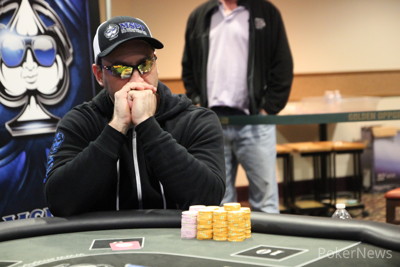 Marius Toderici just called a large river bet against John Hayes for the second time and was good.
On this hand, Toderici made it 300,000 preflop and Hayes reraised to 725,000. Toderici debated for a moment, then called.
The flop was
and Hayes bet 375,000. Toderici called. The turn was the
and Hayes checked. Toderici checked as well and the dealer put out the
river. Hayes led out for 580,000 and Toderici had a decision to make.
He asked the dealer the total of the bet once more before he called. Hayes showed
and Toderici showed
and won the pot.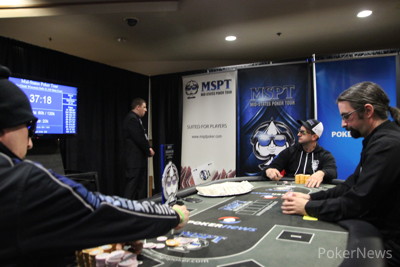 Marius Toderici has been pretty resilient in this heads up match. Falling below John Hayes several times and creeping back up. He managed to swing the lead after these two hands:
John Hayes bet 600,000 on the river and Toderici called on a board of . Toderici was good with with a pair of fives against Hayes's queen high.
On the next hand, Toderici raised from the button to 300,000 and took down the blinds and antes.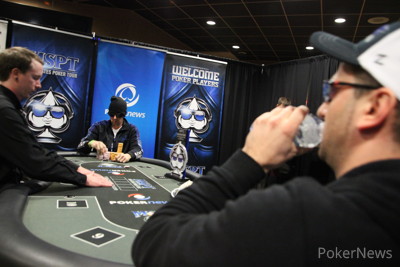 Marius Toderici made an incredible fold earlier with trip queens, but John Hayes is pressuring almost every spot and Toderici ends up folding more often than not.
On one hand, Toderici limped the button and folded to a Hayes raise to 370,000.
On the next hand, Hayes made it 260,000 preflop and Toderici called. The flop was and Toderici checked. Hayes bet 275,000, Toderici called. The turn was the and Toderici checked again. This time Hayes bet 540,000 and Toderici folded.